OnePlus TV 32Y1 - Smarter TV
Android TV with superior craftsmanship and elegant design - Buy Now
Click here to know more
Advertisements
Earlier today, ARM unveiled its two new processor designs at a pre-event before Computex officially begins. The two new A75 and A55 cores replace the A73 and the mid-tier A53 core respectively. There is a considerable performance and power efficiency gains on both the chips. However, the highlight is that the cores are designed using ARM's DynamIQ microarchitecture, which was introduced in March this year. This is aimed at improving AI and Machine learning on smartphones and other devices.
The ARM A75 brings a 22 percent performance improvements over the A73 core. There is a 16 percent higher memory throughput and a 34 percent overall improvement in Geekbench scores. ARM also claims that the single-threaded performance has also increased by almost 20 percent. The A55 core is claimed to be the "most versatile high efficiency processor" in the mid-range segment. ARM claims that the A55 core offers 15 percent power efficiency, is 2x more memory efficient and is 10 times more scalable than A53 core.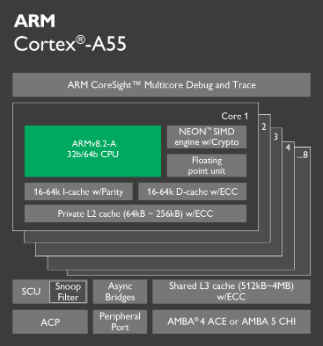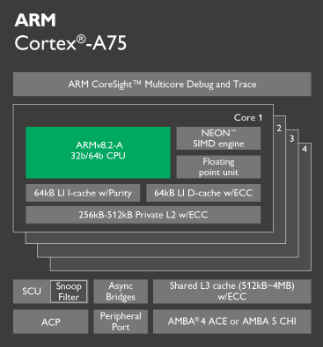 Alongside these two cores, ARM also announced the new Mali-G72 GPU, which has 32 shader cores, is 25 percent more power efficient, and can offer 20 percent better performance density (performance per mm square space). ARM claims that the new G72 GPU is one of the main components in the company's push toward machine learning and is 17 percent better than the current gen Mali-G71 GPU.
The DynamIQ microarchitecture will also also allow chip manufacturers such as Qualcomm, Mediatek and more to mix and match the two cores and set them in different configurations of up to eight cores. So, instead of the normal big.Little architecture, which generally has 4+4 configuration, chipmakers can tweak the design of the SoCs and offer it in 2+6, 1+7, 1+3, and various other configurations. The Cortex A55 and A75 cores were released to the company's partners in the end of 2016 and thus we can should start seeing newer SoCs featuring this microarchitecture later this year and smartphones powered by the same in early 2018.
ARM claims that in the next three to five years, we will see 50x AI performance increase. In orther words, it will be much easier for your smartphones to understand and process the instruction set required for machine learning and Artificial intelligence.