The Apple Worldwide Developer's Conference saw everything from refreshed Macbook hardware (Air and Pro), to a new developer preview of Mountain Lion, and iOS 6, with its host of improvements. iOS 6 beta has been released to developers, while end-users will get their hands on the new operating system by the American fall.
The WWDC rumours we'd been hearing ahead of the event were spot on, predicting most Apple's announcements. Expected improvements to Apple's mobile operating system, iOS, in the new version, were revealed at WWDC 2012, such as deeper Facebook integration, iCloud updates like Shared Photo Stream albums, a new Maps app, and an enhanced Siri.
Apple says over 200 new features and improvements have found their way to iOS 6, and the company did reveal quite a few details. Apple's deeper Facebook integration translates into such features as direct sign in and posting from the Notification Center (as well as Siri and Facebook-enabled apps), real-time updates to Facebook information, from contacts to events, across all iOS devices. Users will also be able to 'Like' App Store and iTunes content, directly, whilst seeing friend's recommendations on the same platforms.
Siri will now work on the New iPad as well as iPhone 4S, and gets wider language support, including English, French, German and Japanese, and adds support for Spanish, Italian, Korean, Mandarin and Cantonese. Apple says the personal assistant is now optimized for 15 countries, with local data. Other improvements to Siri include voice-based posting to Facebook and Twitter without launching an app. Apple has gone one step further with pure voice-based control, enabling the two iOS devices to be used in a 'Eyes Free' mode, not requiring touch contact.This theoretically extends to a number of native features, including maps, expanding the possibilities of voice-friendliness.
The new Maps app will replace Apple's reliance on Google and other third parties in the navigation department, providing vector-based maps with promised fluid graphics, turn-by-turn voice navigation, and interactive 3D maps with 'Flyover'. Apple's new Maps app also supports real-time traffic information, with journey time, and alternate route suggestions. Local maps will also feature Yelp ratings for roughly 100 million businesses.
Other improvements to iOS 6 include a new Passbook app – a new single-point interface for scanning and displaying passes. The Passbook app can display real-time notifications, apart from automatically display passes on the lock screen, depending on time or location. iOS 6 also features new parental controls in the form of Guided Access – locking the iOS device on to a single app, restrict touch input, and more.
New iOS 6 features including improvements to the Safari mobile browser, such as iCloud tabs, offline reading lists, photo uploads and full screen view; support for FaceTime calls over cellular networks; a VIP Mailbox; option to auto-message reply on call cancelling; callback reminders; and a Do Not Disturb option. Apple has also added a host of China-specific features, such as improved text input, and support for services such as Baidu, Sina Weibo, Youku and Tudou.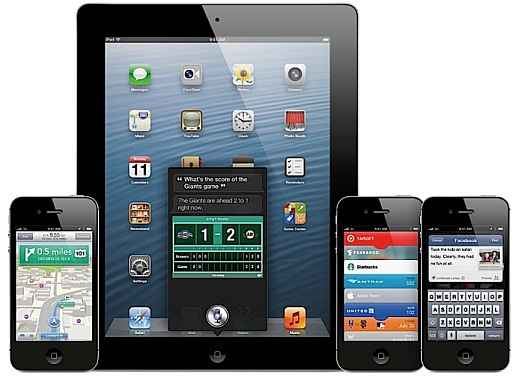 Source: Engadget