The Cupertino-based company is expected to launch iPhone 6s, iPhone 6s Plus, and a new version of Apple TV at an event to be held in San Francisco.
Apple has finally confirmed September 9 as its traditional annual launch of iPhones. The Cupertino-based company has started sending out invites for the event, which says that it will be held at the Bill Graham Civic Auditorium in San Francisco, on September 9.
The invite also has a teaser which says, "Hey Siri, give us a hint." These were how Siri responded, when asked for a hint: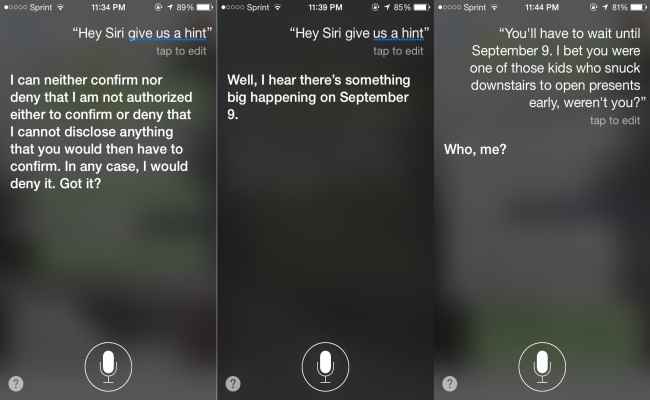 Well, the last one was nothing less than a tongue twister. But, we have had our fair share of rumors regarding what Apple would be launching at the event. For the start, there are next-generation iPhones, the iPhone 6s and 6s Plus. Apple iPhone 6s is expected to come with 2GB of RAM, a 12MP camera capable of recording 4K-resolution videos, an upgraded A9 processor, and Force Touch technology. The haptic feedback technology developed by Apple senses the amount of force applied on the screen to differentiate between taps and forced touches, performing tasks accordingly. Apple introduced Force Touch earlier this year with the release of the new MacBook. There are also words regarding the launch of a 'cheaper' iPhone, called the iPhone 6c, but most of the information related to it are vague.The upcoming iPhone 6s and 6s Plus will be successors to the iPhone 6 and 6 Plus, respectively. In addition to this, Apple has also been rumored to launch a new version of Apple TV, and an iPad with a 12-inch screen, named the iPad Pro.
As of now, all we have are the rumors regarding these devices, and an officially confirmed event date. For the time being, all we can do is to wait, and the event itself is not too far.