LG might be bringing the Android Marshmallow v6.0 update to LG G4(₹ 9999 at amazon) and G3, some time soon. The information was spotted on LG Korea's support page which showed Android V6.0 as one of the options while choosing the Android OS for the LG G4 and G3. The company has removed the Marshmallow reference as of now, but it is an indication that the latest OS might be coming to LG smartphones soon.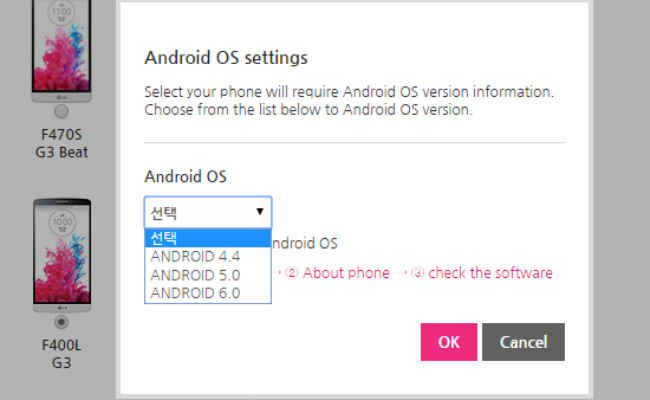 The reference was first spotted by GforGames and as reported by it, there were six variants that were listed. The phones were LG G4 F500K, F500L, F500S and LG G3 F400K, F400L, and F400S. The upgrade plan might expand to a few more LG devices like the LG Flex 2 in future. Recently, LG launched the V10 smartphone which runs on Android v5.1.1, and it is also likely to receive the update.
Android Marshmallow was officially launched last week by Google along with the release of the Nexus 5X and 6P, which will be shipping with the latest OS. Last week, HTC and Motorola were the other manufacturers to announce the list of smartphones to received the Marshmallow update. HTC plans include a total of 12 phones as of now. The HTC One M9 and M8 will be the first to receive the update, starting from end-2015. The other phones in the list are HTC One M9+, One E9+, One ME, One E8, One M8 EYE, Butterfly 3, Desire 826, Desire 820, and Desire 816. On the other hand, Motorola's update plan includes Moto Turbo, Moto MAXX, DROID Turbo, Moto G (2nd gen and 3rd gen), Moto X (2nd gen), Moto X Pure Edition (2nd gen and 3rd gen), Moto X Play and Style. Surprisingly, Motorola has left out the Moto E (2nd gen) from the plan.
The Marshmallow update has a lot of improvements and features like battery optimization, granular app permission settings, Google's Now on Tap, etc. Recently, Google also announced that the owners of newly-launched Nexus phones will be able to remove some of the pre-installed Google apps. There is no information on whether users of the older Nexus devices will be able to do the same, after receiving the Marshmallow update.