It's been more than a year since Google announced its Android Go program to make entry-level phones more usable, and more importantly, to encourage feature phone users to make the jump to smartphones. Over the past one year, we also saw some major brands like Samsung and Nokia, and more recently Xiaomi, announcing their Android Go phones for India. Some Indian brands like Lava and Micromax also adopted the platform early to offer relatively cheap Android Go phones. Yet, a year down the line, Google's marquee project to acquire the next billion Android users hasn't picked up steam as expected.
The Android Go program was announced to bridge the gap between feature phone users and smartphones. The aim was to bring the price of Android phones down so as to make them an enticing option for feature phone users to upgrade. However, based on data shared by analysts, feature phones still dominate the entry-level market that starts from under Rs 5,000. In fact, "this (CY 2018) is the first time the feature phone market grew faster than the smartphone market. India remains the largest market in terms of global feature phone volume. This highlights that while India is a fast-growing smartphone market, feature phones remain relevant for a large section of the population," Counterpoint Research Analyst Tarun Pathak noted in a research note.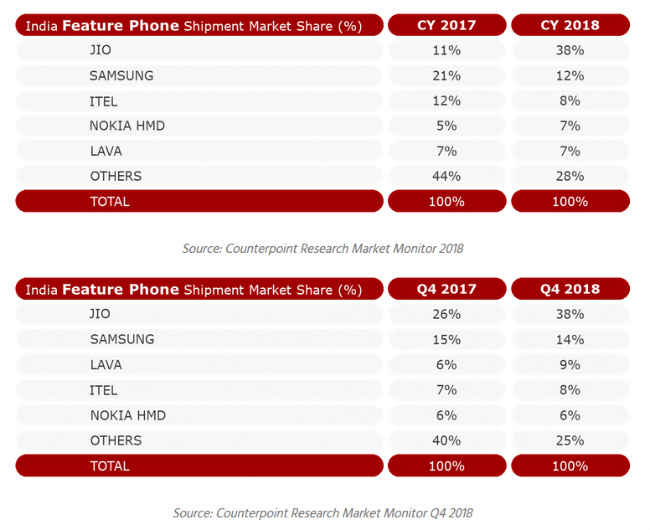 As of January 2019, Jio, Samsung, iTel, HMD Global's Nokia and Lava are the top five players in India's feature phone market (under Rs 5,000). A year down the line, Android Go phones don't seem anywhere close to making a dent in that segment. So what went wrong? Digit.in spoke to a few analysts based in India to figure out why Google's promise hasn't been realised yet.
A lack of enthusiasm from the brands
"For Android Go, there has never been such a loud voice earlier from brands like Nokia, Lava, Micromax, and the likes, or from Google's end for pushing the Android Go devices. Because of this, there was no marketing initiative. Even in the retail stores, you won't see promotional counters that talks about how important an Android Go phone is for the entry-level buyer," IDC Analyst Upasana Joshi told Digit.in.
While both Samsung and Nokia came out with Android Go phones (Nokia actually came out with two in 2018), neither of the companies did any serious promotional activity to encourage users to buy them. Google did create a buzz when the company announced the program back in December 2018. The company did disseminate the fact that the Android Go OS was tailor-made to run on phones with basic hardware, but the initiative failed to instigate any significant traction for the segment. Most Android Go phones that launched in India sport 1GB of RAM and around 8 to 16GB of storage. Everything else about the phones is quite basic — The cameras, the design and the components, which gives off the impression that an Android Go phone isn't really the 'lite' version Google promised, but a cheap one.
"We have not seen a very positive uptake in Android Go phones till now because consumers feel this is not a 'lite' version, but sort of a cheap version of Android," Joshi added.
While IDC did not share the exact market share of Android Go phones in India, Joshi did say that analysts frequently visit retail stores to see how consumers, retailers and distributors feel about a certain brand. The retailers and the distributors have a fair idea of what the consumers are demanding, and Android Go phones don't get the shelf-space or the mindspace among key players in the market presently, according to the analyst.
As opposed to India, other emerging markets like the Middle East and Africa have seen a good uptake of Android Go phones. Counterpoint Research's analysis found three out of the top 5 best selling smartphones in South Africa are based on Android Go. The Nokia 1(₹ 5688 at amazon) was the best-selling phone in South Africa in 2018, according to the research. In Bangladesh, IDC reports the market is depending on Android Go phones to pick up growth after the fourth quarter of 2018 reported a small 2 percent growth, fueled primarily by Android Go phones manufactured by a local player.
Price is still a barrier
More than a lacklustre effort from the brands, it's the relatively high price that has marred the adoption of Android Go phones in India. Google's plan with the Android Go program was to bridge the gap between the low prices of the 2G feature phones and the higher entry-price for 4G-enabled smartphones. That's the reason the operating system was made to work smoothly with low-end hardware. Using entry-level hardware should keep the cost of production down, but most of the Android Go phones released by local and international brands have breached the Rs 5,000 mark in India, unfortunately.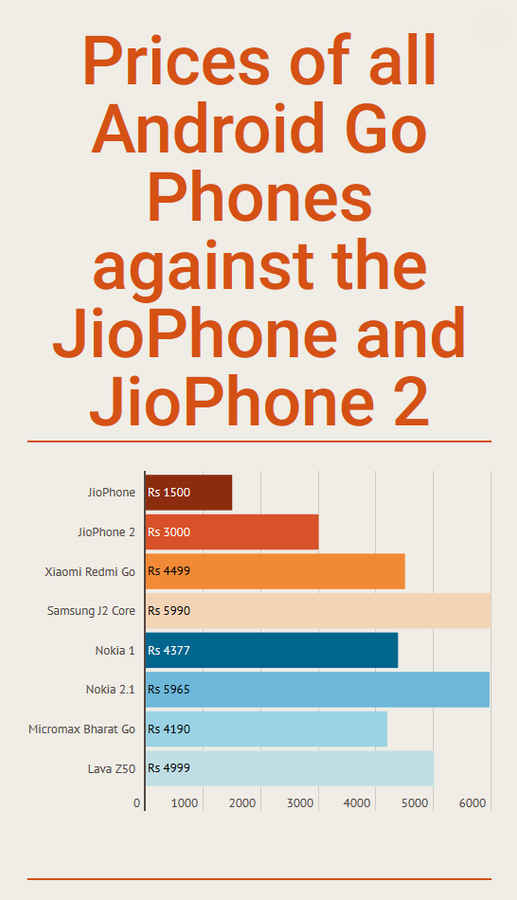 "If you compare a feature phone versus, say, a Redmi 5A or a Redmi 6A, I still see that gap not getting bridged very fast," Joshi said.
With feature phones retailing for less than Rs 2,000, a Rs 5,000 price-tag is relatively a steep bargain, especially in this segment where buyers tend to be extremely price-sensitive. Shelling out more money than before doesn't give a big incentive for feature phone users to upgrade.
"It (Android Go's popularity) is again directly proportional to how the OEMs launch the phones and position them. Samsung's Galaxy J2 Core did well in the market. Again, it is more a function of price than any other feature," Tarun Pathak, Counterpoint Research Analyst told Digit.in.
The Samsung Galaxy J2 Core(₹ 5849 at flipkart) is presently the most affordable Samsung phone available in the market at Rs 6,190. In its quarterly highlights of the Indian smartphone market, Counterpoint noted Samsung's second position was driven primarily by the Galaxy J2 Core and other J-series smartphones. On the other hand, the new Xiaomi Redmi Go(₹ 5800 at flipkart), which launched at a price of Rs 4,499, is the cheapest Android Go phone from a major brand.
However, with Reliance Jio introducing the JioPhone(₹ 1500 at amazon) and then the JioPhone 2 for Rs 1,500 and Rs 3,000 respectively, feature phone users found a more affordable alternative to fuel their 4G internet needs.
Smart feature phones are chipping away at Android Go's popularity
"The users who are hooked on to the smart feature phones right now are opportunity lost for Android Go phones basically. The OEMs could have targeted those users if they had priced and promoted it aggressively," Pathak said, commenting upon the competition between smart 4G feature phones and Android smartphones.
Reliance's first JioPhone launched in 2017 and within a few months managed to capture a big part of the feature phone market. The ploy was simple. Give the users an offer they can't refuse. At the launch of JioPhone, Mukhesh Ambani announced the Rs 1,500 price of the JioPhone will be refunded back to the users after three years. Effectively, Jio is giving away their feature phones for free. On top of that, Jio also offered a range of subsidies on 4G data which meant that a JioPhone user was much better off in terms of the internet experience, as compared to an Android Go that didn't always come with such offers.
Faisal Kawoosa, Founder & Chief Analyst, techARC had an interesting point to share.
"Android Go program was a fantastic solution from Google to address the entry-level market. But unfortunately, the timing of Android Go's launch was wrong. Just around that time, we saw the JioPhone launch, which runs on KaiOS. This inhibited the potential of an Android Go phone," Kawoosa told Digit.in.
When Google launched Android Go, the company said that it will enable OEMs to use cheaper hardware without compromising on the smartphone experience. The Android Go OS comes with a suite of 'lite' Google apps that take up less space as well as use less memory to run, making good use of the 1GB RAM and 8-16GB storage limit OEMs have unofficially imposed on Android Go phones.
"If I'm not wrong, I know many OEMs were exploring the idea of launching their basic entry-level smartphones using Android Go. But after the JioPhone's success, they literally shelved off the idea of launching their phones, for the steep competition JioPhone gave," he added.
In fact, Micromax was poised to debut Android Go in India. The Micromax Bharat Go was supposed to launch around January 2018, but the phone didn't see the light of the day till May that year.
Having said that, while the first JioPhone managed to capture a big part of the feature phone market in just a year of its launch, it's successor, the JioPhone 2 didn't taste success to that level.
Joshi at IDC did note that Jio moved a lot of shipments of the JioPhone 2 in the market, but a lot of it is still stuck in the inventory which is not getting liquidated. A rough estimate of 75-80 million units have been shipped, but around 15-20 percent of that is stuck in the channels and they're not getting liquidated.
"JioPhone 2 was not a great hit in the market because at a price of Rs 3,000, there was not a very clear demarcation in terms of the specification apart from the QWERTY keypad. There wasn't really a lot of difference, then why would a feature phone user shift from a Rs 1,500-priced smart feature phone to something almost double that price?" Joshi said.
Kawoosa, on the other hand, denoted the lacklustre success of the JioPhone 2 to the fact that it was not the perfect device for present JioPhone users to upgrade. 60-70 percent of the potential user base was already captured by the first JioPhone, and that is why, when the next edition came in, it did not have that much opportunity to succeed. Furthermore, the people who bought the first JioPhone are still in the lock-in period of three years, after which they are promised a 100 percent cashback. This also became another barrier in JioPhone 2's success in the market.
"Android Go's proposition is very good. It definitely addresses a problem or a gap which is there in the market. But the segment which would have potentially adopted the Android Go phones moved on to the JioPhone," Kawoosa said.
What are the repercussions? One is that you don't see too many people using an Android Go phone. And when OEMs don't see enough opportunities, they defer the decision to launch Android Go phones. When that is the scenario, the supply doesn't build up. And when supply doesn't build up, OEMs are not able to achieve the economies of scale to bring down the price. It's a chicken-and-egg problem. When there's no demand, there's no incentive to increase supply. Similarly, when there's not enough supply (along with enough marketing and promotion), not much potential demand is created. The situation is similar to what happened to Microsoft's Windows phones.
Digital literacy needs to increase to improve Android Go adoption
"Those who want to use a feature phone are sticking to their feature phones, but those who want an entry-level smartphone are really buying them. Smart feature phones come with their own set of users who are more familiar and want to work on the keypad more than a touchscreen. In any case, these users don't want a touch-screen device," Pathak said when asked whether JioPhone users are upgrading to Android Go phones.
There is presently a clear demarcation between users of entry-level Android phones and smart feature phones. Feature phones are being used by those who aren't confident and comfortable with using a touch-screen interface. However, a section of users who are digitally literate and familiar with the touch form factor are choosing to spend more for a smartphone. Then there's another section, mostly the elderly who don't want a touch interface and will therefore, hold on to their feature phones.
More than that, the blame could also fall on Google for not doing enough to educate users on the benefits of Android Go. For instance, an entry-level smartphone user who has been using a phone with at least 2GB RAM and 32GB storage will find buying an Android Go phone with 1GB RAM and 16GB storage, a downgrade. But that's only because they don't really know how Google has optimised the operating system to work well with 1GB RAM. Not many know about the suite of lightweight Google apps that are there in the market, and not many are convinced they are of any use.
That's only because the users have simply not experienced the lightweight OS enough to form an opinion about it. If you remember when the OnePlus One launched, the phone's success was attributed squarely on word of mouth. Initially, most weren't convinced that an unknown new brand can offer a better experience, despite rocking flagship hardware under the hood. But once word started spreading, more people got onboard and now OnePlus phones are the most-selling high-end Android devices in the market.
"The problem with Android Go is that they're very basic. The real value of the phones will be understood by those who understands the technology behind it. When a person will actually understand that it's saving resources, that's when they will realise the benefits of Android Go phones. More than OEMs, I feel Google might have to work on it," Kawoosa elaborated.
Can the Xiaomi Redmi Go change the tides in favour of Android Go?
It's not all gloomy though. Reliance Jio announced the JioPhone in 2017, and by the end of the three-year lock-in period, there is a chance that Android Go phones might pick up pace in the market. That's the time people will start selling off their smart feature phone and look for an upgrade.
Furthermore, the launch of the Xiaomi Redmi Go, analysts expect can turn the tide in favour of Google's lightweight Android OS. The Redmi Go became the cheapest Android Go phone from a global player, and considering the brand affinity towards Xiaomi, it is expected to do much better than other Android Go phones launched previously.
"Xiaomi is really smart on maintaining their BOM (bill of materials) costs. They know the ways to keep the costs down. The Redmi Go, for instance, has a screen size of 5-inches, lower than the usual average 5.5-inch other Android Go phones come in. They work on some of the components to make sure they are able to price it lower than others," Pathak said.
Joshi believes that the Redmi Go has the power to draw users towards the platform. The Chinese independent brand is now India's most popular smartphone maker. The Redmi 6A and the Redmi 5A, the company's most affordable handsets last year were the best-sellers. Users clearly like to choose Xiaomi in the entry-level segment. And with the Redmi Go's market positioning, Xiaomi might just be able to give Android Go phones their much-awaited due. Xiaomi also gave a big push in terms of marketing and promoting the Redmi Go on a global scale. The phone first launched in Indonesia, made its way to other Asian markets and eventually in India. In India, the Redmi Go is perhaps the most promoted and marketed Android Go device presently. It's also the cheapest Android Go phone you can buy from a major manufacturer.
However, whether Xiaomi's gamble pays off remains to be seen. The smartphone market in India is divided between the offline retail space and online e-commerce stores. In the offline segment, the retailer has a lot of influence over the purchase decision, while in the online segment, it's mostly about deep discounting, getting cash backs and buy backs. So where the Redmi Go fits in has to depend on how the retailers respond to the device and how well the company markets the Android Go device.
After more than a year of Android Go phones coming to the Indian market, we are yet to see their potential being realised. The Xiaomi Redmi Go might be the most affordable of the lot, but considering the slow uptake Android Go phones have seen in the world's second largest smartphone market, will one phone be able to turn the tide like the JioPhone did? Feature phones are certainly not dumb any more, and with popular apps like WhatsApp, YouTube and the likes not restricted to touch-based devices anymore, Android Go phones surely have a lot of ground of cover.
For more technology news, product reviews, sci-tech features and updates, keep reading Digit.in or head to our Google News page.