Yesterday at Apple's WWDC, Tim Cook announced the annual refresh to the MacBook Pro and the MacBook Air with the latest generation hardware. But that's not all. Apple also introduced a slimmer 15-inch MacBook Pro with a Retina Display and no optical drive.
With the annual update, all the devices now have Intel's latest Ivy Bridge Core-i5 and Core-i7 processors. The 13-inch MacBook Air now supports a resolution of 1400x900 pixels, which was earlier only found on the 15-inch MacBook Pro. The look and dimensions of the Air remains the same. What has changed is the power under the hood.
Speaking of the 15-inch devices, they too have been upgraded with the latest processors. The refreshed 15-inch MacBook Pro sports 8GB RAM straight out of the box.
After what feels like a lifetime of waiting, all the updated devices also support USB 3.0 straight out of the box. Apple has updated the camera on the devices to support 720p HD Facetime.
But the device that really steals the cake is the new 15-inch MacBook Pro that supports a Retina Display. The 15.4-inch device has a resolution of 2880x1800 i.e. 5.1 million pixels i.e. 220ppi. Unlike its counterparts, the Retina Display MacBook Pro supports flash storage instead of the traditional HDD, gets rid of the optical drive and has a slimmer form factor.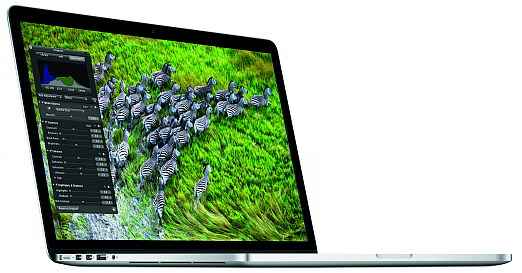 One of the best features of the Retina Display MacBook Pro is that it has HDMI out. You no longer need a proprietary adaptor from apple. This is a feature we wish Apple had integrated into all the MacBook Pro laptops.
For the Retina Display, Apple has updated the OS to support the resolution. Some apps such as iPhoto, Mail, FCP and Aperture have been updated to support the display.
Currently, all the launched devices run on Max OS X Lion but will receive a free update to Mountain Lion when the OS launches next month for $20.
Here is a quick look at the pricing and specifications of the devices.
Particulars
MacBook Pro
MacBook Pro With Retina Display
Screen Size
13.3-inch
13.3-inch
15.4-inch
15.4-inch
15.4-inch
Screen Resolution
1280x800
1280x800
1440x900
1440x900
2880x1800
Storage
500GB 5400-rpm hard drive
750GB 5400-rpm hard drive
500GB 5400-rpm hard drive
750GB 5400-rpm hard drive
256GB Flash
512MB Flash
Processor
2.5GHz dual-core Intel Core i5 processor (Turbo Boost up to 3.1GHz) with 3MB L3 cache
2.9GHz dual-core Intel Core i7 processor (Turbo Boost up to 3.6GHz) with 4MB L3 cache
2.3GHz quad-core Intel Core i7 processor (Turbo Boost up to 3.3GHz) with 6MB L3 cache
2.6GHz quad-core Intel Core i7 processor (Turbo Boost up to 3.6GHz) with 6MB L3 cache
2.3GHz quad-core Intel Core i7 processor (Turbo Boost up to 3.3GHz) with 6MB shared L3 cache
2.6GHz quad-core Intel Core i7 processor (Turbo Boost up to 3.6GHz) with 6MB shared L3 cache
RAM
4GB of 1600MHz DDR3
8GB of 1600MHz DDR3
4GB of 1600MHz DDR3
8GB of 1600MHz DDR3
8GB of 1600MHz DDR3L onboard memory
Dimensions
Height: 0.95 inch (2.41 cm)
Width: 12.78 inches (32.5 cm)
Depth: 8.94 inches (22.7 cm)
Height: 0.95 inch (2.41 cm)
Width: 14.35 inches (36.4 cm)
Depth: 9.82 inches (24.9 cm)
Height: 0.71 inch (1.8 cm)
Width: 14.13 inches (35.89 cm)
Depth: 9.73 inches (24.71 cm)
Weight
2.06kgs
2.56kgs
2.02kgs
Graphics
Intel HD Graphics 4000
Graphics
NVIDIA GeForce GT 650M with 512MB of GDDR5 memory
NVIDIA GeForce GT 650M with 1GB of GDDR5 memory
NVIDIA GeForce GT 650M with 1GB of GDDR5 memory
Ports
MagSafe power port
Gigabit Ethernet port
FireWire 800 port
Two USB 3 ports
Thunderbolt port
Audio line in/out
SDXC card slot
Kensington lock slot
MagSafe power port
Gigabit Ethernet port
FireWire 800 port
Two USB 3 ports
Thunderbolt port
Audio line in
Audio line out
SDXC card slot
Kensington lock slot
MagSafe 2 power port
Two Thunderbolt ports
Two USB 3 ports
HDMI port
Headphone port
SDXC card slot
Camera
720p FaceTime HD camera
Price
Rs. 81,900
Rs. 99,000
Rs. 1,22,900
Rs. 152,900
Rs. 1,52,900
Rs. 1,92,900
Particulars
MacBook Air
Screen Size
11.6-inch
11.6-inch
13.3-inch
13.3-inch
Screen Resolution
1366x768
1366x768
1400x900
1400x900
Storage
64GB Flash
128GB Flash
128GB Flash
256GB Flash
Processor
1.7GHz dual-core Intel Core i5 (Turbo Boost up to 2.6GHz) with 3MB shared L3 cache
1.8GHz dual-core Intel Core i5 (Turbo Boost up to 2.8GHz) with 3MB shared L3 cache
RAM
4GB of 1600MHz DDR3 upgradable to 8GB
Dimensions
Height: 0.11-0.68 inch (0.3-1.7 cm)
Width: 11.8 inches (30 cm)
Depth: 7.56 inches (19.2 cm)
Height: 0.11-0.68 inch (0.3-1.7 cm)
Width: 12.8 inches (32.5 cm)
Depth: 8.94 inches (22.7 cm)
Weight
1.08kgs
1.35kgs
Graphics
Intel HD Graphics 4000
Ports
Two USB 3 ports
Thunderbolt port
MagSafe 2 power port
Two USB 3 ports
Thunderbolt port
MagSafe 2 power port
SD card slot
Camera
720p FaceTime HD camera
Price
Rs. 67,900
Rs. 74,900
Rs. 81,900
Rs. 99,900