The Smallest Mac from Apple just got faster and better - Apple recently announced the new Mac Mini earlier this Tuesday with several new hardware features, including faster processors and graphics, card slot, HDMI port and so on.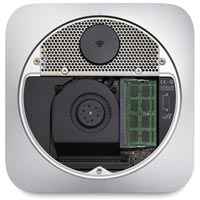 The removable panel
From the late 2009, the older Apple Mac Mini systems started coming in two SKUs, a Standard and a Server edition where the Standard Mac Mini had a 2.26GHz Intel Core 2 Duo processors, the Server version consisted a 2.53GHz processor. The new Mac Mini Standard configuration comes with a 2.4GHz Intel Core 2 Duo processor and and for the Server edition, it is a 2.66 GHz Intel Core 2 Duo processor. Both the systems remains with their previous share of physical memory of 2GB and 4GB of RAM respectively, but it is upgradable to 8GB; the best part being, the user now can replace the memory slot with the newly featured removable panel.
The all-new 1.4-inch aluminium unibody enclosure gives the Mac Mini a more robust build and a built in power-supply increases its portability. The other two noticeable changes to the new Mac mini are: an HDMI port and an SD card slot.

The HDMI port allows you to see the computer's output on a Digital Screen by connecting the Mac mini to an HDTV. This gives the users the ability to play videos or movies on a high definition screen, a feature that Mac Mini users are sure to love. An HDMI to DVI adapter is also provided with the system, and the previous mini DisplayPort remains.
The SD card slot gives the user even more options for adding media to the computer, especially if it is living room setting, connected to your TV.
According to Apple, the new Mac mini "includes the fastest integrated graphics processor on the market today", but its surely a marketing stance, cause we have already seen GeForce 400M series in action. Nevertheless, having 48 processing cores, the Nvidia GeForce 320M graphics processor surely makes it twice as fast as its predecessor.
The price has been tagged on the standard edition, running Mac OS X v10.6.3, to be $699 and the Server edition that runs Mac OS X v10.6.3 Snow Leopard Server, will cost $999.