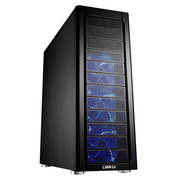 Lian Li launched the world's first USB 3.0 cabinet in the form of the PC-A77F Full Tower Chassis on February 11th. Made out of anodized aluminium, the cabinet is ideal for PC power users and server systems, and features 4 USB 3.0 ports, apart from standard e-SATA x1 and HD AC97 Audio on the top panel. Other features include: 3 blue LED fans on the front (each 120mm@1200RPM), 2 top fans (each 140mm@1000RPM), 1 rear fan (120mm@1500RPM), 3 8x PCI expansion slots (which will enable three way CrossFireX and SLI graphic card setups), and 9 internal HDD 3.5" bays.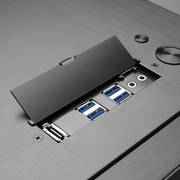 The PC-A77F full tower chassis can support E-ATX, Micro-ATX, CEB or ATX motherboards, and comes in a beautiful hair-line brushed all black aluminium finish. The PCI expansion slots are well ventilated with special vented brackets when not in use, and the chassis front panel clips off conveniently as needed. The inlet fans also have filters that are washable. The entire chassis is designed for tool-less implementation, so installing your hardware and getting your system up and running is extremely quick and easy. The Lian Li patented Power Supply Bracket allows the PSU to be secured using only the tool-less clasp without the need for securing screws. The HDD bays have a bracket mounting system, allowing HDD's to be secured along secure rails, locking fast with rubber grommet struts to prevent movement and vibration from today's fast moving and highly specialized HDD components. The PCI securing brackets are made of aluminium and have a special tool-less clip with rubber padding to secure your graphics and daughter cards with the utmost of ease.
A host of customizable features are available, including a range of optional extras that can be purchased to add more features to an already feature rich product. The product has a 2 year conditional guarantee, and its dimensions stand at 220mm x 572mm x 590mm (W, H, D). For more details on features and extras available for the PC-A77F please go to the Lian Li website.