Intel has scheduled a press event in San Francisco today to announce the official release of its Thunderbolt (originally code-named 'Light Peak') technology, which was conceived as a new, consumer-friendly way to transfer data at previously unheard-of spe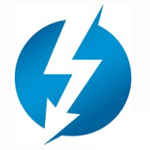 Intel has announced the official release of its Thunderbolt technology, the first iteration of its much-awaited Light Peak. The new I/O technology is meant to become a unified interface that might one day replace the many interface protocols in use in the world today, everything from FireWire to SATA, HDMI to USB.
While Apple's MacBook Pro notebooks, the first devices with Thunderbolt built-in, are already available, no other devices have yet been released. Lacie, Seagate, and other memory and storage brands have announced thei support however, and we should see their first devices by the second half of 2011. Let us take a look at some of the features that Intel's Thunderbolt will bring to the PC table:
Rapid transfer rates - Intel's Thunderbolt is a dual-channel I/O technology that can be said to use features of both conventional PCI Express (PCIe) and DisplayPort protocols. This allows it to offer theoretical peak bi-directional transfer speeds of up to 10 Gbps, more than twice the speed of USB 3.0, which has a theoritical peak of 4.8 Gbps.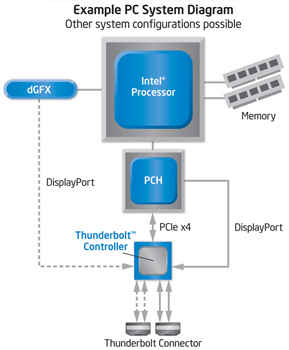 Metal, not light - While Light Peak was known as an unconventional optic-based I/O technology, Intel has decided to make Thunderbolt, Light Peak's first iteration, using copper-wiring as the transfer medium. There were many reasons for this, and not the least of which would be the need for the entire ecosystem of Light Peak supporting devices to support a more complicated and expensive optical interface. Optic-based solution would not be able to provide power via the cable either, limiting Light Peak's USB replacement ambitions. Nevertheless, Intel has managed to hit their self-assigned targets for Light Peak, making Thunderbolt capable of 10 Gbps regardless of its copper-based heritage. Withn the next decade, Intel says Thunderbolt or Light Peak technology would be capable of speeds nearing 100 Gbps, using optical solutions, or at least, optical cabling.
[RELATED_ARTICLE]Port cannibalization - Intel has designed Thunderbolt to work over PCIe and DisplayPort transmission protocols, and, would require a special port to be able to use both channels efficiently. In the new MacBook Pro, the Thunderbolt port is suspiciously similar to a Mini DisplayPort interface, leading one to believe that any DisplayPort cable or adapter would work on it as well.
Optical transceiver - While this technology will need to be perfected further before Intel's theoretical 100 Gbps transfer speeds, Intel's use of miniaturization on the optical transceiver helped the company create Thunderbolt, converting electricity into light and back in a mechanism the size of a small coin. The transceiver comprises two Vertical Cavity Surface Emitting Lasers (VCSELs) lasers and photon detectors. The width of the fiber-optic cabling is just 125 microns wide.
Protocol coherence - Intel uses a controller chip to manage the complicated protocol-switching capabilities required to allow myriad protocols to run over a single cable and port. This leads to the emergence of a universal port in time, and in the meanwhile, give cost and space savings in the form of cables and ports.

Sufficient cable length - While the current copper-based implentation will suffer marginally compared to the final, optical solution, it is still larger than the maximum lengths of USB cables. In the future of Light Peak and Thunderbolt however, pure optical cables could measure up to 100 metres.
Check out a short video below of an Intel Thunderbolt MacBook Pro setup that is transmitting four 1080p HD streams simultaneously. For more information about the technology, visit Intel's Thunderbolt page.