The new U-series CPUs will feature Gigabit Wi-Fi with Intel Wireless-AC technology and an improved DSP for voice assistants like Amazon Alexa.
Nearly a year after launching its eighth generation of Core CPUs globally, Intel is announcing another family of CPUs based on a revamped architecture. However, Intel is continuing to call it '8th Gen'. This new family of CPUs will add to the company's 15W CPU portfolio for Ultrabooks. The family is codenamed U-series (Whiskey Lake formerly). Intel is also announcing a family of 5W CPUs for tablets and ultra thin-and-light laptops under the codename Y-series (Amber Lake formerly).
This time around, Intel is focussing on offering better connectivity and extended battery life instead of core performance, even though the company is promising significant performance improvements as well. "The new 8th Gen Intel Core processors extend once again our leadership in delivering exceptional performance. Now with Gigabit Wi-Fi, we've enabled faster PC connectivity, added more intuitive voice experiences and enabled longer battery life needed for the next wave of mobile computing," says Chris Walker, Vice President of the Client Computing Group and General Manager of Intel Mobile Client Platform, in an Intel Newsroom article.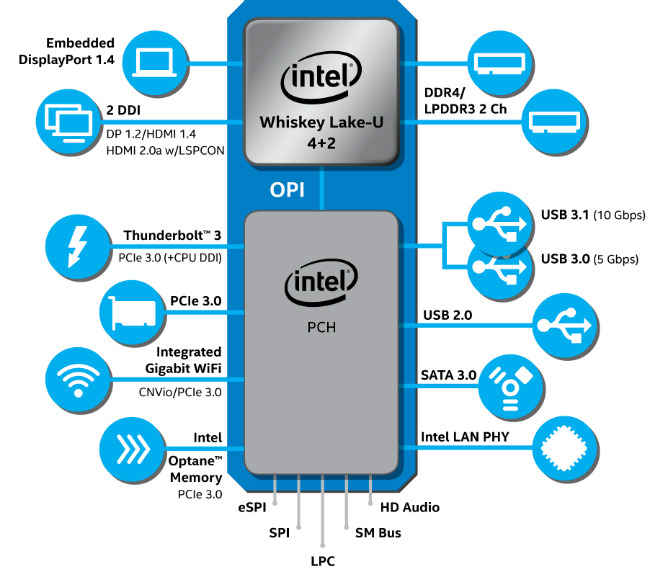 The latest U-series models of the 8th Gen Core series promise up to four cores and eight threads for mainstream laptops and 2 in 1s. They feature integrated Gigabit Wi-Fi with Intel Wireless-AC technology for stronger and speedier connectivity. They also feature integrated support for USB 3.1 (Gen 2) and an improved audio Digital Signal Processor (DSP) for voice assistants like Amazon Alexa. Intel claims that these new CPUs will help a laptop achieve up to 16 hours of computing time on a single charge of the battery.

Although Intel is announcing two new families of CPUs under the '8th Gen' label just before IFA 2018, it is still expected to launch the ninth generation of Core series CPUs very soon. According to the rumours we hear, the 9th Gen Core series will see more threads on the Core i9 models but restricted Hyper-Threading, while it will see fewer threads on the Core i7 models.