The H series processors are designed for performance-oriented laptops and it would appear that Intel is ready to release the new chips for the market.
Highlights
Intel's 9th generation H series SKUs accidentally revealed.
Flagship Core i9 - 9980HK to allow overclocking.
H-series chips are designed for high-performance laptops .
Intel released a document on their official website which included mentions to their yet-to-be-announced H series processors in their 9th generation lineup. The page has since been removed. The H-series CPUs are used in laptops geared for demanding use such as content creation or gaming. The new processors will be manufactured on the same 14nm++ node and are expected to have a TDP of around 45W.
The listing on Intel's website outlines 6 processors in the H series, 2 for the Core i5, 2 for Core i7 and 2 for Core i9. The flagship of the new lineup, the Intel Core i9-9980HK will come with 8 cores and 16 threads and will run at a max clock speed of 5.0GHz. However, the K designation means the processor will be unlocked and will allow users to overclock the chip. The stability of the overclock will, however, depend on the cooling capabilities of the laptop. The Intel Core i9-9980H, on the other hand, will feature the same number of cores and threads as the HK variant, but will not support overclocking, and will run at a slightly lower clock speed of 4.8GHz. We have reviewed various laptops with the Intel Core i9-8950H processor like the Asus Zenbook Pro 15 and the Dell XPS 15, and while the chip shows promise, sustained performance isn't as satisfactory given the inadequate cooling. It would be interesting to see if the new chip will be able to offer sustained max clock speeds for longer than its predecessor.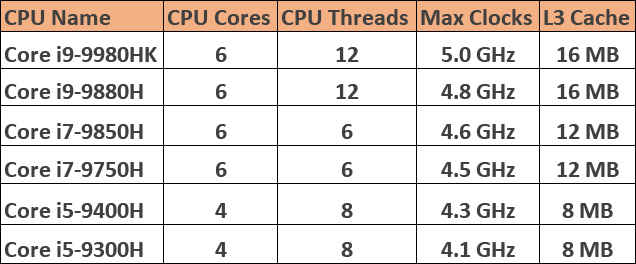 Intel's 9th generation H-series CPU list
Moving past the flagship chip, what most people would actually end up buying would be the i7 variant, which is listed as Core i7-9850H and the Core i7-9750H, with 6 cores and 6 threads each. The Core i5 will come branded as Core i5-9400H and the Core i5-9300H
With 4 cores and 8 threads each and a max clock speed of 4.3GHz and 4.1 GHz respectively.
While there is no official word on when these new SKUs will make their way into laptops, we can guess that it should be soon, given the rate at which manufacturers have started refreshing their product lineup recently.
Related Reads:
Intel's 28-core Xeon W-175X processor finally available for sale at $2999