HCL Infosystems has launched its first HCL Ultrasmart ME Ultrabook in India, called the the HCL Ultrasmart ME Series 3074. According to the company, the ultrabook is one of the first devices launched in India to be powered by a 3rd Generation Intel Core i3 processor. It ships with 39 months warranty.
HCL Ultrasmart ME Series 3074 features a 14-inch 1,366x768 pixel LED-backlit display. Less than 18mm thick, the ultrabook features a metal casing, and weighs in at roughly 1.7kg. The ultrabook will be bundled with 90-days of Intel Anti-Theft Service free. HCL says the ultrabook will offer a battery life of up to seven hours.
The HCL ME Series 3074 Ultrabook is based on the Intel 3rd Generation HM77 Chipset, and features Intel HD 4000 graphics, alongside 4GB of DDR3 RAM in the basic version, upgradeable to up to 8GB DDR3. According to HCL, the ultrabook is super-responsive, with auto-resume in less than 5 seconds.
The basic version (Rs. 51,990) of the HCL Ultrasmart ME Series 3074 comes with a hybrid drive – 32GB SSD for caching tasks, coupled with a 500GB 7200RPM HDD. The next version, with only a 128GB SSD, features a price tag or Rs. 54,990.
Other features of the HCL Ultrasmart ME Series 3074 ultrabook include 2x2W stereo speakers, a 1.3MP VGA webcam, 4-in-1 memory card reader, Bluetooth 4.0, Wi-Fi, Ethernet, USB 3.0 connectivity (3 ports), HDMI port, and a built-in multi-gesture touchpad.
The HCL Ultrasmart ME Series 3074 is also available with an Idea Generator Tool, at Rs. 52,990 (hybrid drive version). The 3074 Ultrabook series is available for pre-booking at HCL's retail partners, brand stores and also online at www.hclstore.in from today.
We are quite skeptical about just how well HCL's new ultrabook will do in the Indian market. After all, there are other offerings with better specifications in the same price range from bigger manufacturers, such as the Aspire Timeline Ultra M3 from Acer, the Satellite U840 from Toshiba, the Envy 4-1002TX from HP, the Vaio T11 from Sony, and the Series 5 from Samsung. We'll have to wait for the review unit to get a better idea of just how well it stacks up against its competition. Do refer to our ultrabook buying guide in the meantime.
Mr. Princy Bhatnagar, Vice President and Head Consumer Computing, HCL Infosystems Ltd., said at the launch:
"With the launch of our Ultrabook we are continuing our tradition of being a manufacturer of innovative computing devices and give our customers faster, more powerful and smarter machines. We are proud to usher in the next generation computing with the new range of HCL Ultrasmart series. Combined with elegant and sleek looks and design, these lightweight Ultrabooks are a testimony to HCL's focus and commitment on developing best in class computing devices for our customers. A combination of powerful processing and great designing has resulted in a device geared for exceptional performance at work or entertainment. Offering a whole new level of computing the HCL Ultrasmart series is set to change the dimensions of user experience which is only going to improve as we launch more devices in the Ultrasmart Series."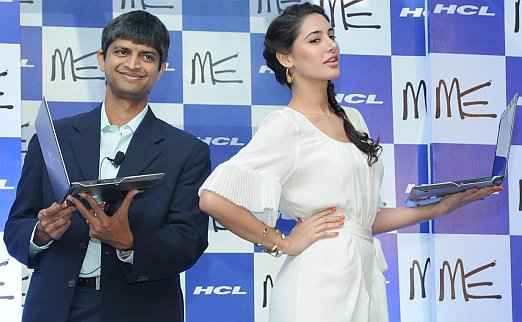 Tags:
HCL Ultrasmart ME Ultrabook
HCL Ultrasmart ME Series 3074
HCL Ultrasmart ME Series Ultrabook
HCL
ultrabook
Ultrasmart ME Series 3074
HCL Ultrasmart ME Series 3074 Price India
HCL Ultrasmart ME Series 3074 India Price