Asus has announced a slew of new laptops and other devices at Computex 2019 trade show and here's a run down of all the new products announced by the company.
A couple of days before Computex 2019, Asus unveiled everything it's going to show at the popular annual trade fair in Taipei. We, at Digit.in, were one of the first few to get an exclusive sneak peek at its new products for this year. Here's a list of everything the Taiwanese electronics manufacturer showed us ahead of Computex 2019. If there's anything we can say for sure at the moment about these products, it's that Asus is betting big on its ScreenPad innovation. You'll remember that it was first seen on the Asus ZenBook Pro 15 that we reviewed last year. It's essentially a touchscreen display within the laptop's touchpad—only this time around—Asus has made more and improved variants of it for this year's models. Let's take a closer look:
ZenBook Duo, ZenBook Pro Duo
This is it. This is Asus' headline product for this year's Computex event. The ZenBook Duo and ZenBook Pro Duo come with one and a half screens each in that there's a regular display on the top fold of the laptop and another slim display just above the keyboard on the bottom half. It's called the ScreenPad Plus. The keyboard and touchpad have moved further down the base panel, so there's no space left to rest your palms. But that's all right, Asus says, because the ZenBook Pro Duo comes with a bundled palm rest accessory. It also comes with an active stylus pen.
According to Asus, the smaller second display on the base panel can be used to boost productivity. A typical user could have up to three smaller pop-up apps open there to avoid distractions on the main display. For example, a user could have Spotify or YouTube running in a small window on the ScreenPad Plus display and use the main display for work. Asus' proprietary software also helps the user create profiles for different window positions so they won't have to keep dragging and dropping frequently used apps in the second display.
While the ZenBook Duo has a 14-inch Full HD display combined with a 12.6-inch Full HD ScreenPad Plus display, the ZenBook Pro Duo has a 15.6-inch 4K Ultra HD OLED touchscreen display combined with a 14-inch 4K ScreenPad Plus display. While the ZenBook Duo comes with an Intel 9th Gen Core i7 CPU and an NVIDIA GeForce MX250 graphics card, the ZenBook Pro Duo is powered by an Intel 9th Gen Core i9 CPU and an NVIDIA GeForce RTX 2060 graphics card. Expect to see this strange new device in the market sometime in the third quarter of this year.
ZenBook 13/14/15 with ScreenPad
Asus' ZenBook series, which was already available in 13-, 14-, and 15-inch sizes, now gets the ScreenPad treatment. ScreenPad 2.0 is now available on all three sizes of the ZenBook line-up. At first glance, it's evident that it looks significantly wider than the touchpad on the outgoing models. According to Asus, ScreenPad 2.0 will support Microsoft Store apps, like Spotify and Evernote. There's nothing noticeably different about the new ZenBook series apart from the upgraded touchpad. Expect the series to come with Intel's 9th Gen Core series CPUs.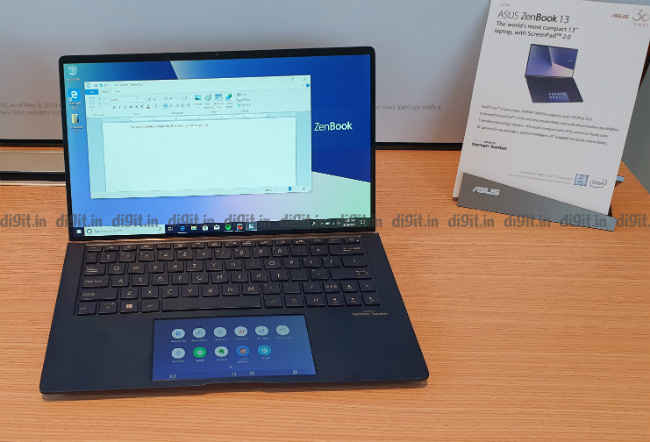 VivoBook S14/S15 with ScreenPad
Asus has equipped even some of its VivoBook laptops with a ScreenPad. Some VivoBook S14 and S15 models with ScreenPad 2.0. Like the ScreenPad on the ZenBook line-up, the ScreenPad on the VivoBook S14 and S15 supports Microsoft Store apps. It also comes with some inbuilt tools from Asus, such as document editor helper and a soft numpad. The document editor helper has common shortcuts for document processing apps like Microsoft Word. The new VivoBook S14 and S15 are expected to come with a new set of colours and body finishes.
ROG Strix XG17
The ROG Strix XG17 is a 17.3-inch portable gaming display. The IPS panel has a refresh rate of 240Hz and a response time of 3ms. It also comes with Adaptive Sync and a 3-hour battery life (at 240Hz refresh rate). It's bundled with a case for easy carrying. The sides have a Micro HDMI port and a USB Type-C port. It can be hooked up to a PC or mobile phone for a better gaming experience.
TUF Gaming monitors
Asus has three new TUF Gaming monitors for gaming namely the TUF Gaming VG27AQ, TUF Gaming VG32VQ, and TUF Gaming VG27BQ. The first is a 27-inch IPS display with a WQHD resolution. The second is a 31.5-inch curved VA panel with a 144Hz refresh rate and WQHD resolution. The last one is a 27-inch TN panel with a 155Hz refresh rate and WQHD resolution. Asus recommends the last one for those seeking a very high refresh rate.
ROG Mothership GZ700
We've seen this one before at CES. The Asus Mothership GZ700 looks like a beefed-up Microsoft Surface Pro but is actually a gaming desktop replacement, at least, that's what Asus says. It has a kickstand and a magnetically detachable keyboard unit similar to those on Microsoft's popular device. The Intel 9th Gen Core i9 inside it is factory-overclocked and surrounded by a liquid metal compound. The large 17.3-inch 4K display covers 100 percent of the colours in the Adobe RGB colour space.
ROG Strix Scar III/Hero III
Asus is replacing the Strix Scar II and Hero II with the Scar III and Hero III respectively but admits that most of the changes to the new model are in the design department. The new models will be powered by Intel's 9th Gen Core series octa-core CPUs and NVIDIA's GeForce RTX series graphics. The display is now a 240Hz panel with a response time of 3ms. Asus has integrated a small digital key called Keystone in the two models. It allows the user to store their personal colour and lighting profiles in it, among other things. Both laptops have a light strip running around the base panel for that "floating" effect. We'll know more about both models in the coming weeks and months.
ROG Strix G531/G731
Aiming to please eSports gaming enthusiasts, the new ROG Strix G531 and G731 come with features similar to those on the Strix Scar series. While the G531 is a 15.6-inch model, the G731 is a larger 17.3-inch model. Both models get wrap-around multi-colour lighting, like the Strix Scar series. Expect them to be launched with Intel's 9th Gen Core series CPUs.
ROG Zephyrus G GA502
Expected to start at $1,199 (Rs 83,000 approx) in the US, the Zephyrus G GA502 is a slim gaming laptop with an AMD Ryzen 7 CPU and NVIDIA GeForce GTX 1660 Ti graphics card. On the inside it has 16GB of RAM and a 512GB PCIe NVMe solid-state drive. The styling on the Zephyrus is G can be best be termed convservative until we get a review unit in our hands.
ROG Zephyrus M GU502
The Zephyrus M GU502 comes with a Pantone-validated 240Hz IPS display with a 3ms response time. It also comes with an NVIDIA GeForce RTX 2060 graphics card to do what it's built for. It measures 18.9mm in thickness and weighs 1.9 kilogrammes. Though it has a large power brick, it can be charged through a USB-C port. For storage, it has dual M.2 solid-state drives with RAID 0. The body is made of reinforced magnesium alloy and the base panel has a soft-touch finish.
ROG Zephyrus S GX502
According to Asus, the ROG Zephyrus S GX502 is the "world's first 240Hz/3ms IPS panel gaming laptop" for everyday use. Like its M counterpart, the Zephyrus S GX502 has a display with 240Hz refresh rate and a 3ms response time. The card pushing pixels to it is an NVIDIA GeForce RTX 2070. In addition, it uses a centered keyboard and an Active Aerodynamic System technology to keep temperatures in check.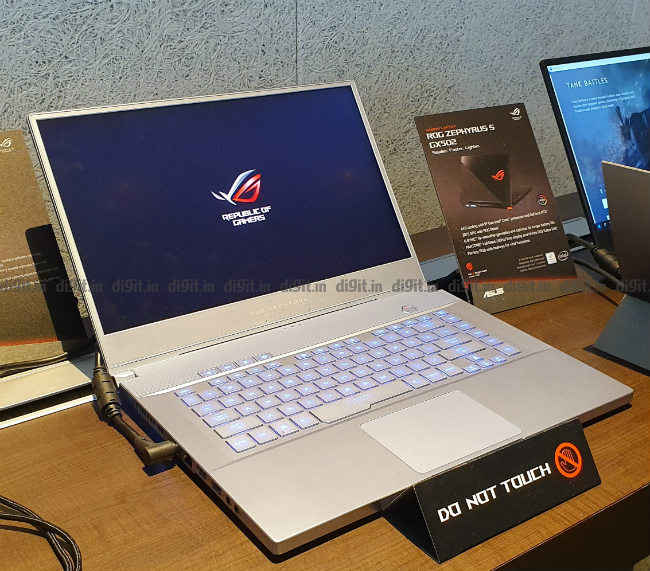 ROG Theta Flagship Headphones
Asus has two new pairs of flagship gaming headphones under the Theta sub-brand. The ROG Theta sports 7.1-channel surround sound with a total of 8 large Essence drivers; the largest driver is 30mm. Bass is delivered through the same drivers virtually without any separate bass driver. According to Asus, it also has a USB-C port and AI-powered noise-cancelling microphone. The ROG Theta Electret, on the other hand, is an analogue pair with an impedance of 32 ohms and silver-plated copper cables.
ExpertBook, ExpertPC, and others
Asus is rebranding its ASUSPRO PC models. The company's range of PC models for commercial markets will be called ExperBook and ExpertPC. The ExpertBook line-up will consist of laptops designed specifically for use in large enterprises with security features, like TPM (Trusted Platform Module) and a physical shutter for the webcam. It will also get vPro variants of Intel's Core series CPUs. Asus is also planning to launch a new range of Wi-Fi routers with support for Wi-FI 6.