ASUS continues the tradition of making otherworldly stuff this year as well with a slew of new features and design changes. The biggest surprise of 2022 is the Zenbook 17 Fold, a big tablet PC about which we'll talk a minute, and the brand new TUF Gaming series featuring a host of new design and performance upgrades. Here's a quick rundown.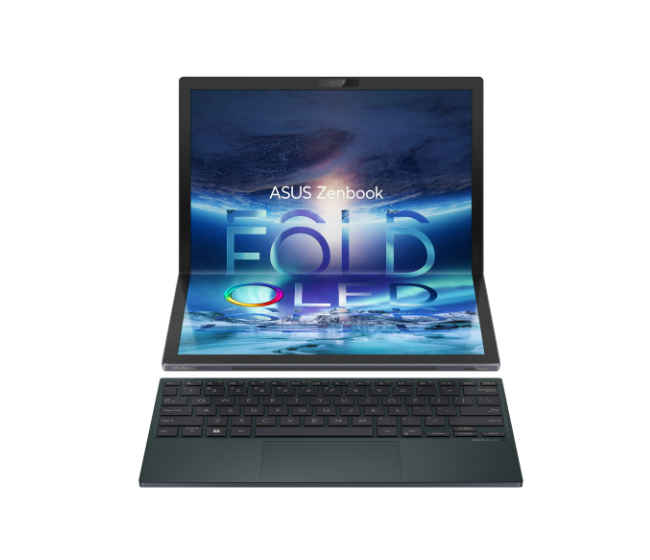 ASUS ZenBook And TUF Gaming Laptops Revealed for 2022
The important thing first, the 17-inch Zenbook, which is also foldable, might possibly be one of the most interesting things I saw during the CES 2022. Just hearing the specs of this laptop makes my ears ring, the Zenbook 17 Fold, as its name suggests, comes with a 17-inch foldable PANTONE validated OLED display with a 2.5k maximum resolution and 350 nits of maximum brightness. Further making this Cyberpunk-looking device more appealing is its 3:2 aspect ratio. Such screens are perfect for productivity as you get a ton of vertical space to do a whole lot more.
In its press release, ASUS also mentioned that the laptop folds thanks to a 180-degree hinge, and once it's fully closed, the entire tablet becomes smaller than a piece of photocopier paper. Now, the tablet PC does come with its own keyboard and also uses Windows 11, so you can easily rearrange various onscreen windows as per your requirement. The ZenBook 17 Fold uses an Intel 12th Gen Core i7 U series processor designed for efficiency, 16GB memory, 1TB SSD PCIe Gen 4.0, and a 5MP camera with ASUS Noise reduction feature alongside an HD camera for increased productivity.
I and a lot of my friends like big 17-inch laptops but carrying them around in our small backpacks was always an issue. Here's where I think the ASUS Zenbook 17 Fold can really carve out a segment for itself.
ASUS Zenbook 14X OLED Space Edition
If you're the kind of guy (or girl, come on it's 2022) who lives on the edge then the ASUS Zenbook 14X OLED Space Edition could be your perfect companion. The laptop is built using US Space Systems Command Standard SMC-S-016A testing protocols that are tougher than the standard Military-grade testing. As a result, this laptop can handle four times the vibrations as a standard military-grade laptop. Additionally, it can operate in extreme climates ranging from -24°C to 61°C. It's probably the laptop they're going to use in the next Fast and the Furious Movie when the "Family" goes to space permanently.
In terms of performance, the ASUS Zenbook 14X OLED Space Edition features up to an Intel 12th Gen Core i9 H-series CPU, a 14-inch, 2.8K OLED display, available in both touch and non-touch panels. The laptop also features up to 32GB LPDDR5 memory, 1TB PCIe Gen 4 SSD. The Space Edition also features a tiny 3.5-inch OLED display on the laptop's lid thus "allowing the user to give those around them a window into their lifestyle," according to the press release. Yeah, I know.
The standard Zenbook 14 also broke cover alongside the astronaut version and it comes in more or less the same form factor. The Zenbook 14 OLED features up to an Intel 12th Gen Core i7 P-series processor, a 2.8k, 16:10 inch OLED display (touch/non-touch), and a 2.5k IPS Nanoedge 60Hz display (non-touch). It features up to 16GB LPDDR5 RAM and 1TB PCIe Gen 4 SSD. The Zenbook 14 is also available with an AMD Ryzen 5000 series processor as well but that model only comes with PCIe Gen 3 compatible SSD. Both models come with the ASUS Numberpad 2.0 and ASUS Ergosense touchpad, which is pretty nice.
ASUS TUF
ASUS also unveiled the brand new TUF series with a host of new changes including a MUX switch, a brand new thin and light mecha-inspired chassis, and the powerful Intel 12th Gen Core i7-12700H processor. The brand new laptop also features an Nvidia RTX 3070 GPU with 140W TGP, up to 1440p resolution display with 165Hz refresh rate with 100% DCI-P3 colour space coverage.
Also Read: CES 2022: Dell XPS 13 now lacks a physical trackpad because it looks cooler this way