AMD announced Ryzen 6000 series processors and Radeon 6000S series graphics for laptops, Ryzen 7 5800X3D processor and Radeon RX 6500 XT graphics card at CES 2022 today. With multiple CPU and GPU announcements for both – the mobile client and desktop segments – this is probably one of the biggest announcements from AMD in recent years.
"AMD is at the forefront of innovation in the PC industry, delivering unmatched experiences for creators, professionals and gamers," said Saeid Moshkelani, senior vice president and general manager, Client business unit, AMD. "The new AMD Ryzen 6000 Series processors bring remarkable efficiency for impressive battery life, unbeatable built-in graphics and optimized performance to deliver the best AMD has to offer to every type of notebook user."
AMD Ryzen 6000 Mobile Processors with RDNA2 Integrated Graphics
The AMD Ryzen 6000 series of mobile processors will be based on their updated AMD Zen 3+ Core design and is claimed to hit up to 5 GHz clock speeds which is 1.3x faster in terms of processing when compared to the older Ryzen 5000 series mobile processors. Even the integrated graphics will benefit from the higher clock speeds resulting in up to 2.1x gaming performance.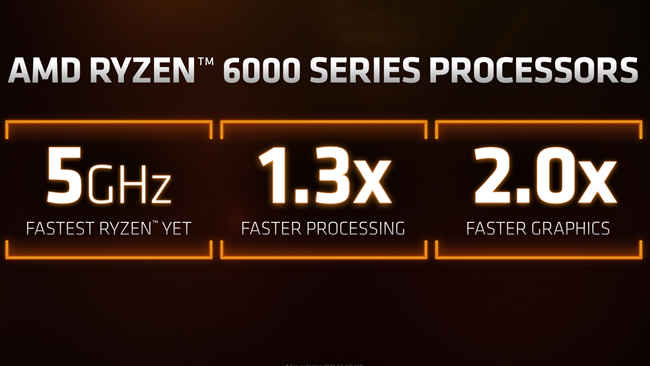 The Zen 3+ cores bring in additional power and efficiency improvements which allow OEMs to produce laptop designs that can last up to 24 hours on a single charge. The top Ryzen 6000 mobile processor will feature 8 Cores (16 Threads) and boasts of 11 per cent higher single-threaded performance and 28 per cent higher multithreaded performance.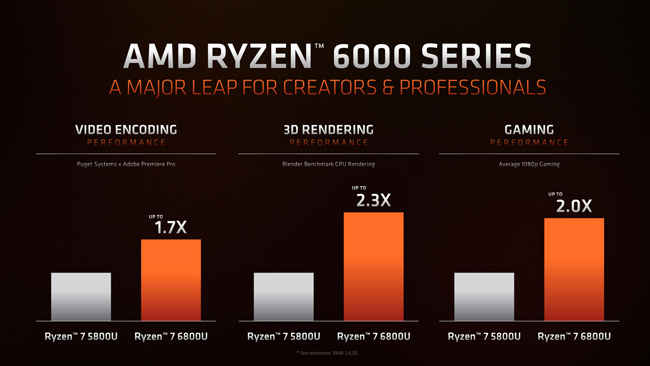 The integrated graphics on the new AMD Ryzen 6000 mobile processors are based on the AMD RDNA 2 architecture which also powers AMD's current gen Radeon 6000 series desktop graphics cards so we're getting to see the latest CPU microarchitecture and the latest GPU microarchitecture on the same package. Usually, the GPU architecture lags behind by a generation or two.
DDR5, PCIe 4.0, USB 4 and Wi-Fi 6E on mobile
It would appear that AMD wants to leave no stone unturned when it comes to juicing up the platform for their new Ryzen 6000 series mobile processors. Intel is expected to announce major upgrades to their mobile processor platform at CES 2022, so it appears that AMD is leapfrogging and launching everything that they can to support the Ryzen 6000 series mobile processors.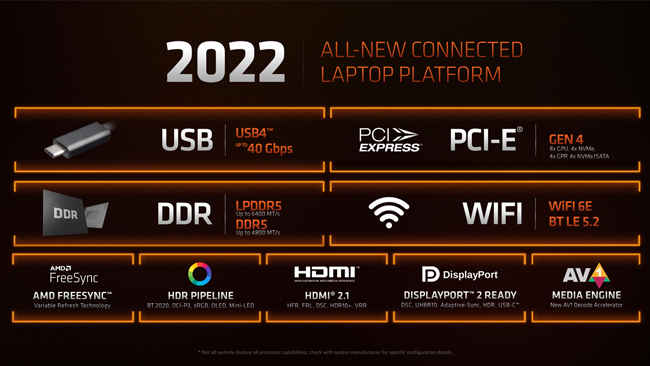 This includes support for the DDR5 memory standard which was first seen on the Intel Alderlake desktop platform. Also coming to mobile is PCIe Gen 4.0 and USB4 support. AMD's Zen cores have always benefited from faster PCIe tech and faster RAM since their Infinity Fabric interconnect technology is PCIe based, so the Ryzen 6000 processors should get a massive shot in the arm with the inclusion of these technologies. Also, the choice of ports and supported peripherals on laptops go up since there's a lot more bandwidth for OEMs to play with.
Then there's support for Wi-Fi 6E networking adapters which brings AMD up to speed with the latest Wi-Fi standard that opens up the new 6 GHz wireless band. Unfortunately, India has no Wi-Fi 6E routers available currently, so this might not make it to Indian SKUs but it's up to the OEMs at the end of the day.
AMD Ryzen 6000 Mobile Processors Lineup
Here's the entire launch lineup for the AMD Ryzen 6000 mobile processors.