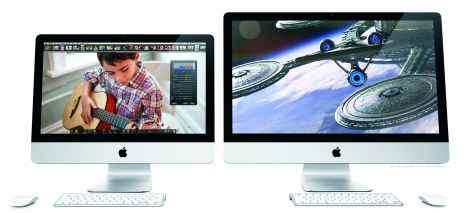 This one should come as no surprise, given the numerous times it has already been
leaked
. Apple, on Tuesday, launched the world's first touch-sensitive mouse, the
'Magic Mouse'
, along with refurbishing its iMac, Mac Mini and
Macbook
range of devices.
New iMacs
Apple also came out with iMac offerings: a 21.5-inch model (1920x1080 pixels) and a 27-inch (2560x1440 pixels) model. The LED-backlit displays come packaged with wireless keyboards and the new wireless Magic Mouse, along with the usual list of connectivity options.
The common features of the new devices include a 3.06GHz Intel Core2Duo processor, 4GB DDR RAM, and an 8x sloat-load SuperDrive. In the 21.5-inch model, an Nvidia GeForce 9400GM integrated graphics chipset and a 500GB hard disk will cost $1,199 (Rs. 55,700 approx); while a 256MB ATI Radeon HD4670 graphics card with a 1TB hard disk will cost $1,499 (Rs. 69,600 approx). The latter configuration with the 27-inch screen comes for $1,699 (Rs. 78,900 approx).
The heavyweight system of the lot is a 27-inch iMac that features a 2.66GHz Intel Core i5 processor with 8MB cache, 4GB RAM, 512MB ATI Radeon HD4870 graphics card, 1TB hard disk and sloat-loading 8x SuperDrive. For $1,999 (Rs. 92,800 approx), this one can be all yours.
New Mac Mini
For the longest time now, the cheapest way to get a Mac lifestyle has been the Mac Mini. The company has now upgraded the current $599 (Rs. 28,000 approx) Mac Mini to a 2.26GHz Intel Core2Duo processor, 2GB RAM, a 160GB hard disk, Nvidia GeForce 9400GM onboard graphics chipset, and 8x SuperDrive. For $799 (Rs. 37,000 approx), users can get a 2.53GHz Intel Core2Duo processor, 4GB RAM and a 320GB hard disk.
For specifications, features, upgrade options (the 27-inch iMac can even be fitted with an Intel Core i7) and all other details you could want, here's the full
press release
.