Considering all the cumbersome paperwork involved while reimbursing food and medical claims at companies, Zeta intends to replace everything with its digital solutions. It primarily consists of three solutions available in the form of mobile applications and a physical debit card. With Zeta, companies will be able to manage medical and food reimbursements, and also tax-free gifts and rewards easily from a single web-based dashboard.
Companies offer several benefits and allowances to their employees such as food vouchers, medical reimbursements and rewards. Usually, meal vouchers are handed over to the employees in the form of booklets while medical claims are reimbursed later on submission of bills. After submission, all the bills and transactions are verified by a human and then finally, it is passed. The entire process takes a lot of time, depending on the number of employees. Zeta ensures the entire process is done digitally with almost no paperwork involved.
Employees will receive the necessary allowances in their Zeta account in different virtual wallets categorised in medical and food cards. You can either use the amount from your wallets or upload photos of your bills and claim the amount. The corresponding amount will be added to your account after verification. Employees will be able to make payments at supported merchants using the code generated during every transaction. For non-supported merchants, you can claim your amount using the photo of the bill as mentioned above. Employees and HR managers will be able to access all their transactions for up to seven years on the Zeta dashboard.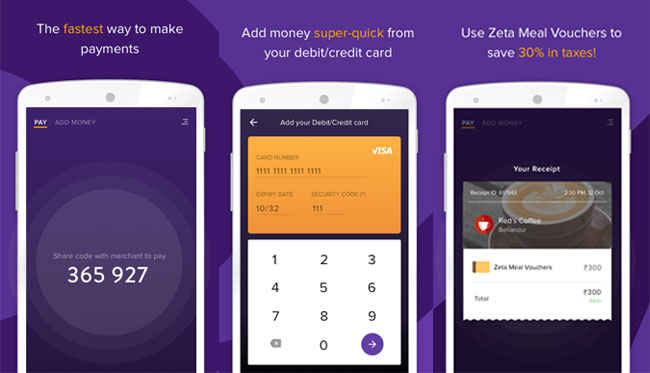 Another advantage is the physical Mastercard that you receive after registering your Zeta account It can be used as a regular debit card on POS terminals and for online transactions. You will be able to add money to the "Cash Card" virtual wallet and transact using the debit card. So, you're not only getting a mobile wallet but also receive a physical debit card.
More than 200 companies have already invested into Zeta and apparently, they are witnessing a satisfactory acceptance in the market. At the launch event, Founder and CEO of Zeta, Bhavin Turakhia said, "Employee Benefits and Rewards as a space has remained the same for decades. Companies are forced to use age-old practices for the lack of a wholesome and better solution. This space was waiting for a disruption and Zeta is ushering in this revolution by being the first such solution in this space in India."
The employees will be able to access their Zeta account through mobile applications available on Android, iOS and Windows, while the HR managers will have access to employee accounts through a single web-based interface.
For more technology news, product reviews, sci-tech features and updates, keep reading Digit.in or head to our Google News page.