An article detailing the expectations from Apple's WWDC being held at San Francisco, today.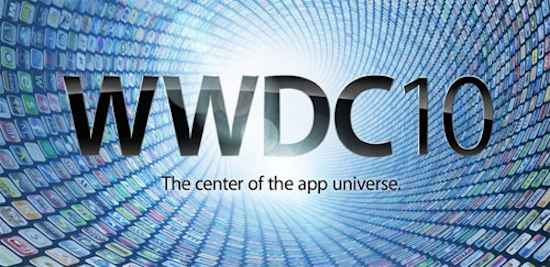 Believe us, no matter how much Steve Jobs downplayed the rivalry between Apple and Google, the war has just begun. While Google sounded the opening bugles at Google I/O and rushed out with fervour last month, WWDC is Apple's turn to charge. While Google fanboys have been rejoicing the exploits of FroYo, WebM and Google TV all month long, it's Apple's time to wrestle back the bragging rights at Apple's Worldwide Developers Conference starting today. It is showtime tonight as Steve Jobs delivers the keynote to WWDC at 10:30 P.M. IST.
Apple's 2010 Worldwide Developer Conference is to be held today at Moscone West, San Francisco, the same venue and event where it announced the first iPhone, the iPhone 3G and then the iPhone 3GS, in successive years. While not strictly concrete fact, the trend surely points towards the next-gen iPhone 4G device being unveiled today, and we will all finally get to see it in action, and get to know if it really does look like the testing units that showed up all over the world in the last couple of months.

Apart from the regular focus on the iPhone OS and Mac OS X development that has been seen in past WWDCs, we're sure Apple has a lot more up its sleeve this time around, everything from Apple TV to iTunes platform updates, iPad OS upgrades to free MobileMe services. After all, Steve Jobs himself proclaimed, "You wouldn't be disappointed". Below are our expectations from Apple's annual developers' conference.
The new iPhone - The truant has hogged the headlines for its numerous escapades, and even taken away Gizmodo's ticket to WWDC. While the world is still not sure if it would be christened as iPhone HD or iPhone 4G or iPhone 4 or even iPhone-that-is-better-than-Andoids, but we expect it to bring a new form-factor, Apple's A4 processor, front camera, HD recording, crazy resolution (probably 960x480), a touch sensitive back (gamers, smell cookies?) and 64 GB storage. Expect a release date of late June or early July, and yes, Apple seemed satisfied with AT&T at D8, so no Verizon/Sprint iPhone.
OS 4.0 - Expect more demos of the OS 4.0, a release date.
iPad updates - A world-wide sales figure and announcement of OS 4.0 iPad-version.
iPod - A new iPod is due. So would the leaked-piece be the new iTouch? Expect a boost in storage.
AppleTV - Might know the truth about the $99 iPhone-without-screen. The itch caused by launch of GoogleTV might induce a reaction. The idea of an iPhone with TV as screen is lip-smacking.
iTunes.com - With competitors heading for the cloud, expect a cloud-service from Apple too. Syncing iPhone to cloud sounds good. So does sharing your playlists à la Lala.com (sounds good!) that Apple recently purchased and subsequently shut-down on May 31st. A rebirth as iTunes.com? Maybe. Also expect MobileMe service to go free to complement the Apple cloud.
Mac Pro & MacBook Air refresh - Both products have updates overdue. Expect appearance of new Intel Hexacore Xeon processor and a 27" inch version of LED-based Apple Cinema Display in Mac Pro. MacBook Air may get reinforcements to challenge the new ultraslims. A faster processor maybe, to counter Intel's latest dual-core Atoms?
Mac OS X 10.7 announcement - Rumors have it that the OS has been in use within Apple Inc. since October 2009. But the recent focus on OS 4.0 has diverted the focus, so this one is a 50-50. Rumours have also been on about the release of version 10.6.4 of the OS X
Mac Mini update - Another victim of the iPhone-focus. Rumors of an HDMI-port but still no switch to the new Intel Core processors.
iWork.com - iPad/iPhone touch support for the site, a finger-friendly version expected
Safari updates - Would get major upadtes including the new Safari Reader (organised, readable text extracted out of website), improved Javascript rendering speed to catch up with Chrome and Opera, Bing support, HTML5 refinements (Apple loves HTML5!), smarter Address completion a la the Awesome Bar of Firefox, hardware acceleration for Windows (matching IE9). With WebKit 2 already in the wild, all bets are that Safari 5 will feature this engine. This is a developers' conference, and expect the hotly demanded APIs and extensions to finally hit the Apple browser.
More 64-bit Apple software - With 64-bit versions of Mail, iCal, Address Book, etc. in the latest iteration of Snow Leopard, rumours of roll-out of 64-bit versions of iLife and iWork suites have surfaced.
Foxconn - After Steve Jobs showed Apple's concerns for the labour working at the Chinese manufacturer's factory at the D8, we expect more. The salaries at Foxconn have been raised, expect a word on the same.
Do join us at our forums to tear into some of the finer details of what Apple will have to say tonight.