Highlights:
TRAI's new rules for TV channel broadcasting will come into effect from February 1.
The new plans will enable users to pay for channels that they watch.
Will new DTH Channel rules make TV watching cheaper or more expensive?

TRAI's recent mandate of reducing cable and DTH bills will go into effect from February 1, 2019. Most DTH service providers are announcing the new channel prices and under the new rules, there is now a mandatory Network Capacity Fee (NCF) of Rs 130 + taxes, total not exceeding Rs 154, that will accommodate 100 Free-to-Air (FTA) channels. If one needs to add more channels, they will need to pay an additional Rs 20 for adding 25 more network capacity. The DTH provider Sun Direct was reported to have waived this NCF for users who go above 100 channels and TelecomTalk reports that now Tata Sky has also done the same, but only on select pay channels. This means that some pay channels can be added to the user's current NCF quota without increasing its cost even if the channel count crosses 100.
While the new rules laid down by TRAI are supposed to lower the charges being levied on DTH users, it seems that one might end up paying more instead. As users are supposed to select the channels they want to watch, it is unclear if DTH providers will offer any packages that they currently offer to users. While more details will be clear once the new scheme goes into effect from Feb 1, we have compared one of the popular packs offered by Tata Sky called "Sports Dhamaka" with the new channel rates to figure out how much it will cost if you select the same number of channels under the new TRAI regulatory regime.
The Telecom Regulatory Authority recently launched a web-app that enables users to mock select how much they will be charged for channels they want to watch. We added the channels listed under Tata Sky's Sports Dhamaka plan, which currently costs Rs 420 per month, in the TRAI web app to see how much it costs in the a-la-carte mode that will soon go into effect. Do note that the Tata Sky pack we are taking into account has no HD channels. Also, as per TRAI, there are 25 mandatory channels from Doordarshan like DD India, DD News, Lok Sabha TV, Rajya Sabha TV and more that will take up bandwidth in 100 channels users get in Rs 130+ taxes, leaving 75 spots for a user to add Free-to-Air channels without increasing the NCF. Do note that the NFC will increase by Rs 20 if one wants to add 25 more channels, beyond the 100 channels, which can be FTA or paid. Additionally, the web app is supposed help users figure out how much they will need to pay based on the price of selected channels. One will need to get in touch with their DTH service provider to actually implement these changes.
And it costs more...
We added a total of 27 pay channels when the price barrier of Rs 420 currently being offered by Tata Sky's Sports Dhamaka plan was exceeded. Some of the channels that we added are priced at Rs 19, which seems to be the maximum pricing set by the network broadcasters for their channels under the new rules. Most of them were sports and Hindi entertainment like Ten 1, Star Sports 1, Star Sports Select 1, Star Plus, Zee TV, Sab, Colours, among others. After adding some more channels from Lifestyle and Kids category like Discovery Turbo, TLC, Cartoon Network, Disney and more, the total number of paid channels shot up to 38 and the overall price bumped up to Rs 468. At this point, we got the gist that one might end up paying far more than what they currently are under the new scheme.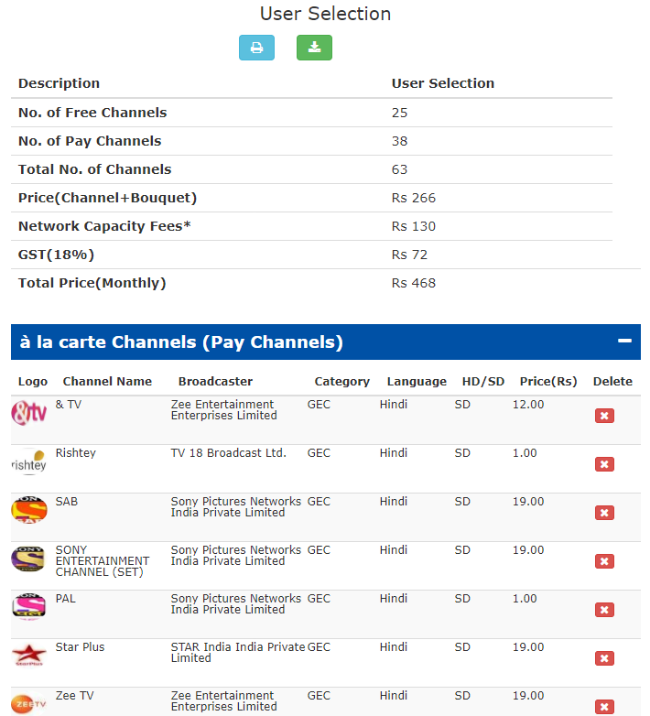 This is the indicative bill for when we added channels in the a-la-carte mode
We previously posted a couple of stories on Facebook around TRAI's new changes for the DTH space and the comment section was full of people who were angered by the decision since it is more expensive for them.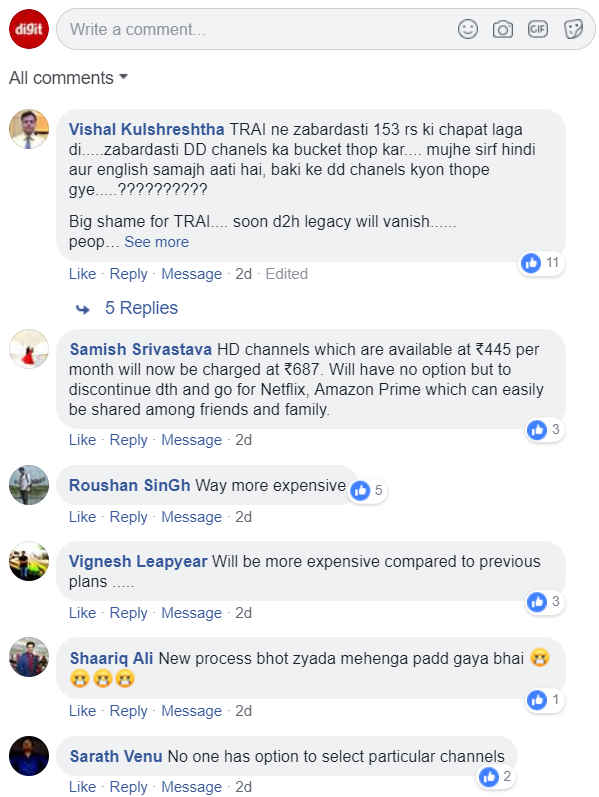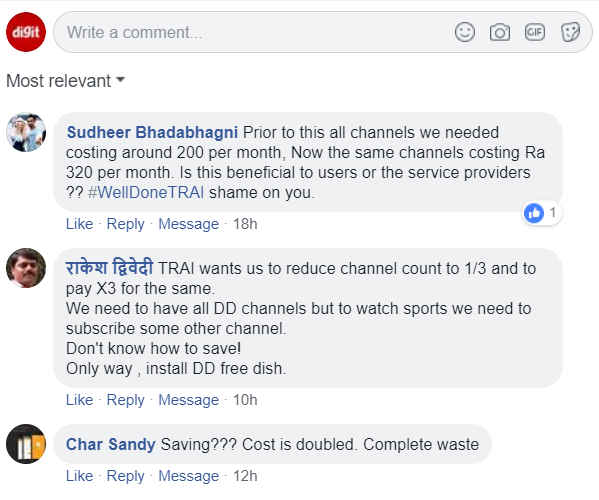 Yet, it might cost less….
Do note that there will also be bouquet plans that a user can select from. These bouquets are offered by broadcasters and are supposed to be helpful in selecting a bunch of channels at once so that users don't need to select every channel individually. We did not use any bouquet packs as the a-la-carte mode in itself was supposed to help users save money. However, the TRAI web app has an option to "Optimise" the user's selection so that bouquets by broadcasters containing the picked channels are added automatically. This feature could go both ways and seems to be an algorithmic attempt at helping users save money by separating individually added channels into bouquets.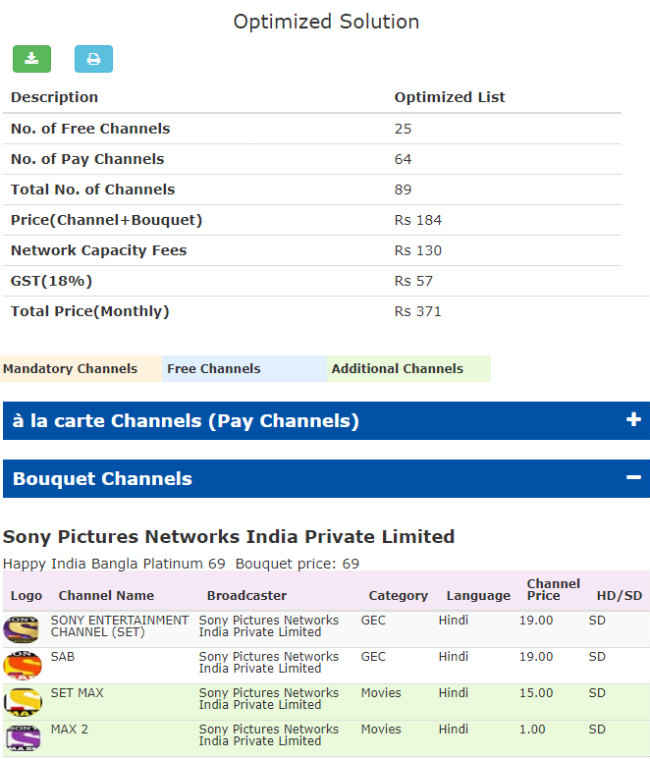 This is the reduced bill after using the Optimse function in TRAI's channel selection web app
As this optimisation adds bouquets, one will end up with additional channels that they may or may not need. In case an added bouquet costs less and contains all the channels a user needs, one will end up saving money. This happened in our case where the overall cost of Rs 468 was optimised to Rs 371 per month by removing channels from a-la-carte and adding entire bouquets where most of the channels were grouped together and cost less.
For example, the optimise function added Happy India Bangla Platinum 69 Bouquet, which costs Rs 69, that is provided by Sony Pictures Networks India Private Limited. This bouquet added eight unwanted channels but also covered some entertainment and sports channels like Sony Entertainment, Sab, Ten 1, Ten 2 and Ten 3. Finding a bouquet that can save a user money will not be easy but this web-app seems to work well. However, as we said, it added eight new channels that cannot be excluded from the bouquet. This happened with some other channels as well and the overall number of pay channels went up to 64 from 38, which is a big jump.
We were lucky that the total number of channels didn't exceed 100 or else an additional charge of Rs 20 would have been levied for additional NCF of 25 channels. This also means that if there are channels that span across different bouquets, the optimisation function will add more of them, in turn adding to the total number of channels that might ultimately lead to paying more for network capacity. We can't really be sure since there are numerous permutations that a user could add channels in and for some, it might work out in their favour but others might not be that lucky.
This article should help you understand how things could work once the TRAI regime goes live. We suggest that one head over to TRAI's channel selector web app and add their desired channels, try and optimise them, and figure out whether their selection helps save money or not.
One crucial factor that will influence the overall pricing is the Network Capacity Fee that we mentioned in the beginning. Sun Direct is said to have waived the additional NCF charges, which means that users who are selecting more than 100 channels should be paying Rs 150 (Rs 130 + Rs 20 for adding up to 25 more channels) but they will still be charged Rs 130 (excluding taxes). However, this will not be the case with Tata Sky users since the DTH provider has waived off NCF fees only on some selected channels. So, as long as users add these channels that are exceptions, they will need not pay for additional NCF quota even when the channel count crosses 100. This waiving off of NCF is expected to vary for every service provider and it remains to be seen who ends up delivering the best deal for its customers.
Related Reads:
DTH channel selection becomes easier with TRAI Channel Selector web app: How to use, channel pricing and all you need to know
Here's how much TV channels will cost from January 1 as per new TRAI price regime
Dish TV, Airtel Digital TV, Hathaway, Siti and Den Networks release new channel prices under new TRAI regulations
For more technology news, product reviews, sci-tech features and updates, keep reading Digit.in or head to our Google News page.