Unite India 2018, Unity's annual 2-day developer conference kicked off at HICC, Hyderabad today. Unite India is part of IndiaJoy 2018, a week long event supported by the Telangana government and facilitated by the Telangana VFX, Animation and Gaming Association (TVAGA), the event focuses on the B2B and B2C aspects of the industry. Unite India 2018 is one of the biggest events taking place under IndiaJoy 2018.
Unite is a platform for Unity developers to showcase their talents and interact with Unity evangelists to better understand aspects of the Unity portfolio. The two-day affair hosts thousands of developers and gives them the opportunity to explore some of the 2D, 3D and VR/AR applications developed by Unity and select studios. Getting a hands-on experience of the latest demos and upcoming technology is what a lot of developers look forward to at Unite.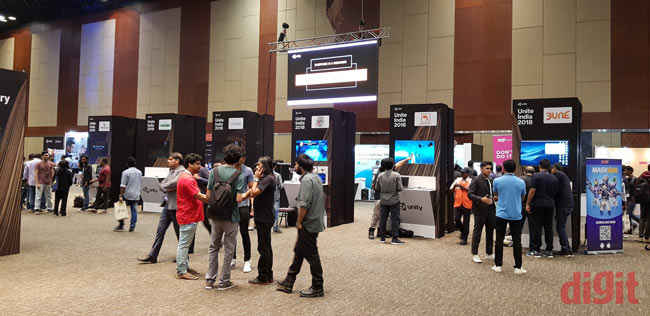 Most of the magic happens in the lectures and there are quite a lot of them scheduled across multiple tracks on both days. Unite India 2018 will have tracks focused on industrial applications, education, training and games. The training lectures are being held exclusively on the second day. Some noteworthy keynote sessions by Andrew Bowell, Ashley Alicea, Liz Mercuri, Tim Donough and lectures by Anurag Rana, Abhilash Ashok, Madhur Gupta, Saiteja Alampally, Vijay Sinha and Anirban Chakravorty seem to hold interest for us.
If lectures aren't your thing, then the showfloor has a lot of exhibitors and studios showcasing their games. So you can always check those out.