Twitter is making it tougher for the users to see a chronological timeline of the tweets from the people they follow. In other words, now, there is no way to default to tweets by their recency. Instead, you will have to swipe or click on a new section called Latest Tweets to see the most recent tweets. This is currently being rolled out to iOS users and it is expected to hit Android as well as the web interface soon.
So, when you open your Twitter app, it will land on the Home page, which is the default screen. If you want to view the tweets by their recency, you have to deliberately choose the Latest Tweet tab.
Here's how it is implemented at the moment:
Enable/Disable Latest Tweet tab on Twitter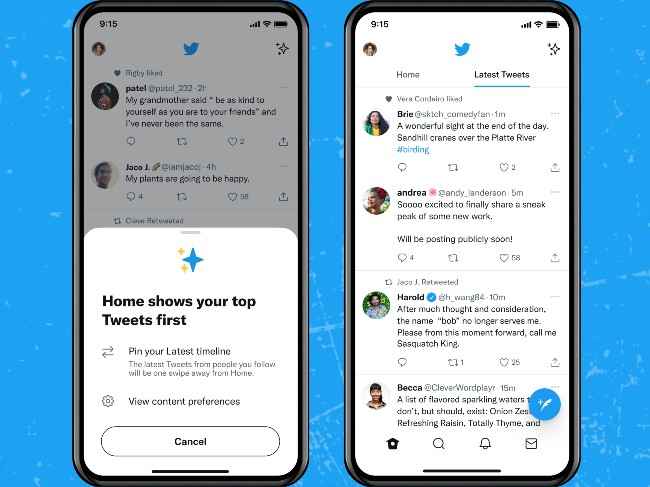 On the latest iOS Twitter app version 9.3, when you tap the ✨ icon on the top right corner, you will see an option called, "Pin your Latest timeline". Its description reads, "The latest Tweets from people you follow will be one swipe away from Home."
If you choose that option, a new tab will appear right next to the Home tab called, 'Latest Tweets'. Its function is self-explanatory.
Now, if that's not what you want, at least for now, there's the option to revert to just the Home tab (and any other pinned lists you have).
For some of you, this update might seem just fine, but some are disappointed at the removal of the option to pick the default home screen on Twitter between Reverse-Chronological and Algorithmic-driven. The latter first came into the picture in 2016.
Back then, Twitter's founder and Ex-CEO Jack Dorsey had said, "Twitter is real-time. Twitter is about who & what you follow. And Twitter is here to stay! By becoming more Twitter-y,"
In a similar vein, the official handle of Twitter Support introduced the new change on March 10, 2022, as a means for "easy access".
Twitter's update comes at a time when Meta's Instagram has announced the return of chronological feed on its platform in some shape or form. This is owed to regulatory pressure from the US Congress. Let's keep tabs on if and how Twitter reacts to the public response to its change.
Meanwhile, for more such news, reviews, feature stories, buying guides, and everything else tech-related, keep reading Digit.in.
For more technology news, product reviews, sci-tech features and updates, keep reading Digit.in or head to our Google News page.