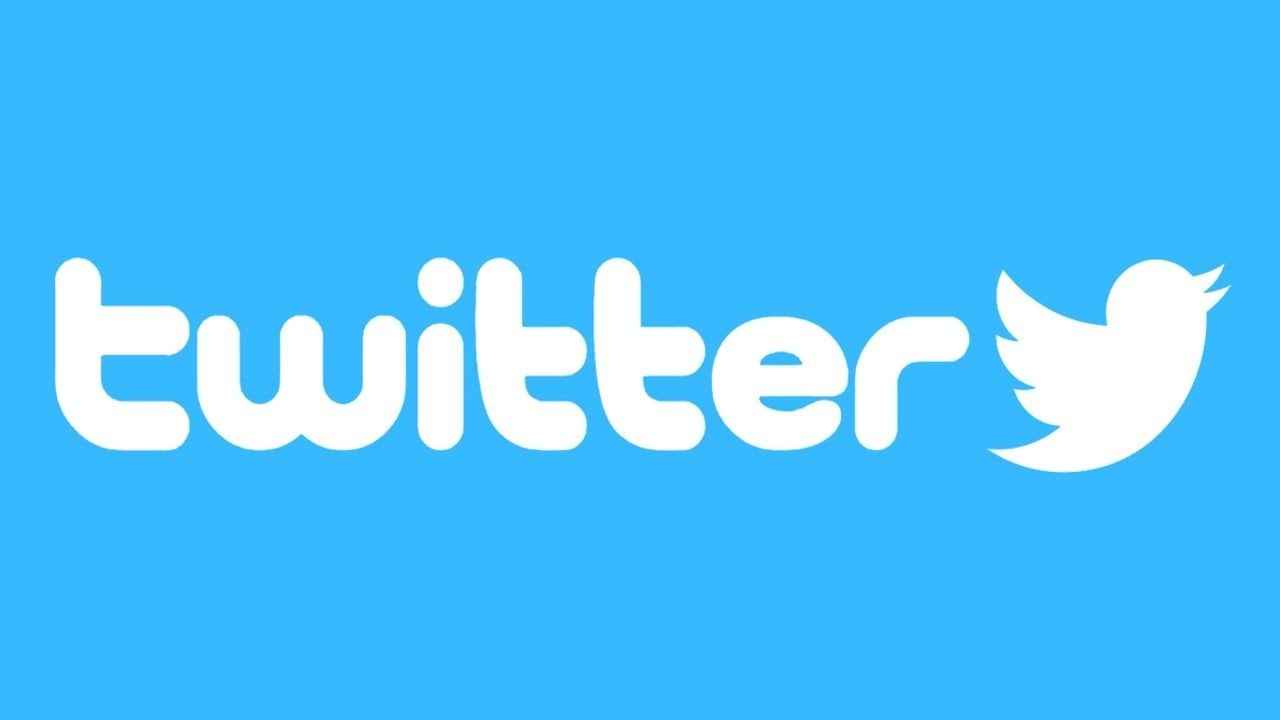 HIGHLIGHTS
Twitter could support NFT authentication for creators by connecting their crypto wallets.

Twitter to introduce Tip feature where users can tip others in Bitcoin using Strike Application built on Bitcoin Lightning Network

Twitter to bring in more privacy related features including Safety Mode.
The micro-blogging giant, Twitter has announced the release of some new exciting features to its platform in the next few months. The company has said that it will soon support NFT authentication for creators. Artists and creators will be able to connect their crypto wallets and take payments from other users directly. The most awaited update is the Tips Feature. The company tested the Tips feature in the US, where the users could tip others not only using real currencies, but also using cryptocurrencies. The company is also preparing its own creator fund to provide audio creators with financial, technical and marketing support.
Twitter Tips: Tip others in Crypto
Twitter earlier in May had rolled out its Tips in the US for a few users for testing purposes, and soon is rolling it out worldwide on Android and iOS. Tips uses the help of third party apps such as Razorpay to tip the creators off on Twitter. Initially called Tips Jar, it is now available globally as Tips. The users will now be able to Tip others using the Digital currencies and also using Bitcoin. The payment service is based on the Bitcoin Lightning Network based application – Strike. Strike is available to people in El Salvador and the US (excluding Hawaii and New York). Users for receiving Bitcoins need to have a Strike account but other Twitter users will be able to use any Bitcoin Lightning wallet to send tips to someone's Strike account. This feature is being rolled out to iOS and Android users will get it over the coming weeks.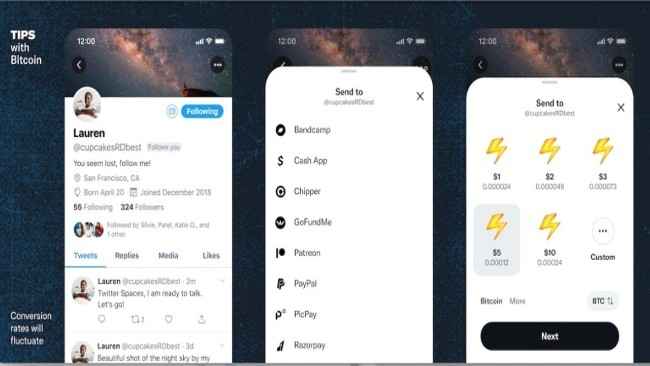 Integration of Bitcoins for Tips (Source: Twitter)
Also, Twitter said that it is adding more supported third-party platforms to process the tipping feature. The company has added support for GoFundMe and PicPay, which join Bandcamp, Cash App, Chipper, Patreon, Razorpay, Wealthsimple Cash, and Venmo.
Twitter is also planning to add support for authenticating NFTs (non-fungible tokens) by letting people connect their crypto wallets. By connecting the wallets, they will be able to track and showcase their NFTs on the platform. The NFT authentication functionality will be available in the form of a badge that is shown on users' profile pictures, which in turn would mark the owner's NFT as authentic. This feature of NFT Authentication is still in development and the company is trying to figure out different ways of deploying it.
The Super Follows feature which provides Subscription based content is also ready to be rolled up all over the globe.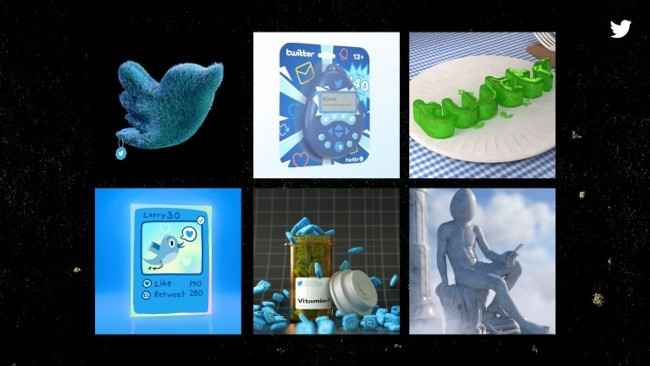 Integration of NFTs Authentication (Source: Twitter)
Twitter Expands its Space Platform
Twitter had recently launched its in-app voice based social network platform, the Spaces, and is also bringing new updates to that. The company is working on improving the discovery of ongoing Spaces conversations. With the launch of Ticketed Space, where an entry ticket is required, the monetisation from these Spaces will help the Creator and they can set the prices and audience sizes.
The hosts of the Spaces will now be able to record and even replay their programs. This feature is set to launch in the coming few months.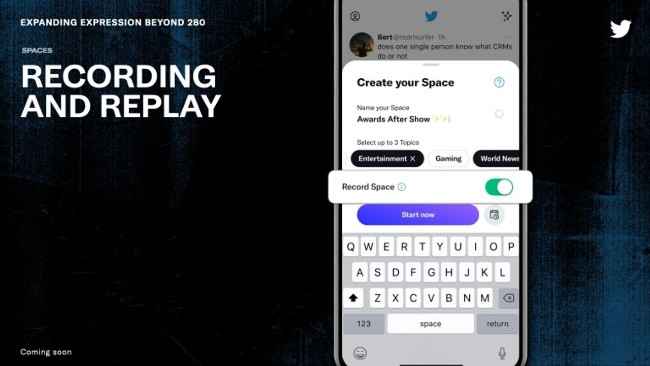 The company is also testing a new feature known as "Communities"- a feature similar to Facebook Groups, wherein people with similar interests can join and interact. This feature is still in its testing phase.
Twitter's new Features for improved protection of user's privacy
Twitter announced a host of new features that are aimed at making the platform safer for its users.
Twitter had launched a new feature called "Safety Mode", earlier this year, and is now in the testing phase in the beta mode, with a small group on iOS, Android, and Twitter.com. It started with the accounts that have English-language settings enabled. The Safety Mode offers an automated level of protection against online harassment and cyberbullying on the platform. People can quietly remove followers.
Further, Twitter said it is experimenting with a feature to give people a "heads up" when they are about to join a heated discussion on Spaces. This will give users a context about the "conversation vibe" before they join the room.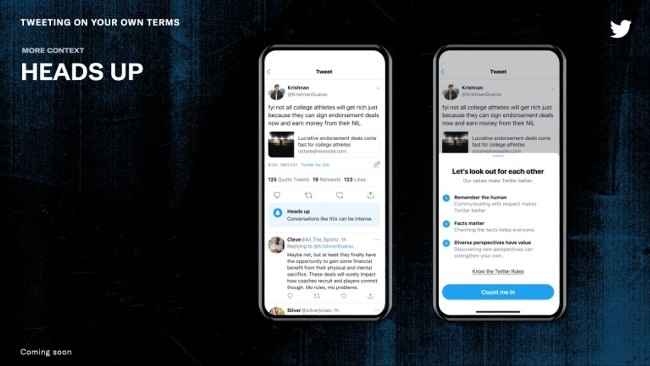 Recently, Twitter has also started labelling bot accounts clearly. According to sources, the company said it will start labelling more accounts, based on their type including businesses, brands and memorialized accounts.
For users who are frequently involved in the platform and interact a lot, as mentioned by others in their tweets, Twitter will be adding a feature that allows users to remove themselves from such conversations.
Lastly, Word filters will allow users to filter out "unwanted speech" and bad words in their replies. Users will be able to choose specific words and emojis, which will be blocked on their replies. The feature is still in the concept phase right now and the company will provide more updates at appropriate time.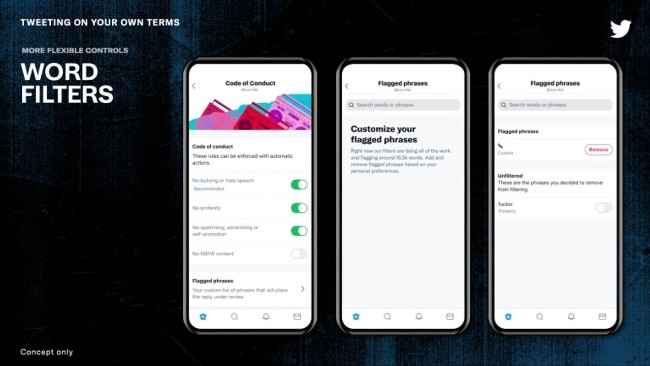 Disclaimer: This article has been authored by a member of our Digit Squad community.