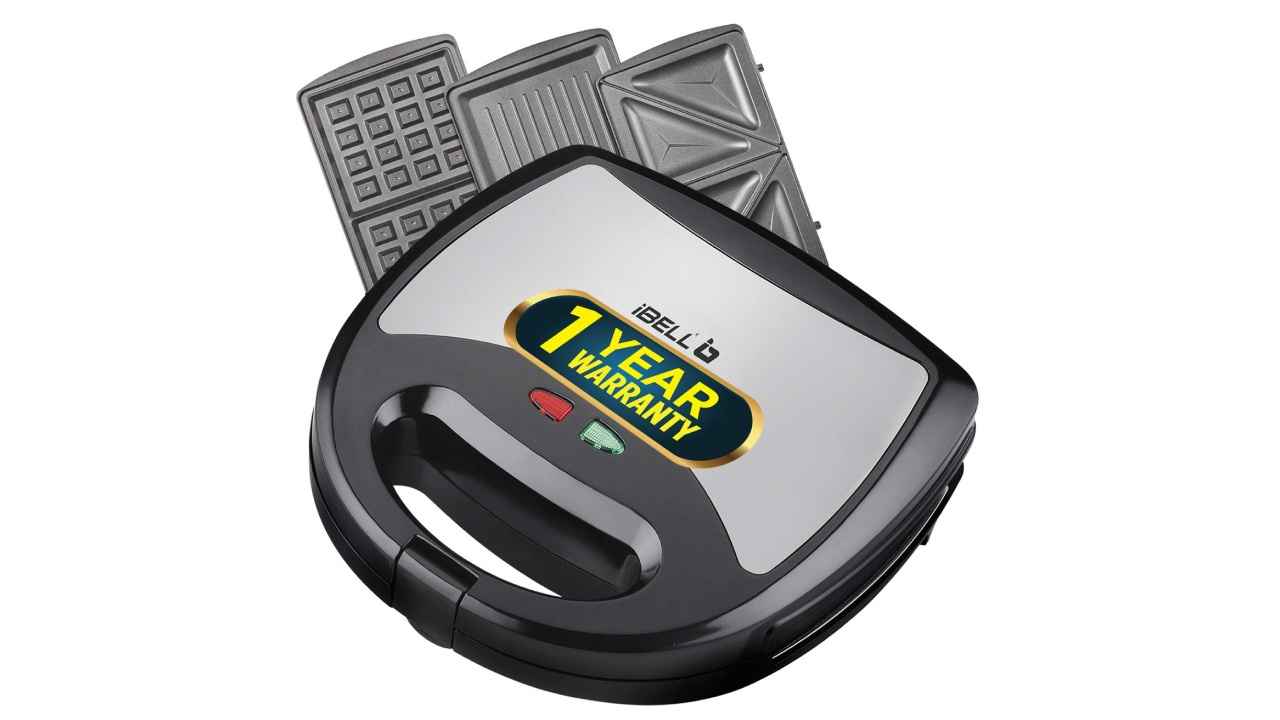 Who doesn't love a good helping of crispy and soft waffles? For many, it may seem like a dream to have such amazing waffles at home. However, if you want to try your hand at making waffles at home, there are a set of waffle makers which make things easier. These waffle makers are easy to use and deliver impressive results with little effort on your part. All you need to do with these waffle makers is place the batter evenly across the hot plate and close the lid. You get fluffy waffles that are soft in the middle and crispy on the outside in no time. Once out of the waffle maker, you can top them off with some whipped cream, butter and chocolate sauce for that perfect Sunday brunch. Since they feature correctly sized grooves and spaces, you can rest assured that you're getting restaurant-like waffles at home.
Borosil – Neo Waffle Maker, 1000 W, Silver
When making waffles, it is important to pick up a waffle maker which is non-stick in nature – you don't want your waffles to be unshapely and inedible. This waffle maker delivers in that regard – it has a large non-stick waffle maker plate that can make you two waffles at a time. There are two LED lights at the top – one green and one red that quickly and efficiently let you know the status of your waffles. The machine will ensure fluffy waffles as the lid is tightly shut and locked in place, while the handle lets you open it even when the appliance is very hot. It has automatic temperature control, which means you don't have to put in much effort.
iBELL SM301 750 Watt 3 in 1 Sandwich Maker (Toast/Waffle/Grill)
Here's a value for money 3-in-1 waffle maker. It packs in 3 additional plates, which can be attached inside. These include a waffle maker plate, a toasting plate, and a griller plate. With this appliance, you can make whatever you fancy and always be prepared for unannounced guests or just those sudden cravings. Using the waffle maker is as simple as attaching the hot plates and pouring in the waffle batter. You can sit back and relax as the plates heat up and let your waffles rise and become fluffy, just like the restaurant ones. If you're in the mood for grilled sandwiches or toasts, you can install the other hot plates and make whatever takes your fancy.
Lifelong LLWM105 Belgian Waffle Maker
If you're a sucker for Belgian waffles, then this is the appliance you need at your side. It has deep grooves and even heat distribution that ensures the batter rises evenly to get the ideal Belgian waffle texture only found in the best of bistros. To treat yourself, top off the waffles with loads of butter, chocolate sauce or maple syrup and relish the delicious homemade waffles. For ease of use, the plates are non-stick, and the top of the appliance comes with two LED lights that let you know when the waffles are done. The lid also locks in place so that heat doesn't escape and your waffles are ready when you take them out.
Russell Hobbs RST750M3 750 Watt Non-Stick 3 in 1 Sandwich Maker
Here's another sandwich maker which features a 3-in-1 operation and includes a toaster plate, a waffle plate and a grill plate. The waffle plate comes with deep grooves for the ideal waffle texture, while the grill plate gives bread and other food items a great texture and a charred taste – a must for grills. The waffle maker is really the star of the show here because the appliance makes it very easy to make restaurant-like waffles at home and take your guests by surprise. The waffle maker features optimal heat dissipation and gets you crispy waffles at home with ease.