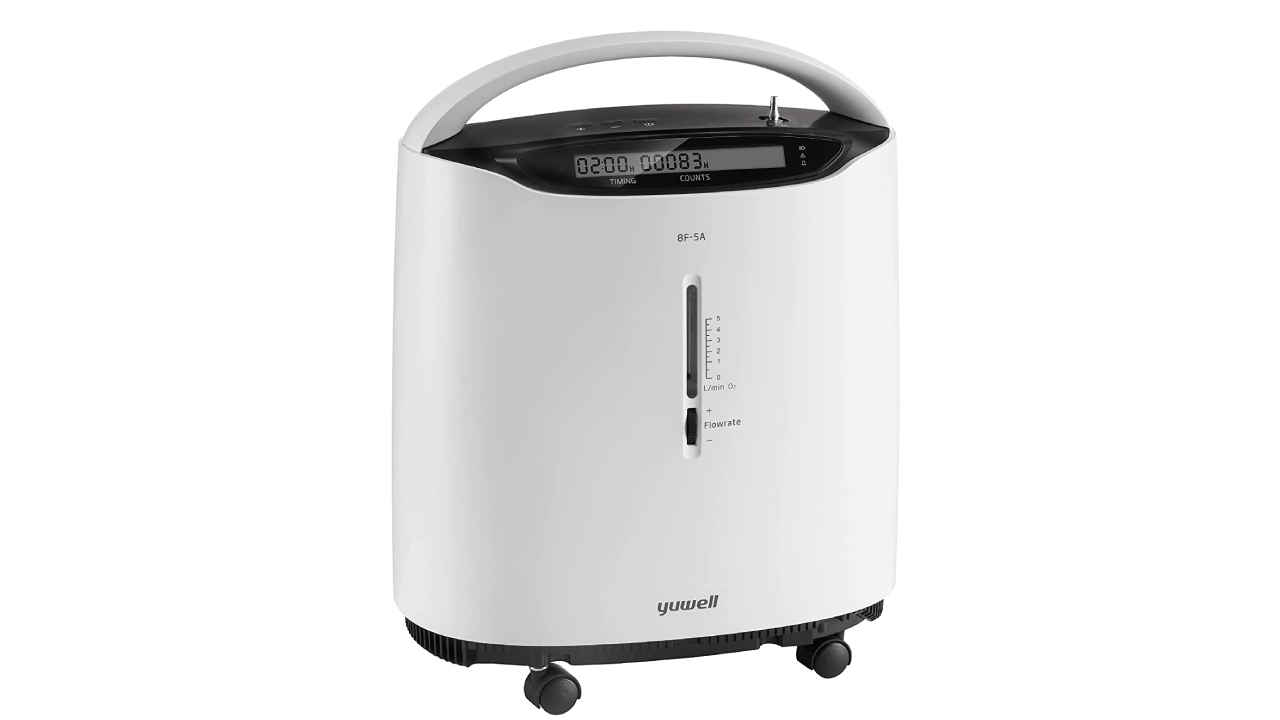 You can buy an oxygen concentrator if you have a patient at home who requires supplemental oxygen. Many medical equipment manufacturers now have effective home options that can do the job. Still, finding a good one out of the bunch can prove to be an arduous job, so to help you out, here's a list of some of the best oxygen concentrator machines you can find online right now.
Yuwell 8F-5A
If you are looking for a compact and lightweight oxygen concentrator, then do check this one out. Yuwell 8F-5A can deliver up to 5-litres of oxygen (with purity around 90%) in a minute. It works on 220 Volts 50Hz, which is a standard in almost every Indian household. This oxygen concentrator from Yuwell has a noise level of less than 52dB, making it one of the quietest oxygen concentrators on the market right now. It can deliver 0.5-litre of oxygen at an output pressure of 40 to 70KPa. It is equipped with sieve beds that have a service life of around 7,500 to 9,000 hours, depending on the environmental conditions. Yuwell 8F-5A is also equipped with a built-in LCD display to help you keep a check on all the readings.
Healthgenie Oxygen Concentrator
Healthgenie Oxygen Concentrator comes with a low noise motor and is claimed to supply 93% (±3%) pure oxygen at 1 to 5 litres per minute. The filtered air passes through one of the Molecular Sieves that produces pure oxygen through the Pressure Swing Adsorption Technique or PSA. This molecular sieve bed has a life of approx 10000 working hours, after which it needs to be replaced. The concentrator has a gross weight of 20.5 kgs but has wheels at the bottom so elderly patients can move around the house easily.
Owgels 1-5 Liter Portable
This Owgels concentrator delivers 1 to 5 litres of oxygen per minute that you can adjust according to your requirement. Owgels has used German technology while creating this machine to make sure you get reliable performance. It can continuously deliver oxygen at a concentration level of 93% at 1-litre per minute. The concentrator has an operating frequency of 220 Volts at 50Hz frequency. It is equipped with a humidifier bottle, oxygen hose, nebuliser and air filter to make sure everything that comes out of it is as clean as it can be. The concentrator has noise levels under 45dB, so you can breathe easily without the noise disturbing you at night.
Yuyue Zinagsu Oxygen Concentrator
Here is another good quality oxygen concentrator from a reputable brand that you can get for yourself or your family. It can deliver oxygen at a concentration level of 92% (+/-3%) at 2-litres per minute, making it a good choice to have oxygen therapy at home. The concentrator needs to be plugged into a socket that can deliver 220 Volts 50Hz to deliver oxygen continuously without any problem. Yuyue has equipped it with multiple filters that filter out dust, dirt, germs and allergens to make sure whatever you take in is as clean as possible. It also has a good quality LED screen installed on it that will help you keep a check on all its reading while also making the concentrator easy to operate.