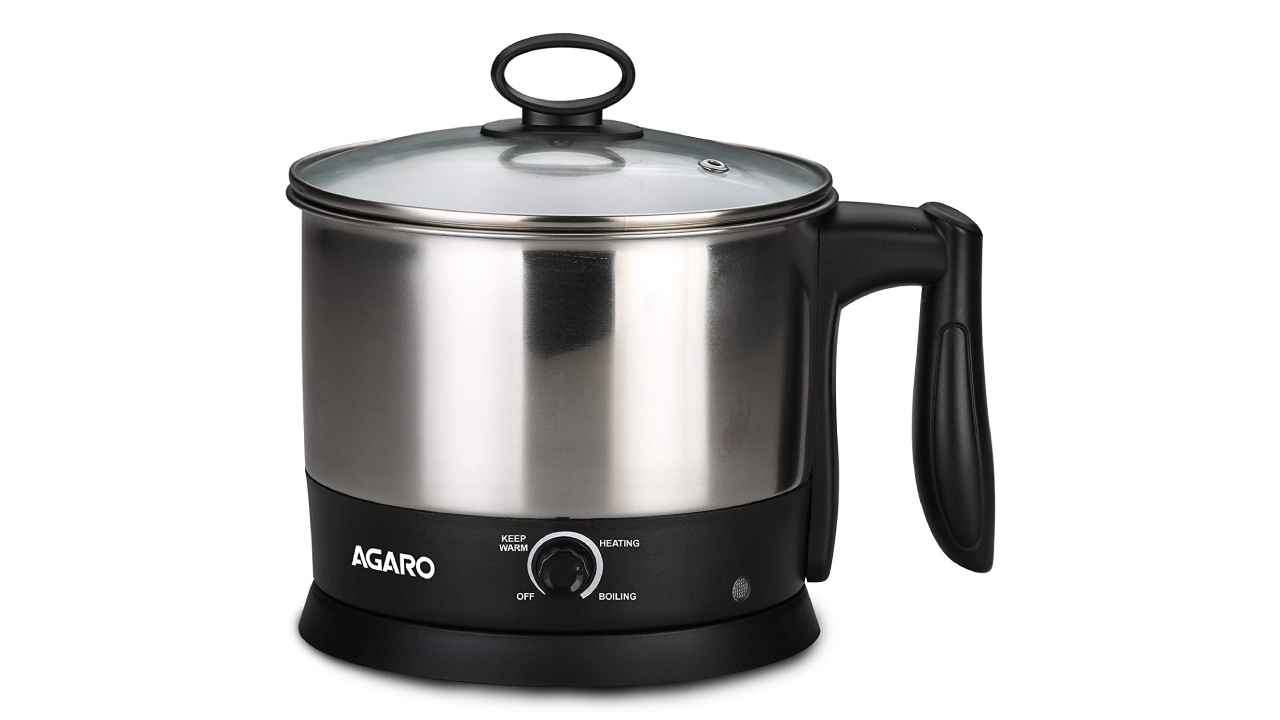 Several new appliances are gradually making their way into the Indian lifestyle, and the electric kettle is one such appliance. These are some of the fastest emerging kitchen appliances, especially for young people living alone as they're looking to make their everyday chores easier. So if you're also planning to buy one, here's a list of some of the best multipurpose electric kettles that you can find on Amazon right now.
AGARO Esteem Multi Kettle
One of our top picks is this multipurpose electric kettle by AGARO, which can be used for boiling eggs, preparing tea, etc. If you often feel like having noodles in the middle of the night but don't want to head to the kitchen, then this 1.2-litre kettle can come in handy. It has 3 heating modes – boiling, heating and warm which can be used to heat water for different purposes. For people who want to cook light meals, this kettle comes with a glass lid so you can check the food without removing the lid every single time. It has a stainless steel body and comes with a stainless steel grill, egg boiler pack and plastic bowl so you can start using it straight away! Its 360-degree base and cord-free serving feature make it a great purchase.
V-Guard MultiCooker Kettle
Now you can cook and feast on your favourite meals in a jiffy using this multipurpose electric kettle by V-Guard. It has stainless steel interiors to ensure the water you boil is pure and has a temperature control knob to help you adjust the temperature as per your requirements. Its cool-touch handle makes it easy to carry the kettle safely, while the Auto shut-off feature (available for 0°C and 100°C) prevents the kettle from overheating.
It comes with a boiling stand and bowl, so you can use them in a variety of ways and track the status from the LED display. Last but not least, it has a 360° revolving base and has a sleek and modern look which makes it a great addition to your kitchen.
Kessel Multi-Purpose Kettle
Yet another kettle that you can bring home to try easy and efficient cooking is the Kessel Multi-Purpose kettle which operates at 230 volts, 50 Hz and consumes approximately 600 Watts of power in a go. It sports a cool-touch handle and lid knob to allow better grip and handling and a 360-degree swivel base so you can serve food easily. Kessel has also equipped it with a temperature control knob so you can heat water at different temperatures and use it for various purposes like making tea, soup, noodles, steam eggs, reheat food and much more! This 1.2 litres electric kettle has a stainless steel and aluminium die-cast body which ensures durability and a wide mouth for easy cleaning.
Lifelong Multifunction Cooker/Kettle
Lifelong Cooker is a multifunctional kettle that can be a great choice for people who live alone and want to cook small food portions in no time. This 1.5 litre can be used for boiling milk, cooking noodles, boiling eggs and making tea or coffee and can be very useful for students and bachelors living alone. It is equipped with the auto-cut off feature and a temperature control knob so you can control the temperature for cooking various things. Its compact size, 360-degree swivel base, and detachable body (from the base) ensure easy portability and usage. Last but not least, it has a light indicator that shows whether the kettle is on or off and operates at 600 Watts, which makes it great for everyday chores.