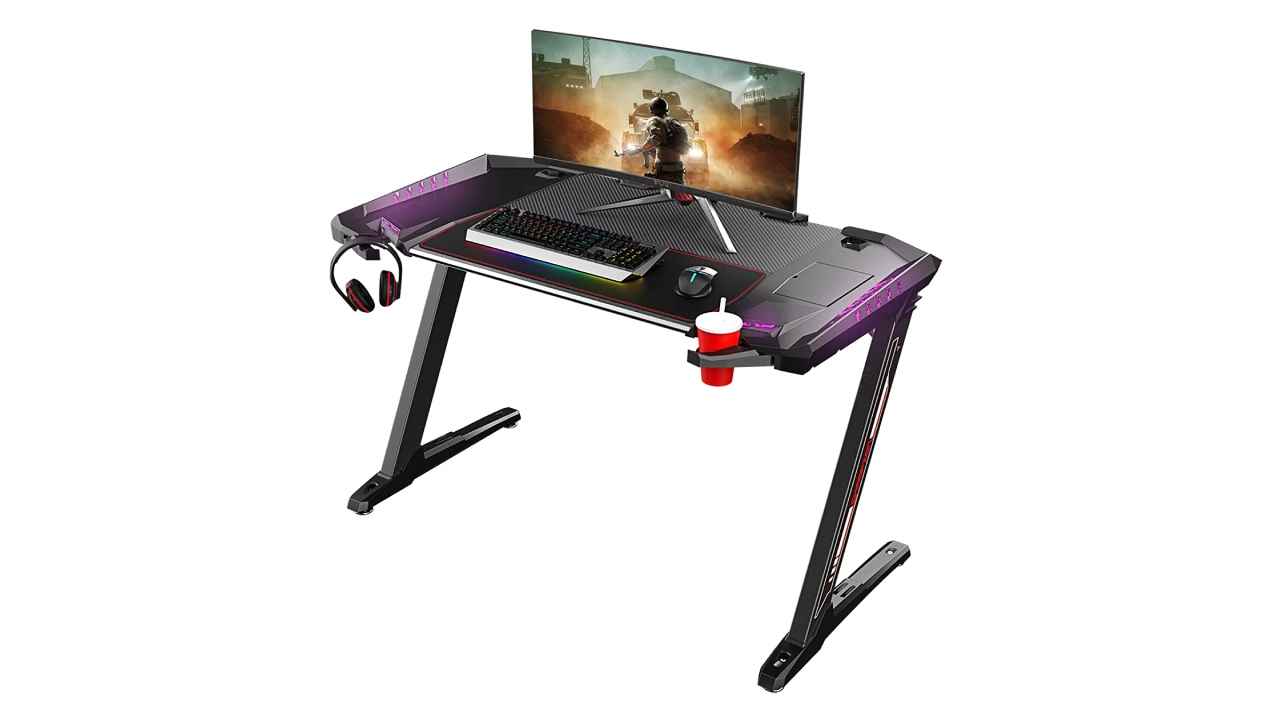 Are you looking for an efficient gaming or work desk but are confused after looking at the countless options available in the market? You need not worry, as we have curated a list of some of the best gaming desks available on Amazon. These gaming desks not only provide a practical, stable and convenient gaming experience but are sturdy and spacious so you can game and work in peace.
EUREKA Z2 Gaming Desk
This Z-shaped gaming desk from Eureka provides you with a suitable, stable and convenient gaming experience. Its cable management system with mobile device slot, concealed storage box and two-wire management trays help you avoid clutter and stay organised. It also features RGB LED lighting that is a fun novelty, not very bright but adds a nice subtle atmosphere when you are in a dark room. This ergonomic table also features a stretchable cup and headset holder, which makes it easier to store cups away from the electronics and saves desktop space. This dynamic gaming table helps in improving arm and wrist alignment with its inclined keyboard tray and mouse area. Moreover, its 5° tilt angle also helps you stay comfortable for hours. All these features, coupled with its modern style, large cool surface and durable build, make it a great purchase!
LushTree Gaming Desk
This gaming desk truly engages you in the gaming world as its surface is waterproof, scratch-resistant and quite durable, so you can work and play without any worries. Its wide surface has enough space so that you can install two monitors without compromising on the space for a keyboard, mouse or any other accessory. Furthermore, its streamlined ergonomic design can prove to be beneficial in perfecting your sitting posture. Also, its support structure is made from metal frames that bring more stability (compared to other Y-shaped designs) and assure equilibrium even on uneven ground. This sturdy and stable table also includes a cup and a headphone holder (they can be installed at either of the four locations), which are essential for professional players who play for a longer duration. Its curved design helps you in staying comfortable for hours, and its cable management system avoids the hassle of cables for a great gaming ambience.
Buildbox gaming desk
This gaming desk from BUILDbox comes with a waterproof, scratch-resistant and UV coated tabletop with a ceramic print. This environment-friendly and durable tabletop not only keeps your gaming equipment safe but also helps you get completely immersed in the gaming world without any restrictions. It comprises a grommet, storage box and zip tie mounts (for effective cable management). Also, its support structure is made from 16 gauge mild steel. It is powder-coated, thereby enhancing durability (and looks) while also ensuring balance even on uneven ground or carpet. This gaming desk is made from high grade, 18 mm engineered wood and includes a hook that can be used to hang headphones when they're not in use. This 47" gaming desk provides you with enough space required for all your gaming equipment, be it keyboard, mouse and more, for the perfect gaming experience.
Eureka gaming computer desk
You can now have your dream setup without any space issues or limitations with the help of this efficient and ergonomic gaming desk by Eureka. You won't miss out on the ever-trending RGB lights as it the desk features the same so you can enhance your room's ambience in no time. Also, its all-new Polygon leg design and sturdy & durable steel frame ensure your stability with its ultra-strong legs. This 55" gaming computer desk provides you with sufficient space so you can install your dream set up in all its glory without any dearth of space or comfort. This sturdy and stable gaming desk also includes a cup and a headphone holder, which is essential for professional players who game for long hours and need a cup of coffee now and then. Moreover, its cord management system keeps your desktop tidy by getting rid of tangled cables, thus making it a great investment for all gamers out there.