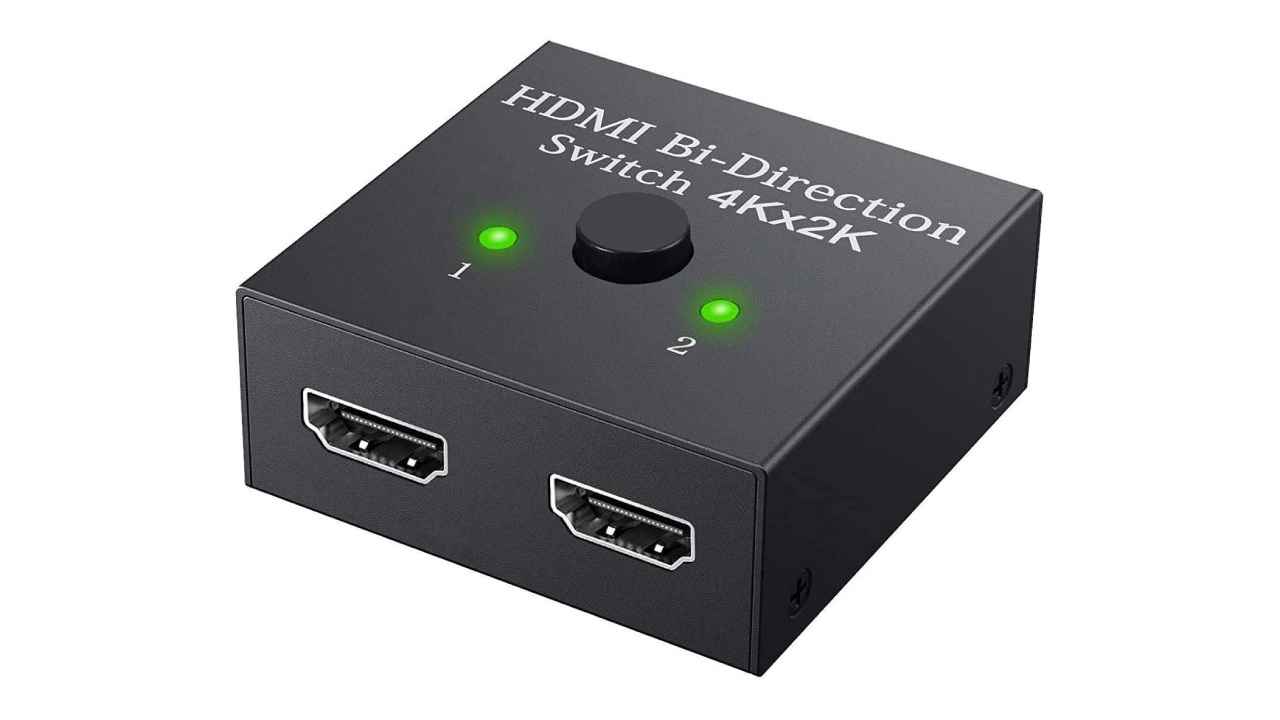 An HDMI splitter is a device that can take one HDMI input and split it into multiple displays. For example, you can connect your gaming console to a monitor as well as a TV using a splitter, or connect your streaming stick to multiple TVs. Some splitters allow you to keep all outputs active at the same time, while others need you to pick one output at a time for transmission. A splitter should not be confused with a switch, which does the exact opposite – it lets you pick between multiple inputs for a single display. To help you pick the right HDMI splitter, we've curated the leading options available on Amazon. These models offer a good mix of useful features and capable specifications.
LAPSTER HDMI Switch Splitter
With support for FHD and 4K resolution, the Lapster HDMI Switch Splitter can maintain the details from your high-res input source. You can toggle the active output by simply pressing the only button on the device. The toggle also switches the light indicator making it easy to identify the active output. The model supports up to 3.4Gbps data transmission that helps avoid lag. It also features the switch functionality that lets you connect multiple sources to one display and switch between them as needed. The sleek black exterior ensures that your setup stays aesthetically appealing. Its HDMI connector interface is gold plated for enhanced efficiency.
Farraige HDMI Switch Splitter
The Farraige HDMI splitter can handle 12 bit colour per channel, avoiding any colour downgrading during transmission. With support for 3D devices and HDCP passthrough, this splitter can be used with a wide range of sources. It enables transmission of 3Gbps at 30Hz per channel with a maximum bandwidth per display of 9Gbps, avoiding any data loss in the process even for high-quality visuals. With the bidirectional operation, you can also use this splitter as a switch to connect multiple sources to your TV or monitor. A simple button on top can alternate between multiple content sources or displays, depending on how you're using it.
Kinivo Premium 4K HDMI Switch/Splitter
With 4K and 1080p at 60Hz, the Kinivo Premium Splitter is suitable for gaming and entertainment. The high 4K resolution keeps your visuals detailed, while the 60Hz refresh rate ensures fluid and smooth action sequences that are free from blur. With HDR support, you get a wider range of colours and accurate contrast with compatible HDR content. The model features solid aluminium construction that enhances its durability. It combines a button and a pair of LED lights to provide a convenient switching mechanism between the two outputs. With HDCP passthrough, you can connect a wide range of devices for seamless usage.
OREI UltraHD 1 x 2 Powered HDMI Splitter 4K
The OREI Ultra HD HDMI splitter can take one HDMI input and duplicate the signal to up to two HDMI displays simultaneously. It supports 4K 60Hz over HDMI 2.0 connectivity for a high-resolution visual experience that is free from blur. To manage its thermals, the model is designed with a heavy-duty metal enclosure for better heat absorption and dissipation. With HDCP 2.2 compliance, you can easily access your favourite streaming services without any compatibility issues. The compact design keeps it easy to use in any home entertainment or work setup. It supports a wide range of audio formats and standards such as LPCM, Dolby-AC3, DTS7.1, DTS-HD master audio and more, which helps it avoid any loss in sound quality during the transmission.