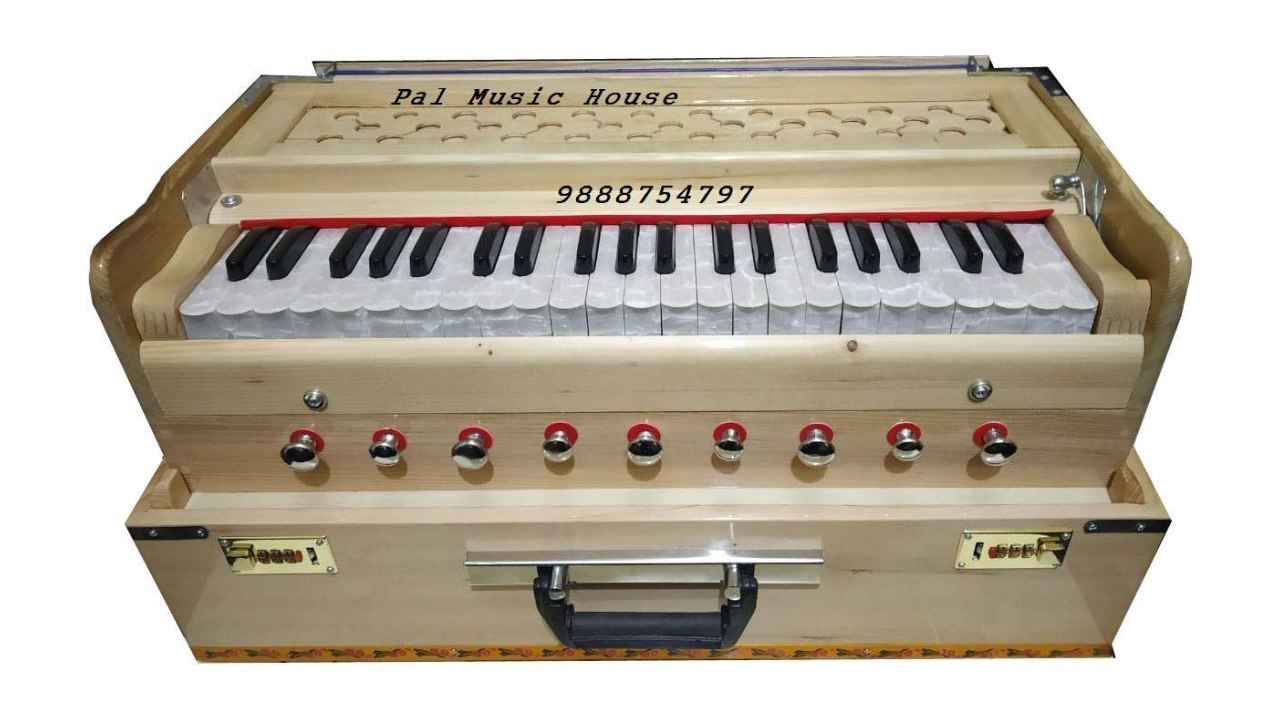 Take any folk, classical, Sufi, or ghazal composition; harmoniums play an integral role in each of them. As its keys are pressed, and bellows are compressed simultaneously, the harmonium produces rich and balanced sound. If you are a beginner who wants to learn harmonium or a professional who wants to upgrade their harmonium skills, you must look into buying a harmonium that satisfies the following criteria. First, it must have at least 9 stops and 2 reeds so that you can use it to produce fine musical notes. Second, you must only look for those variants that have a sturdy and durable build. Here are a few good options of harmoniums on Amazon that come equipped with 9 stops and 2 reeds:
PAL MUSIC HOUSE ® Folding Harmonium
The PAL MUSIC HOUSE ® Folding Harmonium features 9 stoppers- 5 stops and 4 drones. These functions allow you to activate the harmonium's wind-chest sections that supply air to each bank of the harmonium reeds. It comes with a coupler that enables you to play two octaves of the same note simultaneously, giving way to richer and deeper sounds. The PAL MUSIC HOUSE ® Folding Harmonium is available in natural colour that gives the musical instrument an aesthetic look. It can also create sound at A-440 Hz pitch, which makes the harmonium perfect for budding musicians.
Jyotaksh Chudidaar Harmonium
The Jyotaksh Chudidaar Harmonium first undergoes a thorough quality check to inspect for air leaks. This ensures that the musical instrument can stand the test of time and is ideal for both professionals and beginners. Featuring 42 keys with a coupler, you can use this harmonium to play two octaves simultaneously. This gives way to a better and sharper sound. In terms of reeds, the Jyotaksh Chudidaar Harmonium boasts two of them, where one is used to produce a bass sound and the other to produce a rich sound. It also comprises 5 stops and 4 drones, giving you control to manoeuvre your notes.
Decora Emporium Harmonium
The Decora Emporium Harmonium is a portable musical instrument, which you can carry around conveniently without any hassle. With this harmonium, you could play your hand at two octaves at the same time, thanks to its coupler function. The Decora Emporium Harmonium is a 9-stop harmonium, under which 5 are stops, and 4 are drones. This feature enables you to control the windchest sections of the harmonium, ensuring the sound produced is rich. It is first scrutinised to make sure there are no air leaks present in the instrument. Being durable and efficient, it is one of the finest picks for enhancing harmonium skills.
SALABLEZ Harmonium
The SALABLEZ Harmonium has 2 reeds, 42 keys, and 9 stoppers. All of these features arm the instrument to produce top-quality sound. The harmonium comes with a lacquer finish that gives the instrument a refined and professional look in concert-like settings. The SALABLEZ Harmonium also comes along with jaali frames on keys and a secured keyboard cover. Moreover, to ensure that you can carry it from one point to another, it comes with two durable handles. Apart from these, some of its other notable features are that it is easy to pump, it is tuned for the standard A-440 Hz pitch and has a coupler. The coupler enables you to play two octaves simultaneously, ensuring you can produce musical notes that are rich, sharp, and deep.