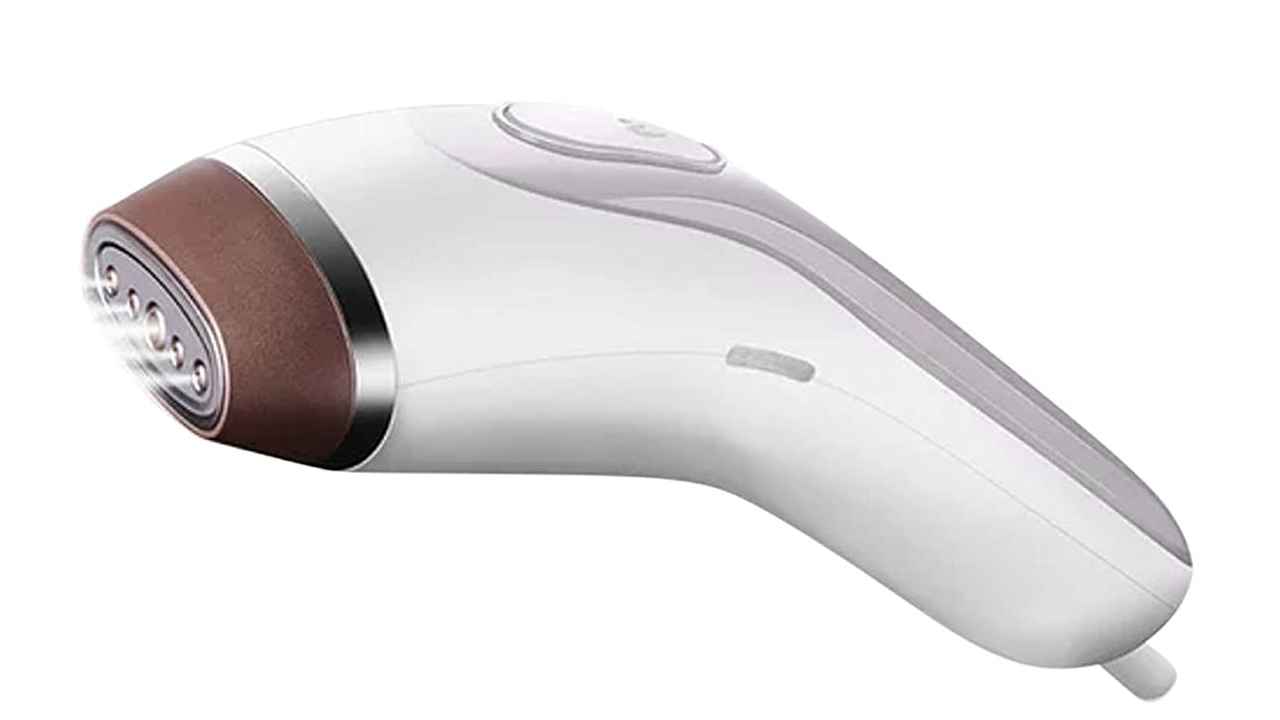 If you're in the entertainment industry or a social media influencer, then this list might help you own one of the most useful appliances ever! The market's recently flooded with hand-held steamers that let you de-wrinkle your dresses and tops in a jiffy! If you don't have much information about these appliances, here's a comprehensive list that includes some of the best handheld garment steamers you can find on Amazon.
Philips Handheld Garment Steamer GC360/30
Philips is one of the most trusted brands in India when it comes to home and grooming appliances, and this handheld garment steamer is another addition to that list! It ensures easy steaming and can be used to quickly steam vertically and horizontally (thanks to the unique SmartFlow heated plate) without the danger of burning your favourite tops and dresses! With a steam rate of 22g/min and a 70ml detachable water tank, it kills 99.99% bacteria, so your clothes are clean and odourless. It has a 2.5m cord for better mobility and comes with a safety glove to protect your hands from excessive heat while steaming. Last but not least, it has a sleek and ergonomic handheld design which makes it extremely easy to use even when in a rush or on the move.
WisTec Techne Direct Garment Steamer
Here's yet another portable handheld garment steamer by WisTec that can produce consistent and powerful steam delivery up to a rate of 22g/min (as claimed by the company). You can use it to remove wrinkles from a wide variety of materials like drapery, upholstery, linens, party-wear outfits, casual wear and several others. Its 1000W heating core produces wrinkle-busting steam within 40 seconds (as claimed by its makers), and the 260 ml water tank ensures that you can steam 5 to 7 clothes in one go. You can even use it to steam at vertical or horizontal angles by hanging your clothes! Moreover, it has an auto-shutoff feature that turns off the steamer when the water level is low or in case of overheating for the safety of you and your clothes. Last but not least, its lightweight and ergonomic body design ensures a firm grip and makes it a great travelling companion.
Litmus Ultra-Portable Garment Steamer
If you want to get rid of hours of ironing and setting up the ironing board every time, then this garment steamer by Litmus can prove to be very useful for you. Its makers claim that this handheld steamer is at least 50% more compact than other steamers and can be easily carried along while travelling. Even though it is compact, it is quite powerful as it heats up in 30 seconds, can generate steam for up to 5 minutes, and has a high-grade heat resistant body made of PC+PBT, dual thermal, and a fuse that gives ultimate protection against burns and injuries. That's not all; it kills germs, bacteria, dust mites, bed bugs and several other insects and removes odour, so your clothes smell fresh and look great even at the last minute!
Usha Techne Direct Garment Steamer
A leader in the consumer durable segment, Usha has been ranked as one of the most trusted brands several times. To keep up with its reputation, it has now introduced this garment steamer which not only gives a steam output of up to 21gm/min but also comes with a detachable fabric brush so you can remove lint from clothes easily and keep them new for longer durations. It is equipped with an overheat shutoff thermostat, indicator lamp (to show whether the steamer is on or off) and has a sturdy body made of ABS plastic to avoid electric shocks. This 1000-Watts garment steamer can be your favourite travel companion as you can easily de-wrinkle clothes in minutes, and it also removes germs from your clothes! It has a 200 ml water tank and a 360-degree swivel cord for easy portability, and it has an ergonomic and compact design so you can easily fit it into your luggage.