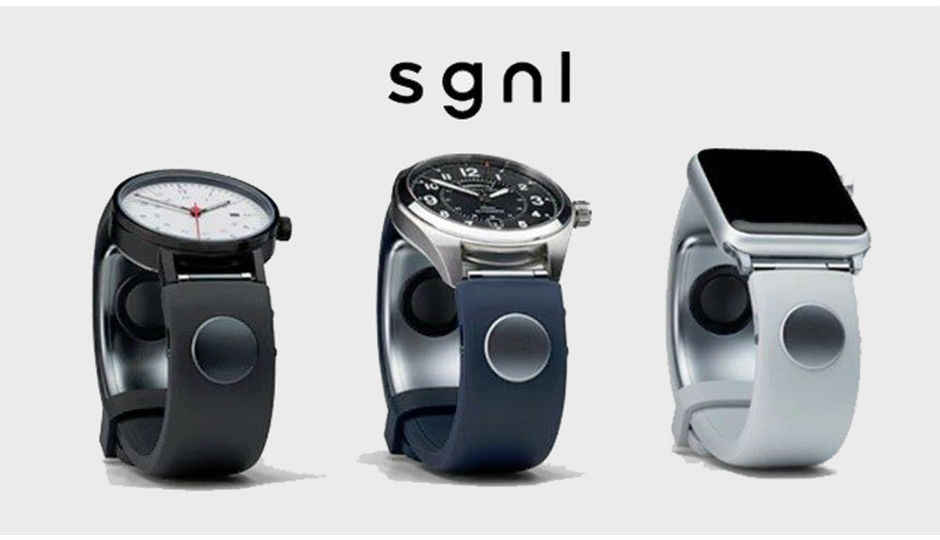 HIGHLIGHTS
The wristband relies on bone conduction technology to deliver sound through your fingertips.
Ever wanted to be like Tony Stark and talk to people using just your fingers? Innomdle Lab, a South Korean startup that was part of Samsung's incubator has come out with a futuristic wrist-band cum watch strap that leverages bone conduction technology to turn your fingers into a phone receiver.
We had a chance to see the band in action, and boy were we impressed. It's straight out of a sci-fi movie. The wrist band is paired with a smartphone and when a call arrives, you press a button on the band which starts to vibrate . These vibrations carry the sound signals down your wrist to your fingertip which is placed by your ear, and you can hear what the person on the other end of the line is saying. There is also a microphone on the band to let you reply back and from the limited time we had a chance to use it, the sound quality was quite good.
The device has a battery life of three hours and compatible with iOS 9 and above and Android 4.4 and above. It relies on Bluetooth 4.2, has a 200mAh battery and available in a bunch of colours.
Let's just hope it somehow makes it way to India.