Some of the highlights of CES 2011 are the speeches by the big-shots of consumer electronics, often introducing new technologies while giving us a fresh perspective on year that flashed by. Microsoft CEO Steve Ballmer's opening keynote speech was one such, and he spoke about everything from how great 2010 was for Microsoft to enhancements to the company's latest offerings, Windows Phone 7 and Kinect for Xbox 360.
Microsoft's 2010
Calling it a "very, very exciting year" for Microsoft's customers, Ballmer spoke about how well his company's products did this year, with new arrivals like Windows Phone 7, Office 2010 and Kinect for Xbox 360 taking the market by storm, how online services like Bing and Azure have seen wide-scale adoption, and how successful Windows 7 – the company's latest operating system that was released in late 2009 – has been. Ballmer also talked about the massive consumer and industry interest in products that were previewed in 2010, such as the upcoming Internet Explorer 9 browser and Office 365 online productivity suite. He of course, did not talk about the failure of Kin.
While numbers are by no means the only way to ascertain just how much products have been liked by consumers, they do give a rough idea: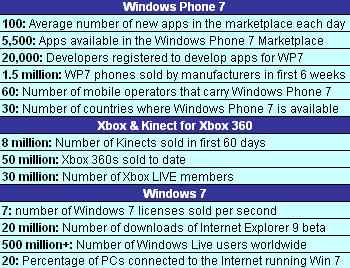 Microsoft's 2011
The entire scope of the massive company's plans for 2011 was obviously not the goal of Ballmer's keynote, but "just scratching the surface", he did drop enough hints about the coming months and upcoming products to give us a fair idea of the year ahead.
Apart from talking about how a new version of Windows was being made to support System-on-Chip devices of all types, both ARM-based and x86-based (more coverage here), Ballmer had a lot to say about Kinect and its future in entertainment, as well as the next generation of Microsoft Surface and the upcoming enhancements to Windows Phone 7. Some mention was also made about the great performance of Windows 7 and Internet Explorer 9 with the latest Intel Sandy Bridge and AMD Fusion CPU/GPU hybrid processors.
Some technology was also previewed on Acer's dual screen Iconia tablet and Samsung's Oak Trail-based netbook – the PC7 Sliding series, which were later officially announced by the companies, of which we will bring you more coverage soon! The Asus Windows 7 tablet (Asus Eee Slate EP121) was also previewed here, emphasizing Windows 7's mature touch interface, and the power of a full-blown operating system on tablet and netbook devices.
Kinect and Xbox 360
Most of the news regarding the Kinect was not very applicable to India, talking about the how the controller-free gesture and voice control interface was supported by digital content services like Zune, Netflix and Hulu Plus. However, the potential for such an interface is still globally applicable, and maybe 2011 will see Microsoft tying up with Indian service providers to make the Xbox 360 a digital content platform for us as well.
Ballmer also introduced the Avatar Kinect feature, which creates a real-life simulacrum Xbox LIVE Avatar for subscribers using the 3D camera and its facial recognition technology. This technology will also allow the Avatar to reflect not just the person's movements, but also their facial expressions.
Wrapping up, Ballmer spoke about the Kinect and Xbox 360's road ahead:
"You're going to continue to see more fun, more entertainment, and more innovation from our Xbox team in 2011. Xbox today is going where no gaming system has ever gone. Your Xbox is becoming the hub of your living room. It is your gaming system, but it's your movies, it's your TV shows, and it's your sporting events. It's your social interactions, all delivered directly to the biggest screen in your house."
Windows Phone 7
Though the latest Windows mobile operating system has been received with much excitement, there are certain relative shortcomings that are a bit galling in this day and age, from the lack of Bluetooth file transfers to the lack of video calls, true multitasking, copy/paste and Flash/Silverlight in the browser. Most of these omissions will probably be rectified in the coming months with Microsoft's admittedly frequent updates, if only to play on a level field with Android and iOS, forget catching up.
[RELATED_ARTICLE]Ballmer announced Microsoft will be releasing a series of Windows Phone 7 updates over the next few months, and these will bring features like copy/paste, improved multitasking performance, improved camera and OneNote access, enhanced lock and Start screen interface, better Bing integration, increased language support, and more. Unfortunately, what exactly will be present in these updates probably won't be revealed until each is available, so don't hold your breath. Many new games were also announced, as well as the speed at which the app store was growing at, which is now up to 5,500 applications.
Ballmer gushed on about just how optimistic he was for Windows Phone 7's future, saying:
"When I get a chance to show people a Windows Phone, the feedback that I hear is very, very gratifying. People tell me how snappy it is, how easy to use, how personal it really feels, and perhaps as importantly, all-in, simply how beautiful it really looks."
Microsoft Surface
When Microsoft's Surface was first introduced in 2007, it was met with much excitement, and according to Steven Spielberg, its early concepts were inspiration for Minority Report's futuristic gesture based interface, and not the other way around. It was launched for commercial use in mid-2008, though it only saw adoption by some major companies, as it was, and is still, prohibitively expensive.
Ballmer wrapped up his keynote speech talking about the next generation of Microsoft Surface, where the LCD screen-table will be able to "see" without the use of cameras, using PixelSense. This new technology was created in partnership with Samsung, one of the premier computer component and consumer electronics manufacturers in the world.
The new screen technology is apparently a "major step forward in the surface computing category", and manages to incorporate the original aims of original Surface product (direct interaction, multi-touch contact, a multi-user experience, and object recognition), endowing it with the ability to recognize fingers, hands, text, and even objects, as well as giving it a more flexible form factor. The Surface PC or Samsung SUR40, will now be able to be used in much smaller form factors than tables, such as kiosks. New adopters of the technology were also mentioned.
Wrapping up
Ballmer on the future:
"We're entering a new era of technology for consumers where you'll be able to use Windows anywhere you go, from the small screen to the big screen. It has the gaming, the TV, the movies, the music, the productivity, the social networking, that today's consumers are seeking"
Check out the full keynote below (Silverlight required):
;