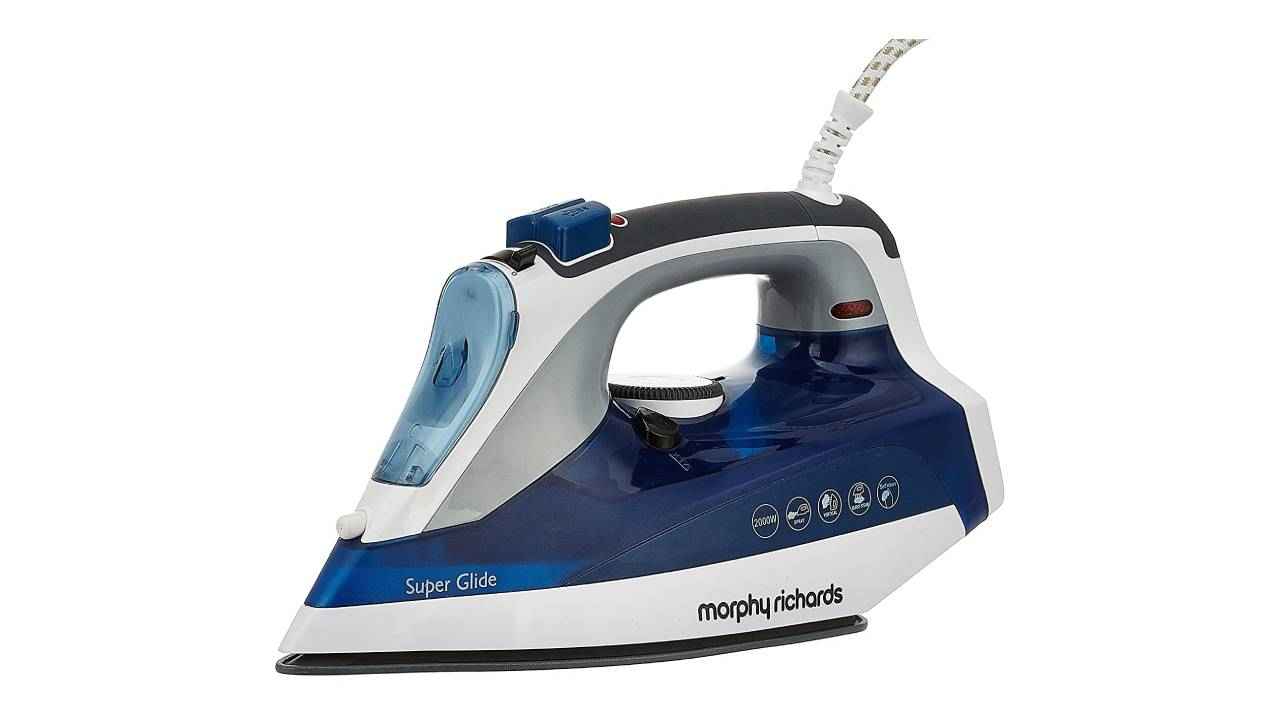 To put it simply, anything that your dry iron can do, a steam iron can do better. However, there's more to the advantages of a steam iron than just that. For starters, steam irons are more efficient. A crease that would take a dry iron a few strokes to iron out can be removed by a single stroke of a steam iron. Additionally, a steam iron often also comes with a mist spray feature, which adds that extra amount of crispness to the resulting finish. To pick your own steam iron, you need to consider options with the best features and specifications. We've picked out some such models for you that are available on Amazon.
Philips EasySpeed GC1026/30 2000-Watt Soleplate Steam Iron (Purple)
The Philips EasySpeed Steam Iron comes with a continuous steam rate of 25g per minute that can iron out most creases. For the particularly stubborn ones, it comes with a steam boost feature that pushes out 90g of steam in a burst. You also get the ability to use it vertically which can be very helpful to iron out creases in your upholstery without having to take anything down. Its scale removal feature, the Calc clean functionality, can be run once a month to get rid of any scale formation within the iron when using normal tap water. This self-cleaning feature makes using the steam functionality even more convenient.
Black+Decker BD BXIR2202IN 2200-Watt Steam Iron (Grey)
The soleplate on the Black+Decker Steam Iron comes with a ceramic coating, which promises smooth ironing on any fabric as well as even heat distribution for durable usage. To prevent the spillage of even a single drop of water from the tank, this steam iron comes with its own dedicated anti-drip feature. Extra crinkles and wrinkles can be dealt with by the steam burst and spray functionality available on this iron. The controls on the Black+Decker iron allow you to manipulate the temperature as well as the amount of steam according to the target fabric for ironing, assuring optimal care.
Bajaj Majesty MX 3 1250-Watt Steam Iron
Don't underestimate the power of the Bajaj Majesty Steam Iron by the lightweight design. It comes with 23 steam vents that disperse steam at a variable rate of up to 12g from the 150ml water tank. This ensures that your clothes are completely crease-free at the end of every ironing session. It is also designed to be aesthetically clean and ergonomically comfortable. It functions just by consuming 1200 watts of power which will also be light on your electricity bill. The ISI certification that it comes with also speaks about its adherence to quality standards. An on-board thermal fuse adds to its safety.
Morphy Richards Super Glide 2000-Watt Steam Iron (White/Blue)
The 150g turbo shot of steam that the Morphy Richards Super Glide Steam Iron can push out, helps take down even the most stubborn creases. The steady rate of 11g per min is also quite good for most normal wrinkles. It disperses steam via its 46 vents that draw water from a high capacity 350ml tank. So, you can also rest easy about having to fill water repeatedly into the iron. The vertical ironing feature makes it ideal to care for your suits, gowns and more as they hang in your wardrobe. The ceramic coated soleplate is aimed to remove pulling and wrinkling during the ironing process.