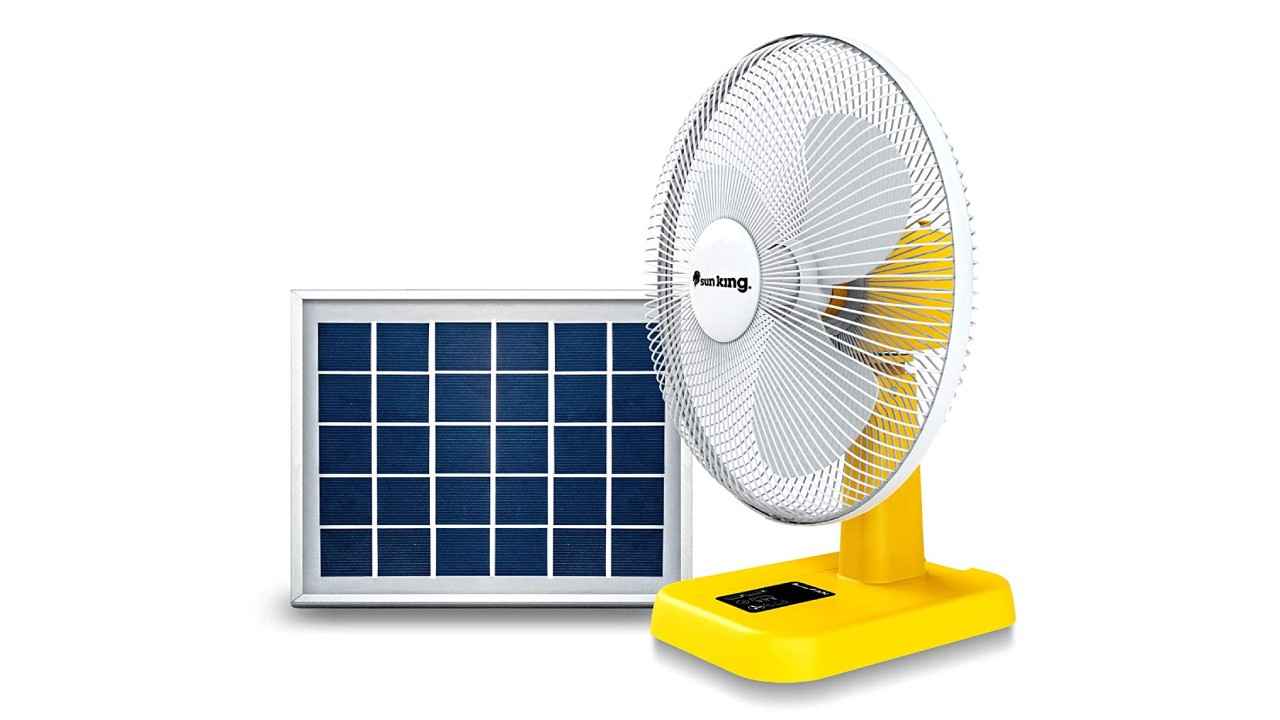 Most people invest in ACs and coolers before the onset of summer, but the one appliance that is overlooked is a table fan. While these are not very effective in cooling the entire room or large spaces, table fans can be most useful for small spaces as you can plug and place them almost anywhere! You can skim through this list of solar-powered table fans and get one for your workspace, kitchen or other smaller spaces and economically beat the heat.
Sun King Portable Table Fan
This portable and compact table fan can blow air effectively up to a distance of 6.2 meters for better cooling. It weighs approximately 4.86 kilograms and measures 45 x 19 x 39 centimetres in dimensions that make it easy to carry around and place anywhere (indoors and outdoors). The fan has a brushless DC motor that can rotate at speeds up to 1300 RPM and ensures minimal noise during operation. The fact that it can be powered using solar energy, as well as through USB cable, makes it even more useful (it can be charged using a 20 Watt solar panel). While using it moderately every day allows it to run for two days on a single full charge, the 5100 mAh battery can provide a runtime of up to 18 hours on a low-speed mode. The fan has 3 power modes for adjusting the airflow and a minimalistic yet unique design that complements all spaces.
D.Light Solar Table Fan (SF20)
D.Light has been doing well in the past few years in manufacturing reliable and quality appliances, and this table fan falls under the same category. It can be recharged using a Lithium-ion battery and solar panels (16 watts), which makes it easy to use and charge (operates up to 8 hours when charged fully). It can act as an emergency backup during long powercuts in summer and also has an in-built light that can be used in an emergency. The 2.7-kilogram fan has 5 buttons – power on/off, increase and decrease the speed, switch the emergency light and set a half-hour timer for battery conservation. The wide cage and the high-speed motor under its hood ensure proper airflow and cooling.
Lovely SanChi Solar Table Fan
You can now work on your desk while enjoying the cool wind on your face by investing in this solar-powered table fan. Besides being lightweight and compact, this table fan has a glossy finish which gives it a modern look. It has 3 fan blades, and you can choose between the 3-speed settings available depending on your comfort level. It has a compact design that helps you place it in hard-to-reach spaces that don't receive much air from the fan or cooler. It weighs 3.4 kilograms and can be powered using AC (3 Amp adapter) or DC power supply (12 V/24 Watts). Its 24-Watt motor can rotate at speeds up to 2400 RPM. You can also run this fan directly using 50W to 80 W solar panels or connect it to a solar charge controller or battery.
ZOSOE Powerful Rechargeable Table Fan
This table fan by ZOSOE can prove quite useful if you live in areas prone to frequent power cuts during summer seasons. It has 2-speed settings so you can adjust the airflow, and this 18" leaf table fan can be powered by AC and a DC power source, which means you can use a solar panel board or battery to charge the fan. It also has an emergency light that can be used at night when there are power cuts. The battery life can last up to 8 hours when only the LED is switched on, while it can run for 4 hours when the fan is used, and both can be used simultaneously for 3 hours. You can also adjust the fan's height and mount it on a wall, making it easy to maintain and effectively position.