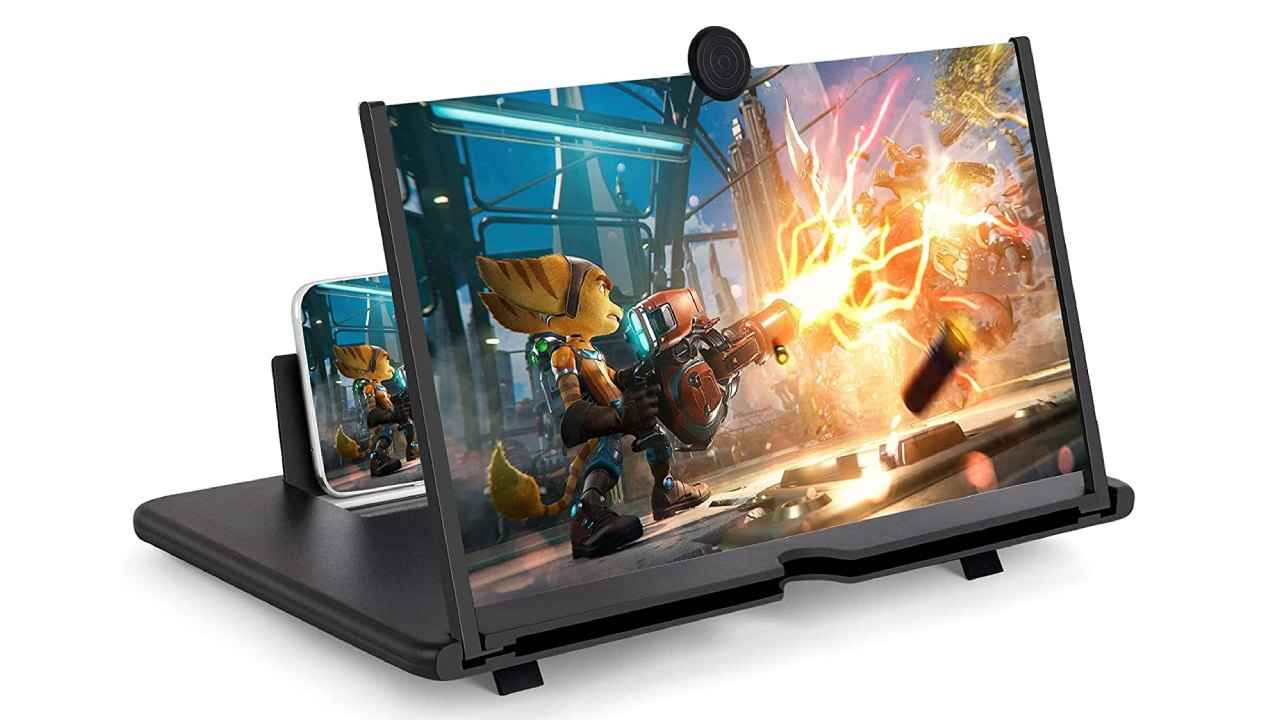 Streaming movies and web series on mobiles have become the favourite leisure activity of millions, thanks to Netflix and other OTT platforms! If you want to feel a full-on cinematic experience while streaming films or shows on your mobile, you must consider buying screen magnifiers. These mini-versions of a projector screen can magnify the content playing on your smartphone and screen it onto a larger display. Following are a few good options of screen magnifiers on Amazon that will work with a wide range of smartphones:
Screen Magnifier for Smartphones
The Screen Magnifier for Smartphones has been designed with an adjustable folding stand, ensuring your smartphone has a stable base to stand upon. Its magnifier can make your phone's screen appear larger and clearer, enabling you to enjoy movies better by adding 2-4x magnification. Since the device can magnify everything on the screen, you won't have to squint your eyes to see the subtitles on the bottom anymore! Coming in a lightweight and foldable design, the magnifier is portable and easy to store. Moreover, since its lens is enclosed within a base, it would always stay protected against any form of damage. It is also compatible with most smartphones available in the market, making it a versatile screen magnifier.
3D Phone Screen Magnifier
The 3D Phone Screen Magnifier comes equipped with built-in eye protection measures to help ensure your vision remains safe from excessive glare. It can enlarge your smartphone's screen up to 3-4 times, ensuring you can view every video detail vividly. Plus, since it delivers HD magnification with its Fresnel Lens, rest assured its picture quality would give you a cinematic experience! Its base has silicone padding that prevents your phone from slipping, ensuring optimal safety while streaming. In addition to these, some of its other prominent features are wide compatibility with most smartphones, a foldable design, and seamless portability.
3D HD Magnifying Screen Enlarger
The 3D HD Magnifying Screen Enlarger protects against blue light, ensuring you can watch your favourite films and shows without any strain. Since it can magnify the content on your phone's screen 3-4 times in HD quality, the screen enlarger would give you an immersive viewing experience. Moreover, thanks to its portable and foldable design, you can conveniently carry the device around with you without any extra effort. The 3D HD Magnifying Screen Enlarger is compatible with both iOS and Android platforms, except for a few outdated versions. It features a multi-functional design, allowing you to use the device both as a projector and a phone holder.
HD Magnifier Projector Screen
The HD Magnifier Projector Screen is fitted with multiple features to ensure the safety of your smartphone. This includes a support bracket on the bottom, a phone holder, and an anti-skid surface. The portable phone projector screen has been explicitly designed to adapt to most phones, including iPhones and Android smartphones. The device works on a state-of-the-art lens that converts the video playing on your smartphone to a magnified version. Moreover, it is also easy to use, as all you have to do is pull out the lens, adjust it to the suitable height, and set up the mobile. That's all! Some of its other prominent features are an ergonomic design and a lightweight body.