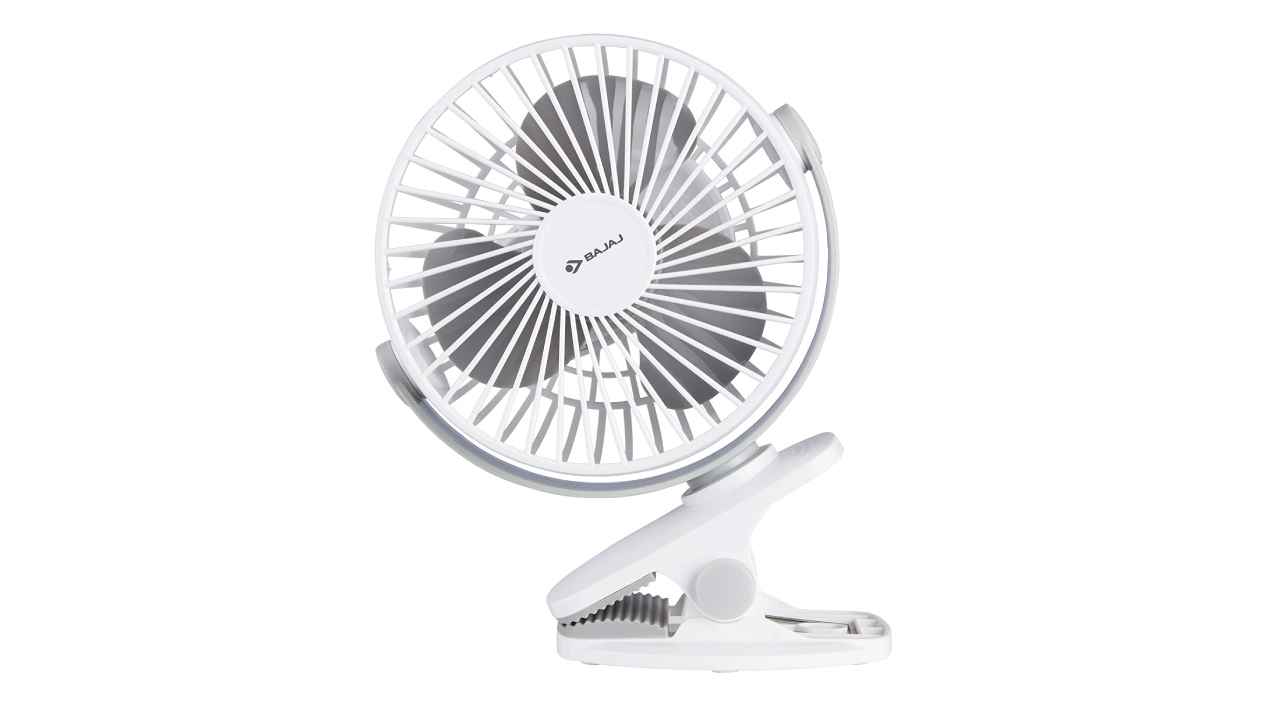 With soaring temperatures and unbearable humidity, it can become difficult to go through the day-to-day routine. If you want to beat the heat, especially when you are out in the open, you must look at rechargeable mini fans. These handy and portable devices can cool you off anytime and anywhere without causing you any inconvenience. If you are looking for such mini fans, make sure to keep a few things in mind. This includes shortlisting only those variants that offer long runtime and a powerful battery. Here are a few good options of rechargeable mini fans on Amazon that you could carry around with you on your travels.
Geek Aire Rechargeable Mini Fan
The Geek Aire Rechargeable Mini Fan has a six-blade aerodynamic design, which can direct the air towards your body as efficiently as possible. With a total of five-speed settings and a durable brushless DC motor, the mini fan can move air at a stellar speed of 27 feet/second. Powered by a 2600 mAh lithium-ion battery, the Geek Aire Rechargeable Mini Fan can give a runtime of up to 3-9 hours on a single charge. Thanks to its portable, lightweight, and cordless design, you can take it with you to games, offices, and even on travels. The device also has a couple of intuitive indicators- a fan speed and power indicator. Apart from these, some of its other notable features are a charging dock and a high-quality ABS plastic body.
JIYANA Rechargeable Small Fan
The JIYANA Rechargeable Small Fan uses a powerful DC motor that can rotate the blades at a turbo speed, resulting in a good airflow. As the device is easy to open up, you can conveniently clean it up without any hassle. Offering a runtime of up to 4-8 hours on a single charge, the JIYANA Rechargeable Small Fan can give you coolness throughout the day. But the feature that sets it apart from other generic rechargeable fans is its aroma diffuser. You can drop essence or aroma in its centre and let the fan work its magic! In addition to these features, this rechargeable fan also comes with a 2000 mAh battery and an ABS plastic body.
Bajaj Mini Personal Fan
The Bajaj Mini Personal Fan has been designed with a multi-utility clamp mechanism, allowing it to work both as a table and wall fan. It leverages a robust lithium-ion battery that can give you up to 4 hours of battery backup on a single charge. The rechargeable fan doesn't release a lot of noise during its operation, letting you use it at night as well! It can be tilted and turned to any angle, ensuring you don't have to hold it for hours. The Bajaj Mini Personal Fan features three-speed settings and has phenomenal rubber padding. Some of its other prominent features are a sturdy build and uninterrupted air delivery.
Geeky Portable Handheld Fan
The Geeky Portable Handheld Fan uses a built-in 1200 mAh lithium-ion rechargeable battery that ensures 3-4 hours of battery life depending on the speed setting. It can produce high power with two ultra-quiet speed settings. This translates to strong airflow with the lowest noise! The Geeky Portable Handheld Fan has a sturdy handle that ensures a comfortable one-hand operation. Moreover, with a lightweight and compact design, you can carry the fan with you wherever you go. It delivers seamless versatility, offering multiple functions for home, office, travel, sports, and even outdoor camping. You can charge this portable fan with a laptop and even a power bank, making sure you never run out of cool air!