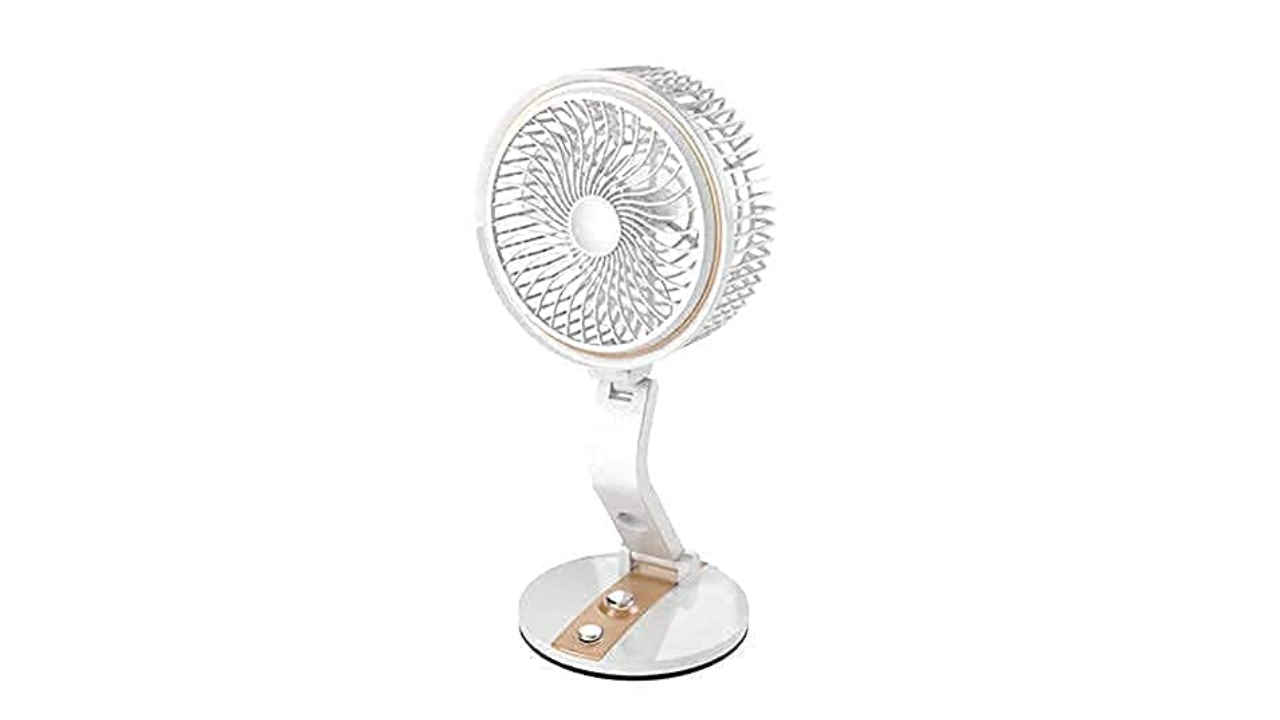 As summers close in, it becomes very hard to work and concentrate on the task at hand with the increasing heat. This is why you need devices that will help you keep cool. Although there are many options available for cooling, like ceiling fans or air conditioners, if you are looking for a much more portable and affordable option, then rechargeable foldable fans for your desk are worth considering. They are quite portable and can be easily positioned for effective results. Here are some of the options to consider.
Figment Powerful rechargeable foldable fan
This Figment Powerful rechargeable foldable fan features a 360-degree rotating design that allows you to rotate the fan in any direction according to your preference and choice. The fan is equipped with a rechargeable light that features 21 LED light shades and two light modes that you can change according to your mood and preference. The fan can work with a high speed of 3800 RPM and features a 5-speed regulator button that allows you to change the fan's speed to best suit your cooling needs. The fan can be mounted on a wall or placed on the tabletop. The lightweight and portable design makes it easy to carry the fan anywhere you want.
Rylan powerful rechargeable foldable fan
The Rylan powerful rechargeable foldable fan comes with an in-built light that features two shades of brightness that enables the fan to give a two in one use by allowing you to use it as a desk lamp as well. It is equipped with a 5-speed regulator so that you can adjust the speed of the fan as per your choice and convenience. You can either mount the fan on the wall or place it on a table. Its compact size and foldable design make storage easy and also makes it highly portable by allowing you to carry it from one place to another with ease.
Device Rechargeable Multifunction Folding fan
This Device Rechargeable Multifunction Folding fan can be mounted on a wall or used as a desk fan. It supports 360 degrees rotation and can be used in 4 different angles. You can use it on battery power in case of power failure or directly connect it to an AC socket. According to the manufacturer, the working time of the fan is up to 2.5 hours on high speed and up to 3 hours on low speed. The led light can glow for up to 8 hours in bright mode (strong light) and up to 10 hours in normal mode.
Zonoxo rechargeable foldable fan
The Zonoxo rechargeable foldable fan is made from high-quality material that adds years to the lifespan of this fan by making it strong, sturdy and durable. This allows you to use the fan for a longer duration of time without any interruptions. It comes in a simple, lightweight and handheld design that makes it easy for you to carry anywhere. You can use this fan at home, on your office desk, or while camping. The in-built rechargeable battery is long-lasting and can be charged by a USB charger, computer, or a power bank.