Qualcomm showed what's it's been prepping in its labs for the coming generation of Android flagships. This includes a Snapdragon X70 5G modem and FastConnect 7800 with WiFi 7 and Bluetooth 5.3. You see these would be the tech that you will come to see in the upcoming handsets, starting with the top-tier ones of course. Well, this may very well be the first time you are coming across a WiFi 7 product because it is as per the company. The company also boasts the ability of FastConnect to deliver CD-quality lossless audio over Bluetooth 5.3.
Snapdragon X70 5G Modem Specs and Features
Qualcomm calls Snapdragon X70 5G the "world's only comprehensive 5G modem-RF system family capable of supporting every commercial 5G band from 600 MHz to 41 GHz."
While that's promising for the 5G buildout, what's even more inquisitive is its support for a built-in 5G AI processor that should leverage the power of AI to improve "speeds, coverage, latency, mobility, link robustness, and power efficiency".
Qualcomm details the Snapdragon X70 modem features Gigabit 5G, a standalone mmWave support, 5G Dual-SIM Dual-Active (DSDA), 4x downlink carrier aggregation, and uplink carrier aggregation.
The claimed upload and download speeds are up to 3.5Gbps and up to 10Gbps.
Thanks to a 4nm architecture and something called PowerSave Gen 3, the new modem is said to offer 60% more power efficiency than the precursor.
Qualcomm FastConnect 7800 modem Specs and Features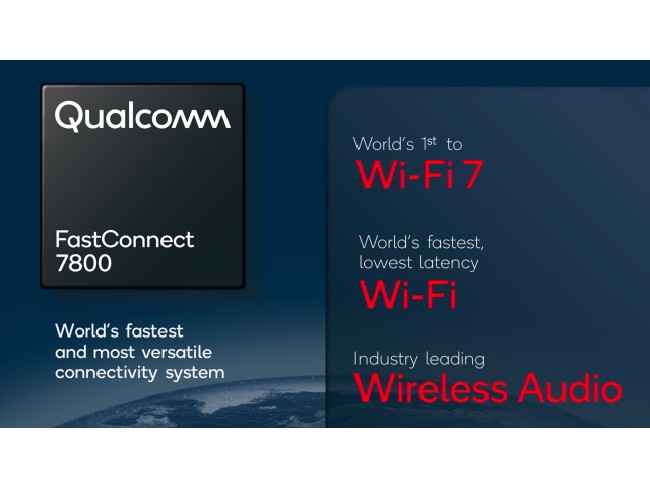 This works on a 14nm process and will be powering WiFi 7 and Bluetooth 5.3. Qualcomm has equipped the modem with High Band Simultaneous (HBS) Multi-Link technology that "leverages two Wi-Fi radios for four streams of high band connectivity in 5GHz and/ or 6GHz bands".
Not only that, but FastConnect 7800 also has a four-stream DBS (Dual-Band Simultaneous) that keeps ultra-low latency to 2ms.
When it is connected to a 320MHz channel on a 6GHz spectrum, the peak speeds can go up to 5.8Gbps.
Meanwhile, it allows 2.4GHz for Bluetooth and lower-bandwidth WiFi.
Speaking of Bluetooth, FastConnect drives Bluetooth 5.3 with Dual Bluetooth radios for enhanced connectivity. And interestingly enough, Qualcomm claims FastConnect 7800 can play 16-bit CD lossless quality audio.
There are the usual improvements in terms of coverage (2x), efficiency (up to 50%), and overall connectivity (it can pair in half the time).
Speaking about the new announcements, Qualcomm VP and GM, Mobile Compute and Connectivity, said, "Coupled with up to 50% lower power consumption and Intelligent Dual Bluetooth with advanced Snapdragon Sound capabilities, FastConnect 7800 is simply the best client connectivity offering in the industry".
For more news, features, buying guides, reviews, and everything tech-related, keep reading Digit.in.