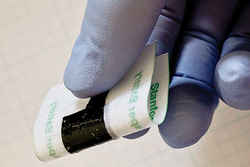 One of the biggest components in any of today's portable devices is the battery. However if researchers can commercialize their latest innovation--paper-thin lithium-ion rechargeable batteries--that could all change.
According to a report on the Chemical Engineering News web site, Stanford University scientists took a regular sheet of paper, coated both sides with a layer of carbon nanotubes and then a thin layer of lithium compound to create a functioning, rechargeable battery. These thin, flexible batteries outperform other super-thin power sources and the prototypes handled at least 300 recharges.
With thin batteries, super-tiny components and possible flexible displays, paper-based and even rollable cell phones may not be that far away.

Copyright © 2010 Ziff Davis Publishing Holdings Inc.