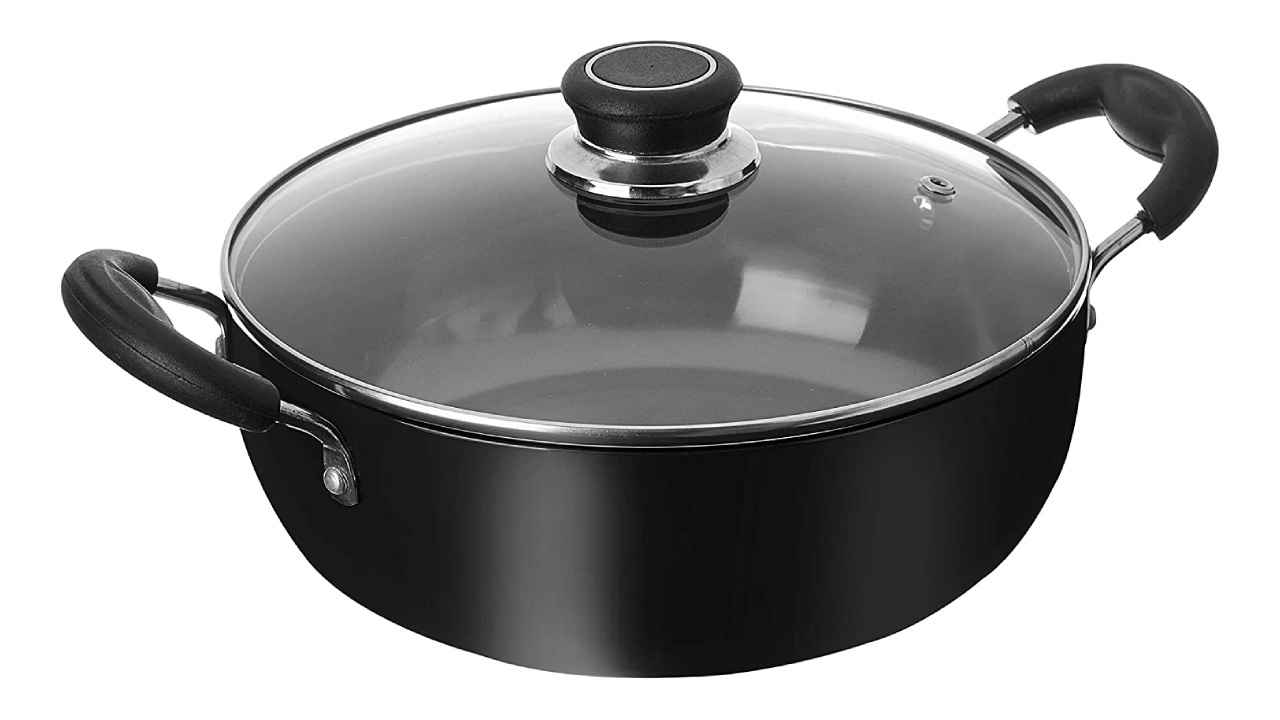 If you want to cut down the endless hours of scrubbing, rinsing, and cleaning of sticky kadhais, you may want to consider shifting to non-stick kadhais. Why? Well, they prevent the oil from sticking to the surface and make sure that the utensil is easy to wash and dry. Moreover, they also ensure that there is minimal use of oil, giving way for healthier and nutritious cooking. In case you are planning to buy a non-stick kadhai, make sure that the one you shortlist offers an even distribution of heat. Moreover, also make it a point to only go for those options that are compatible with gas stoves and inductions both, for added convenience. Here are a few good options of non-stick kadhais on Amazon that are compatible with both gas and induction cooktops:
Amazon Brand – Solimo Deep Kadhai
The Amazon Brand – Solimo Deep Kadhai is made from food-grade virgin aluminium, making sure you get a safe, non-toxic, and non-reactive cooking surface. The kadhai is anodized with a 46-micron aluminium oxide layer, which makes it both sturdy and durable. It also comes with a toughened glass lid that helps you seal moisture while cooking. The Solimo Deep Kadhai features a capacity of 2.5-litres that makes it ideal for small to medium-sized families. Crafted with precision, it makes sure that even distribution of heat takes place at the base, giving way for quick and efficient cooking. It comes equipped with easy-to-hold Bakelite handles that do not heat up during cooking. In addition to this, it is also compatible with both gas stoves and induction cooktops!
Hawkins Futura Deep-Fry Pan / Kadhai
The Hawkins Futura Deep-Fry Pan / Kadhai has a 4.06 mm, extra-thick base that ensures the heat spreads evenly across the foundation. The thick build also helps in retaining the heat for a longer duration, making way for energy efficiency and better cooking. The Hawkins Futura Deep-Fry Pan / Kadhai features an elegant, comfortable rosewood handle that is affixed by sturdy, stainless-steel brackets. The handle allows you to comfortably handle the kadhai with optimal safety. It is made out of hard-anodized material that assists you in using minimal oil. Moreover, it is also a versatile piece of kitchen cookware as it can be operated using both gas and induction cooktops.
Lifelong Non-Stick Kadhai
The Lifelong Non-Stick Kadhai features a thick aluminium body that ensures the heat spreads quickly and uniformly. The even distribution of heat makes sure that the food cooks up properly and swiftly. Featuring a total of three layers of greblon, which is a long-lasting non-carcinogenic coating, the Lifelong Non-Stick Kadhai enables you to cook delicious meals with minimal oil. It uses sturdy Bakelite handles that are cool to the touch and long-lasting. Moreover, with a heat resistant and transparent glass lid, the kadhai gives a refined and convenient cooking experience. It can be used for frying, simmering and sautéing, which makes it a versatile piece of cookware.
Prestige Omega Deluxe Granite Kadhai
The Prestige Omega Deluxe Granite Kadhai comes in an aesthetic design, thanks to its long-lasting, scratch-resistant, granite finish coating. It is dishwasher-safe, which means the cleaning and maintenance of the kadhai will be an easy task. It delivers durable and robust performance, owing to its five layers of coating. Since it is compatible with both induction and gas cooktops, it ensures it matches the needs of every individual household. The thickness of its base is 2.8 mm, which is enough for uniform distribution of heat. Its exterior is made out of two layers of a special coating that ensures the look of the kadhai remains consistent for a long period of time.