An article detailing the news of Apple overtaking Microsoft in terms of market capital.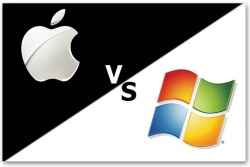 Considering the fact that the common man started associating the word 'iPod' with every music player and the word 'iPhone' with every smartphone, it does not come as too much of a surprise that Apple has now surpassed Microsoft to become the largest tech company in the world and the second largest company overall in the US, in terms of market capitalization. Market capitalization, for noobs, is simply the product of number of 'outstanding shares' of the company in the market, by the share price.
It has been the story of the decade, the turn around of Hollywood proportions. In 1997, Michael Dell, whose company now does not value a tenth of Apple, suggested that Apple should "close up the shop and return money to shareholders". In the same year, Microsoft invested $150 Million in Apple, which although was a curtained settlement for the patent-infringement Apple had accused Windows of, still left Apple a little red in the face (no pun intended). Although it was collaboration, it veiled the rivalry very thinly. While Microsoft has often taken jibes at Apple for its single digit share in PC market as compared to the billion plus Microsoft OSes in the market right now. But, after churning out one iconic product after another, Apple made sure that its share rose from a paltry $10 to nearly $250, a rise of about 2500% while Microsoft's share hovered between $24 and $34, not helped by release of the flop Windows Vista and their failure to venture successfully into the mobile market till now. While we will not get into the dirty details of economics of the news, it happens that the companies might switch positions for weeks, but with their stock prices going the opposite ways (any guesses about the directions?), we can be assured that the gap would widen, especially with the international release of iPad still pending.