Now leave all the heavy lifting to your smartphone with the new myLIFTER. The smart lifting device can be controlled via an app on your smartphone and can lift weights up to 50 pounds/ 23 Kgs.
myLIFTER be controlled via Bluetooth on your iOS device, and even comes with a remote control if you don't have a smartphone. The remote lets you control dozens of myLifters simultaneously. The device comes with standard up and down control buttons as well as a halt button. Each myLifter unit weighs just 2 pounds making it easy to use and install. Despite its small size the device can lift upto 50 pounds of weight.
myLIFTER comes with inbuilt safety features that will stop it from lifting if you exceed the 50-pound weight limit. The device also comes with an internal brake system that automatically locks the spool when it's not moving.
The aim of the device is to eliminate wasted space by enabling you to lift and store things in places that are normally hard to reach. Secondly, users can lift heavy items with just the push of a button. MyLifter is ideal for lifting and storing objects like bicycles, cargo boxes and kayaks.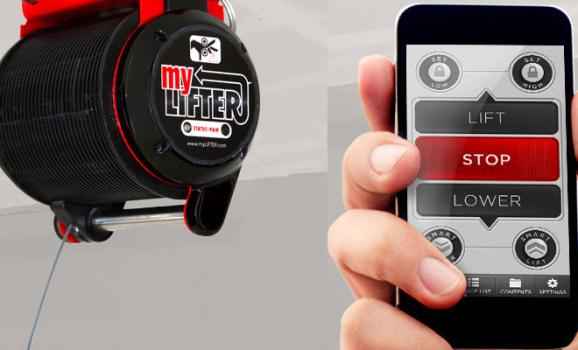 Each myLIFTER package comes with the lifter, mounting hardware, mounting bracket, lifting hardware, a power supply mount, as well as a 15-foot electrical extension cable. The app works with iPhone 5S, iPhone 5, iPhone 5C, iPhone 4S, iPod touch 5th generation, all iPad minis and iPads starting from the third generation. Supporters can pledge $75 to its Kickstarter campaign and purchase a single Mylifter for the same amount.
Source: Kickstarter