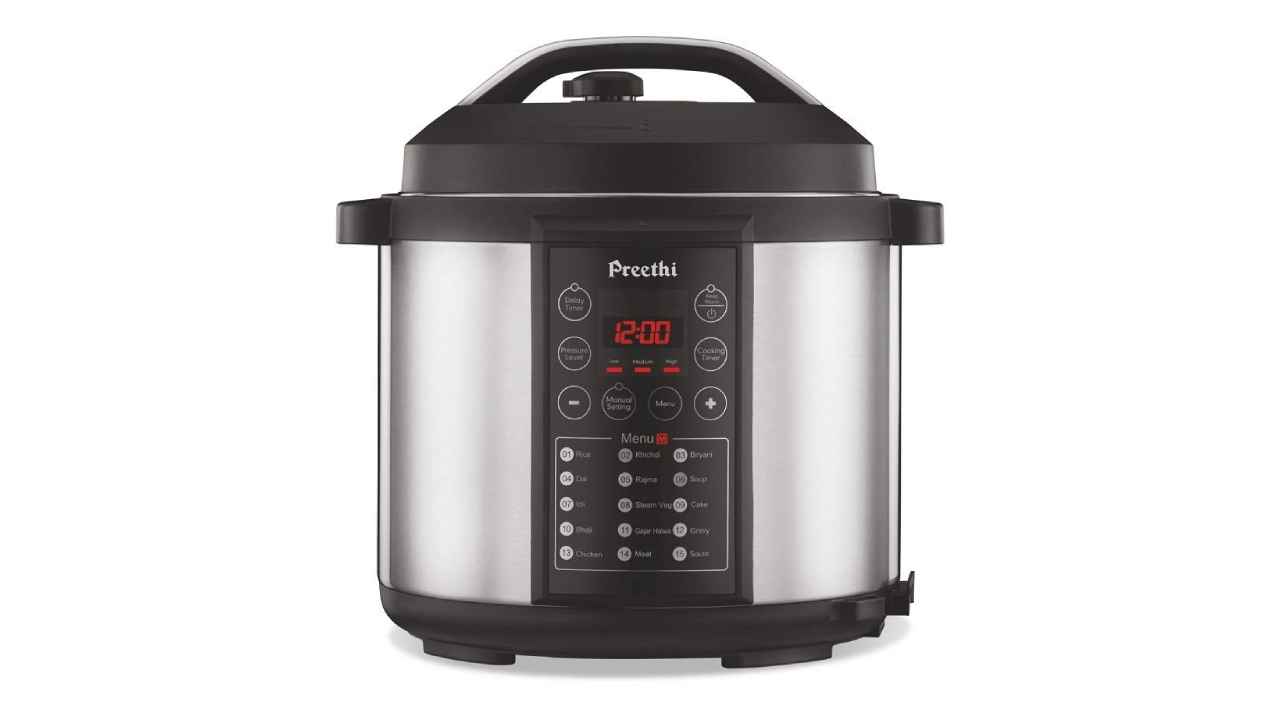 A cooker in the Indian kitchen is one of the most important elements – almost all our Indian staple foods are made in the cooker. Now is the time to make things easier for yourself and invest in an electric cooker that can handle multiple tasks and make a variety of food items. These days, electric cookers come with pre-set menus- this means that you only need to put in all the ingredients while the electric cooker handles the rest. This way, these cookers cut down on the time and effort required to make things using a traditional pressure cooker, which gives you more time for yourself and to take care of other chores around the house. So, here are some multipurpose electric cookers with pre-set menus for easy cooking, which you can find on Amazon.
Preethi EPC005 6 Liter Electric Pressure Cooker
Here's an electric cooker that comes with a pan-Indian menu built-in. It has preset modes for your everyday favourites such as rice, dal, steamed vegetables, bhajis, khichdi and meats. If you wish to treat your tastebuds, simply select the idli, rajma, gajar halwa, cake, or soup setting. With this electric pressure cooker, you won't have to worry about spending long hours in the kitchen preparing a meal for the family. Apart from that, you can set a pressure mode, a timer and can further fine-tune the taste of your meals using the manual setting mode, which allows you to add ingredients as and when required. All in all, this is a pressure cooker with an expansive menu. It ensures you don't have to exert yourself too much to cook fancy meals for the family.
Wonderchef Nutri-Pot Electric Pressure Cooker with 7-in-1 Functions
This electric pressure cooker from Wonderchef comes with 7-in-1 functionality, making it a must-have addition to your kitchen gadgets. The preset menus on the pressure cooker are quite expansive – you can easily make dishes such as dal, rice, rajma, chole, khichdi, pulao, biryani, veg curries, meat curries, sambars and more. To enhance functionality, there are manual modes that let you experiment with recipes and ingredients. Incidentally, there's a mode for making cakes and yoghurts. So, this appliance has more use than just preparing the main course for you and your family. There's also a taste choice slider, which fine-tunes cooking for preferred taste. If you have a baby at your place, the pressure cooker's baby food mode should come in quite handy.
Instant Pot DUO MINI – 3L 700W 7-in-1 Multi Use Pressure Cooker
When it comes to making a whole wide variety of food items, the Instant Pot Duo electric pressure cooker is the one that is the right choice for you. It has a large capacity, which lets you make ample servings of dishes. On the electric cooker, you get a full menu using which you can easily and effectively prepare meals. The menu has dedicated modes for a host of food items, including but not limited to dals, meats, stews, soups, idlis, yoghurts, rice-based dishes and lots more. Using these modes is fairly easily – set a mode and put in all the ingredients – sit back and let the appliance do its thing.
NUTRICOOK Smart Pot by NUTRIBULLET EKO 1000 Watts – 9 in 1 Multi-Cooker
This electric pressure cooker can handle advanced as well as basic tasks. Say you want to saute vegetables for a dish you're making- set the cooker to the mode, and set a timer along with the ingredients. You'll have freshly sauteed vegetables in no time, which you can top off on your other rice-based dishes. As for advanced cooking, it can handle that as well since it comes with modes for idli, cakes, chicken, dal, meat gravies, vegetable curries, and lots more. You can even use it as a traditional pressure cooker using the pressure cooker mode. Incidentally, it can be used to store food and keep it warm for long periods with the keep warm mode. There is also a mode for eggs and slow cooking. Furthermore, an adjustment mode gives you great flexibility over how your dishes are prepared.