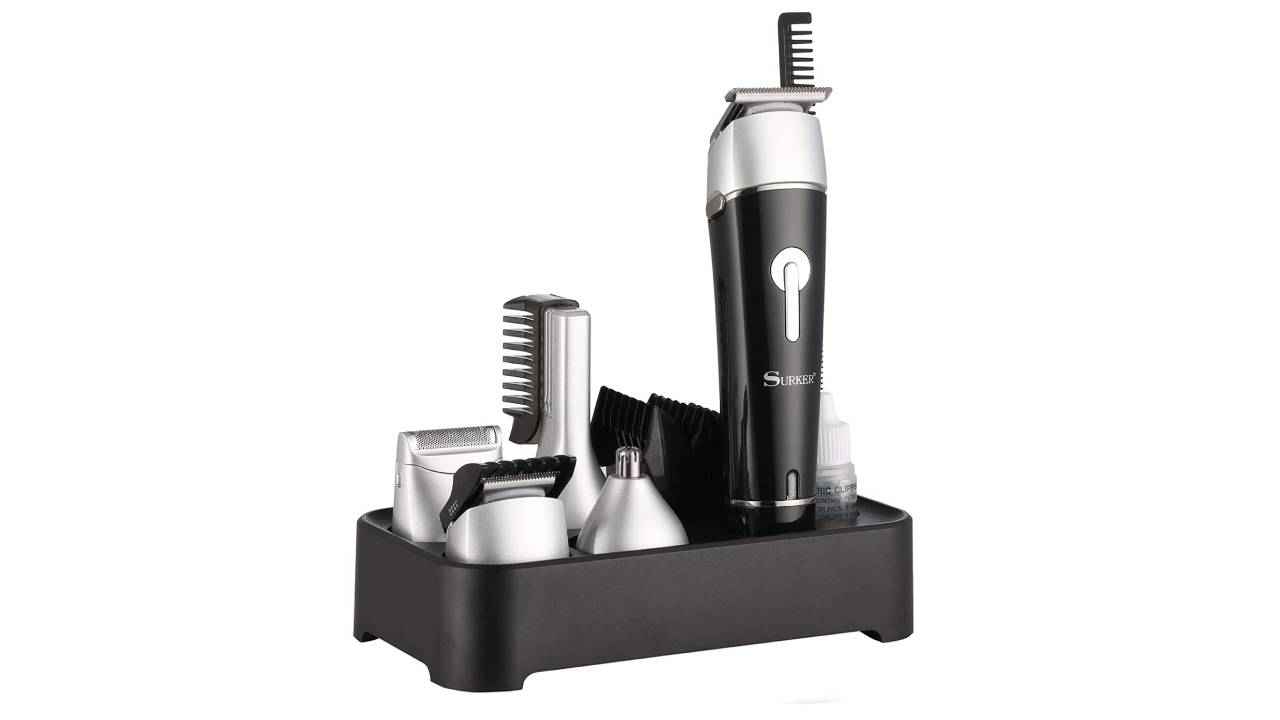 Using one trimmer for all grooming purposes is not good for your health. Moreover, different parts of your body demand different kinds of blades for the ideal results. This is where men's grooming kits come in handy, as they come with multiple detachable heads like a nose trimmer, beard trimmer, body groomer, and so on. To help you find the right one, we have curated a list of such grooming kits that are available on Amazon. Note that these products have been selected based on their listed features.
Kemei VKS522 Grooming Kit
Here is a heavy-duty grooming kit for men from Kemei, which has a steel finish to it, which should make it a durable product. It is a 7-in-1 multi-purpose grooming kit that should help you sort out your complete grooming. With five different detachable heads available, you can now trim your beard, mustache, the hair on your head, eyebrows, nose hair and your body hair as well. You can adjust the cutting height from 0.5mm to 10mm, as per your needs by using the different height adjusters. It has a rechargeable battery and you should be able to get a run-time of 50 minutes on a full charge (takes two hours), as per company claims.
Panasonic ER-GY10K Grooming Kit
Here is a 6-in-1 grooming kit for men from Panasonic with an ergonomic design so that you get a comfortable hold and perform the precision cutting. It has four different cutting attachments with each of them using Japanese blade technology, which should result in a good finish. You can use the gadget under both dry and wet hair conditions, without the fear of experiencing any shocks, as per company claims. You can control the cutting length from 3mm to 15mm, thanks to the adjustable comb attachments. With this kit at your disposal, you should be able to trim your beard and groom your body hair, including hair on your underarms and other sensitive areas, as per company claims.
Philips Grooming Kit
Here is a high-end grooming kit for men from Philips that does not have different detachable heads. Instead, it has three different gadgets in the kit. To start with, it has a beard and hair trimmer, which has a rechargeable battery, and it gives you 45 minutes of battery life, as per company claims. With a height adjuster comb helping you set different cutting lengths from 1 to 10mm, you should be able to get the look you want. If you remove the clip, you can enjoy 30% faster cutting, as claimed by the brand. You also get a body groomer with an advanced guard system to prevent any cuts, nicks or the pulling of hair, as claimed by the brand. You should be able to use the groomer on your entire body. Finally, it has a nose trimmer, which has precise and sharp cutting slots to cut the fine hair inside your nose. It is fully washable, which makes cleaning the device easy. Note that both the body groomer and nose trimmer run on AA batteries.
Surker Grooming Kit
The Surker Grooming Kit for men is a 5-in-1 kit that helps you perform various hair trimming actions with ease. It has five different head attachments, such as a hair trimmer, nose and ear trimmer, dual shaver, body trimmer and a hair clipper. With this kit, you should be able to groom your whole body with ease. Furthermore, it also has four different haircut positioning combs, which should help you get the exact haircut that you want. All the available attachments are washable, making them easy to clean and maintain for a long period of time. The precision-cutting blades should enable you to get a deep and clean finish in your look. Also, the blades do not heat up and burn your skin when you use it for long periods of time, as claimed by the brand. Finally, it gives you 40 minutes of cordless power, as per company claims.