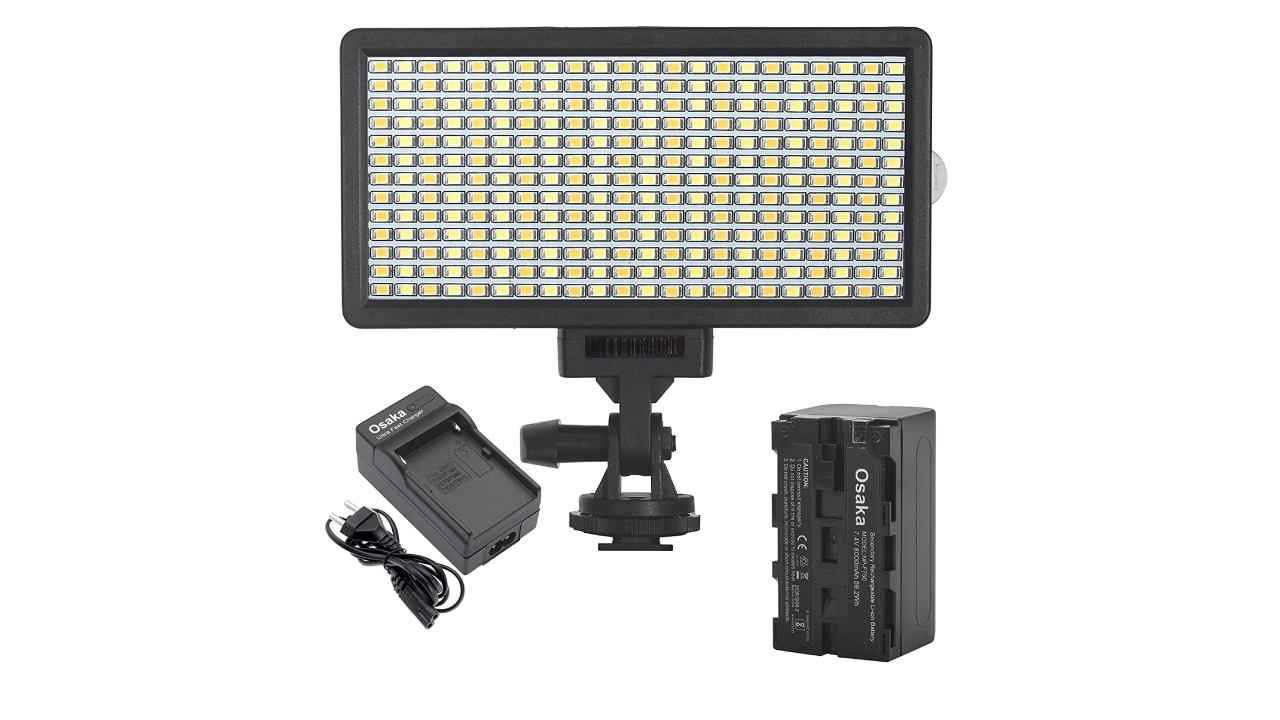 Regular flashlights are not that great when being used as a continuous lighting source for both photography and videography. This is where having an attachable panel of LED lights comes in handy. You can either attach it on top of your DSLR camera or on a stand to get continuous artificial light for long durations in the most optimum way. Also, they have brightness adjustment rotating dials, enabling you to have control over the intensity of the lights. If you have been in search of such a product for your next assignment, here are four such products that you can buy at Amazon. Note that these products have been selected based on their listed features.
Manfrotto lumimuse 8
If you are looking for a tiny LED light for your DSLR camera, then the Manfrotto Lumimuse 8 should do the job for you. With dimensions of 8.6 x 2.8 x 5.9cm, it is one of the most compact systems of LED lights in the market. You can attach it to a holder or place it on top of your camera, as the situation demands. Do not go by its small size as it packs a punch with the eight LED lights it has. It comes with a four-stop dimming feature, which you can adjust using a button on the side. The product runs on a lithium-polymer battery that should give you around 60 minutes of light in one go, according to the brand. Thanks to the clip-on filter-holder, you can attach your CTO or diffusion filter to click pictures in different color modes. Finally, it has a built-in Bluetooth connectivity option as well for iOS devices,
Verilux ring light
If you are looking for a ring light for your DSLR, then this model from Veriflux should do you justice. Considering the low price-point, it delivers a good performance and a service life that lasts up to 50,000 hours, as per company claims. The 6-inch ring light can be used to shoot good quality selfie-videos. Moreover, thanks to its dimmable property, you should be able to easily adjust the intensity of the light per the lighting conditions you are shooting in. Also, the company claims it does not produce any ultraviolet or infrared light, which should make it safe to use. Finally, it comes with a flexible reinforced arm that offers a mix of rigidity and flexibility.
Ulazi W49LED
If you are looking for a small LED light, which you can easily mount on your DSLR, then this model from Ulazi should be a good option. The compact LED light has a limited throw of light, which makes it ideal for microphotography and product photography. It comes with a 3-shoe mount, which enables you to attach more such lights if you want to increase the intensity of light in your shoots. The simple design makes it ideal to be used with gimbals as well. Finally, as per company claims, you can expect to enjoy consistent light for long hours, without any difference in the temperature of the light. Note that this is important to deliver reliable performance throughout your project.
Osaka Bi-Color OS-LED-308
Here is a bi-color LED light for DSLR cameras from Osaka that is ideal for both photography and videography. Since it sports a large 8000mAh battery, you should be able to enjoy continuous artificial light for a long time, making it ideal for shooting videos. Moreover, it supports fast-charging, which means you do not have to wait for a long time to power it back up. Furthermore, thanks to the large number of LED lights used in this, you should be able to ensure a bright setup. The high CRI of the lights should enable you to enjoy the output with true tones of colors. Finally, you can control the intensity of the output, as these are dimmable lights.