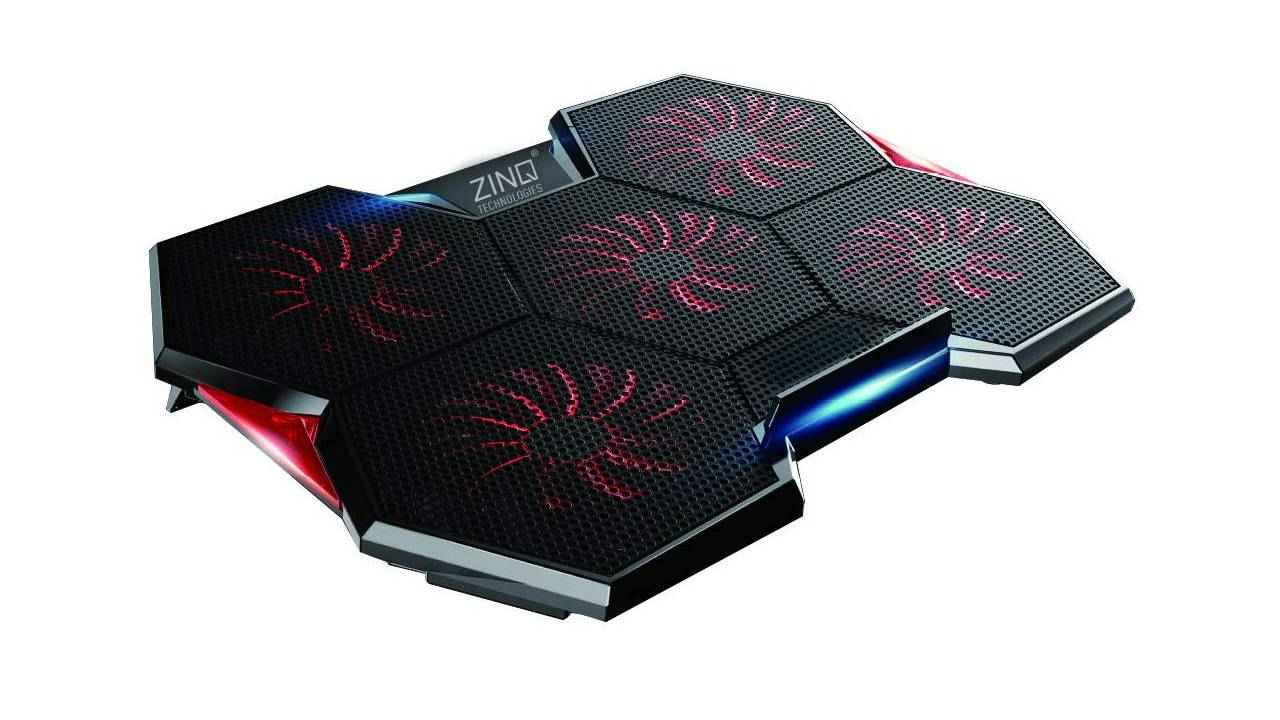 As most of us work on our laptops all through the day, working in bed or while curled up in one of our comfortable corners is inevitable. While this is fun, it can lead to heating issues on the laptop, which can ultimately harm it. For the longevity of your laptop, and make your experience seamless, invest in a laptop stand that can provide you with the right positioning and proper airflow to dissipate the heat and keep your laptop cool. Not sure which one to buy? Here's a list of some laptop stands with cooling fans you can find on Amazon. Note that these products have been selected based on their listed features.
Cosmic Byte Asteroid Laptop Cooling Pad
This laptop stand by Cosmic Byte is an excellent buy if you are looking for a durable one for devices sized up to 17-inch. It has several unique features like the Five LED fan design which keeps heating issues at bay, seven-level adjustable height, USB connectivity to power the fans and a broad base to support monitors and laptops with ease. What makes it stand out from the competition is the ergonomic design which provides greater portability, as you don't have to carry a cord or big battery to power it up. If you are a gamer, then you'll definitely like the eye-catching LED lighting. Note that it also has buttons to adjust the fan speed as per your requirement.
Zinq Technologies Cool Slate
If you are looking for a sturdy laptop table, then this one by Zinq is probably the perfect choice to invest in! The Zinq Cool Slate has five fans – with four outer and a centre wind fan that spins at over 1100 RPM. It has an eye-catching design and adjustable tilting to give you better angles while reading or working. It also has a hinged flap, so you don't have to worry about the laptop sliding off the table while you are away. It can support laptops that are sized up to 15.6 to 17 inches and should provide decent airflow without making a ton of noise. This ergonomic laptop stand has a double rotatable switch and red LED lights which indicate the status of the fans. Last but not least, it has two built-in USB ports so you can connect it to multiple devices.
Havit HV-F2056 Ultra-Slim Laptop Cooler
In case you're looking for a slim and lightweight laptop stand to carry around, then this one by Havit is a good option. It's not only compact and light but also doubles up as an ergonomic stand with two adjustable height settings, so you don't have to work in awkward positions! It has a high-quality multi-directional metal mesh attached to it that provides your laptop with a wear-resistant and stable laptop carrying surface. Moreover, it is equipped with three fans and an extra USB port, a power switch design and built-in dual-USB hub that lets you connect multiple USB devices in one go. It also has an LED indicator which informs you about the current status of your cooling pad. All these features and the sleek design make it worth the bucks.
Honeywell Laptop Cooling Pad
This laptop stand by Honeywell is not only pleasing to the eye but also very useful as it provides sufficient airflow, thanks to its sleek open grill design that aids in superior cooling with maximum airflow, according to the brand. Additionally, it also has a robust dual fan design for constant and fast cooling. It has a cushioned back allowing you to get a good grip. It even has an open flip compartment which acts as an additional storage space. The stand provides you with the perfect viewing angle while you are reading, working or gaming, protecting your eyes from undue strain and your back from pain. It can be powered by USB, so you don't need to worry about carrying heavy batteries with you.