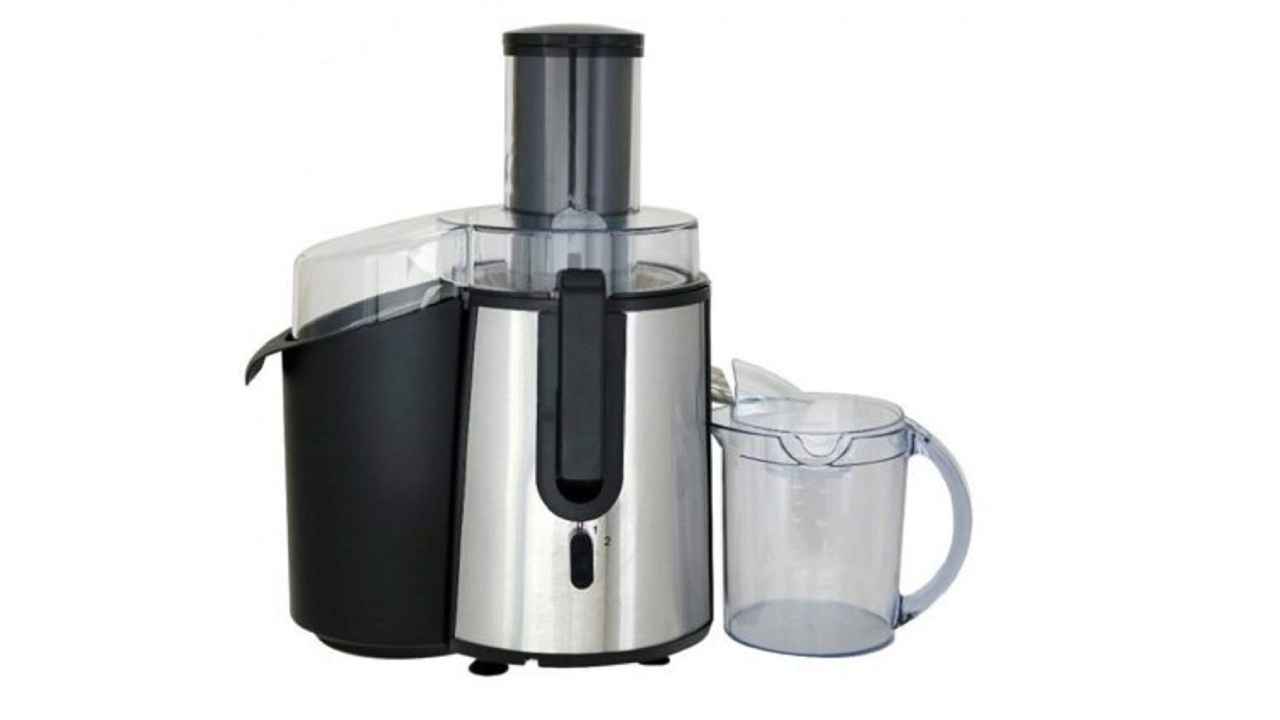 Juicing your fruits and vegetables can bring a world of health benefits to you. Fresh juices contain a wide array of vitamins, minerals and other beneficial compounds that are great for your health. Along with being a great way to detox, fruit juices are also a great way to consume fruit nutrients conveniently. Due to their anti-inflammatory properties, fresh fruit and vegetable juices are also good for your immunity. Having a juicer at your disposal can be highly convenient to ensure you get your juices regularly. With features like easy pulp dispersal, high capacity and more, here are some options from available on Amazon selected based on their specifications.
Philips Viva Collection HL7577/00 600 Juicer
The turbo power 1600W motor of the Philips Viva Collection juicer works with all kinds of fresh produce with equal efficiency. Putting together the device is easy thanks to its simple three-step fitment process. The juicer gives equal importance to input and output, as evidenced by its round chute for easy feeding and drip-free spout for easy juice delivery. The Viva juicer comes with attachments that are easy to clean. The three-speed controls let you fine tune the juice texture every time.
Kenwood JMP400WH Cold Press Slow juicer
The Kenwood Slow Juicer comes with a large 1.3L pulp container and a 1L juice container. The large containers help in avoiding spillages in the slow juicing process. The separation of pulp also makes it easy for you to reuse it in other recipes in the kitchen. With a dishwasher safe design for the components, your post-juicing cleanup is going to be hassle free on the Kenwood slow juicer. The slow juicing process on this juicer aims to deliver better nutrition and more quantity for many ingredients. The plastic body can be easy to clean in case of any spillage or spots.
You God Electric Fruit Juicer
The 1000 Watt power on the You God Electric juicer promises to tackle all types of ingredients with equal ease. The copper motor makes it more durable, compact and efficient. The juicing jar on the juicer can be sealed and used for storage. You get two speed controls to adjust between soft and tough fruits and vegetables. To save you time on prepping your ingredients for the right size, the juicer comes with a 76mm wide feeding chute. This allows you to put in many whole fruits and vegetables.
Preethi Essence CJ 101 600-Watt Juicer
The Preethi Essence juicer uses a metal sieve to separate pulp from the juices, helping it retain its durability for longer. It also comes with a removable pulp chamber which makes it easy for you to discard or reuse the pulp separated by the juicing process. The design is built to be leak proof even when softer fruits like watermelon are being processed. The transparent top lets you keep track of the juicing status at all times. With its powerful motor, the Preethi Essence should deal with tough vegetables and fruits effectively.
Skyline VTL-5033 250 Juicer
The black and red design of the Skyline juicer can add to the aesthetics of any kitchen it joins. The model uses a stainless steel filter, which helps it provide an easy cleaning experience and better durability. It comes with a knob to control its three-speed levels, letting you give your fruits and vegetables the right treatment for optimal juicing. Powered by the 400W motor, the juicer can help you prepare your juices in no time. This is further augmented by its centrifugal juicing design, which also makes it better with larger fruits and vegetables.