The HP Omen X portfolio includes the Omen X desktop, notebook, compact desktop with VR Backpack, Omen gaming accessories and an HP Windows MR headset.
HP has launched its latest Omen X series of gaming devices in India, which includes the Omen X notebook, desktop, a compact desktop with VR backpack, an HP Windows MR headset and some gaming accessories such as the Omen Headset 800, Mouse 600, Steel Series gaming keyboard and mouse pad. As a pre-booking offer, the company is bundling the OMEN X compact desktop with the HP MR Headset, Omen Headset, Omen Keyboard and the Omen Mouse. Also, the Omen X notebook will come pre-bundled with the Omen Headset, Omen Mouse, Omen Mouse Pad and 1TB HDD.
The company has priced the HP Omen X notebook starting at Rs 2,10,990 and it will be available from March 20. The OMEN X Compact Desktop with VR Backpack is available now starting at INR 2,94,988 and the OMEN X desktop will be available from June 2018, starting at Rs 4,49,999. The HP Windows MR Headset is now available starting at Rs 51,187, the Omen Headset 800 is priced at Rs 6,999, whereas the Omen Mouse 600 will cost Rs 4,999. The Omen Steel Series Gaming Keyboard and the Steel Series mouse pad are priced at Rs 9,999 and Rs 2,199 respectively.
HP Omen X notebook
The HP Omen X gaming notebook is powered by 7th Generation unlocked Intel Core i7 CPU, which is coupled with factory-overclocked GPU of up to Nvidia GeForce GTX 1080 and VR support. It comes with a 17-inch full HD display with refresh rate options of 120Hz and 144Hz and in terms of storage, customers can choose from a PCIe SSD+HDD setup or a standalone 1 TB HDD option. The device sports a mechanical keyboard with 2.5mm key travel, N-key rollover and per key RGB LED lighting.
The laptop features DTS headphone support with simulated sound surround, and comes with dual-speakers by Bang & Olufsen. There is also the Omen Command Center Software for customising and overclocking the laptop's hardware. HP says that the notebook features thermal management features with high-end fans and an integrated vapour chamber with four 3.5mm heat pipes. It comes with custom lighting options and a translucent window, which allows users to peek inside the laptop.
For connectivity, the notebook comes with three USB 3.0 Type A, two Thunderbolt 3-certified USB 3.1 Type C ports, an HDMI 2.0a port with HDR support, a Mini DisplayPort, Ethernet port and a multi-format media card reader. There is a single panel for accessing all the replaceable components like HDD, SSD and RAM, and it also features dual audio jack and one mic-in port.
OMEN X Compact Desktop with VR Backpack
The Omen X compact desktop by HP is equipped with high-performance hardware and comes with a VR backpack, making it portable and obviously, VR ready. The device is available in 7th Gen Intel Core i5 processor and unlocked Core i7 variants. It comes with a factory-overclocked Nvidia GeForce GTX 1080 GPU, which can handle 4K gaming with the Omen Command Center for overclocking and the DTS Headphone support.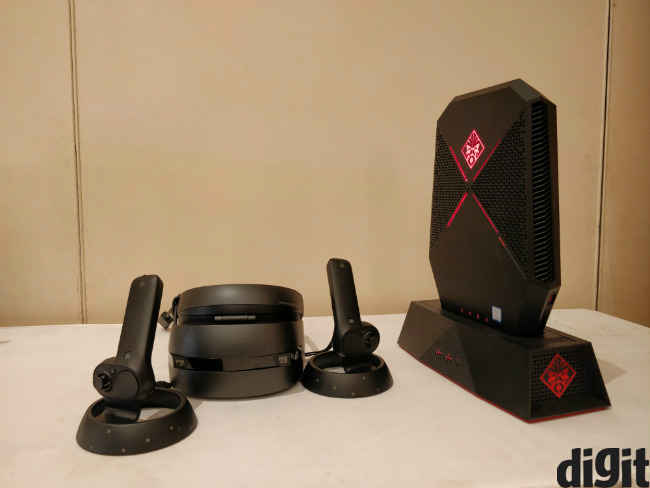 The Omen X compact desktop comes with a docking station, which allows users to access gaming accessories wirelessly. As the device is built with portable gaming in mind, it comes included with four batteries and a charging dock and allows hot-swapping batteries, while using the system. The fan exhausts, vents and mounting plate positions are angled so that the generated heat is dissipated away from the user while the device is mounted.
Omen X Desktop
The HP Omen X desktop can be customised with up to dual Nvidia GeForce GTX 1080 and dual AMD Radeon R9 Fury X GPUs. It is powered by the latest Intel Core i9 Processor, which is unlocked for overclocking and is VR ready.
HP says that the desktop comes with superior thermal management features like a tri-chamber design for separate components and optimized thermals with dedicated cooling in each chamber. The PC also supports installation of up to three 120mm liquid cooling radiators with top-mounted exhaust vents and a stand, which lifts the case for ventilation.HP will also be selling an empty Omen X chassis to customers who are interested in building their own PC.
Similar to the Omen X laptop, the Omen X desktop also comes with the control software, allowing users to customise the LED lights and make brightness modifications in real time. The Omen X desktop also comes with a hidden toolkit in its case.
The HP Windows Mixed Reality Headset features two 1440x1440p resolution displays and comes with 'double-padded' headset and an easy-adjustment knob for quickly altering the size of the headband fit the user's head.
OMEN by HP Accessories
HP has added new gaming accessories to its Omen ecosystem with the Omen 1100 mechanical keyboard, which comes with N-key rollover for anti-ghosting, the Omen mouse 600 with mechanical switches for durability and the Omen headset 800, which the company says comes with boosted overall acoustic performance and a specifically tuned audio profile for clear speech.