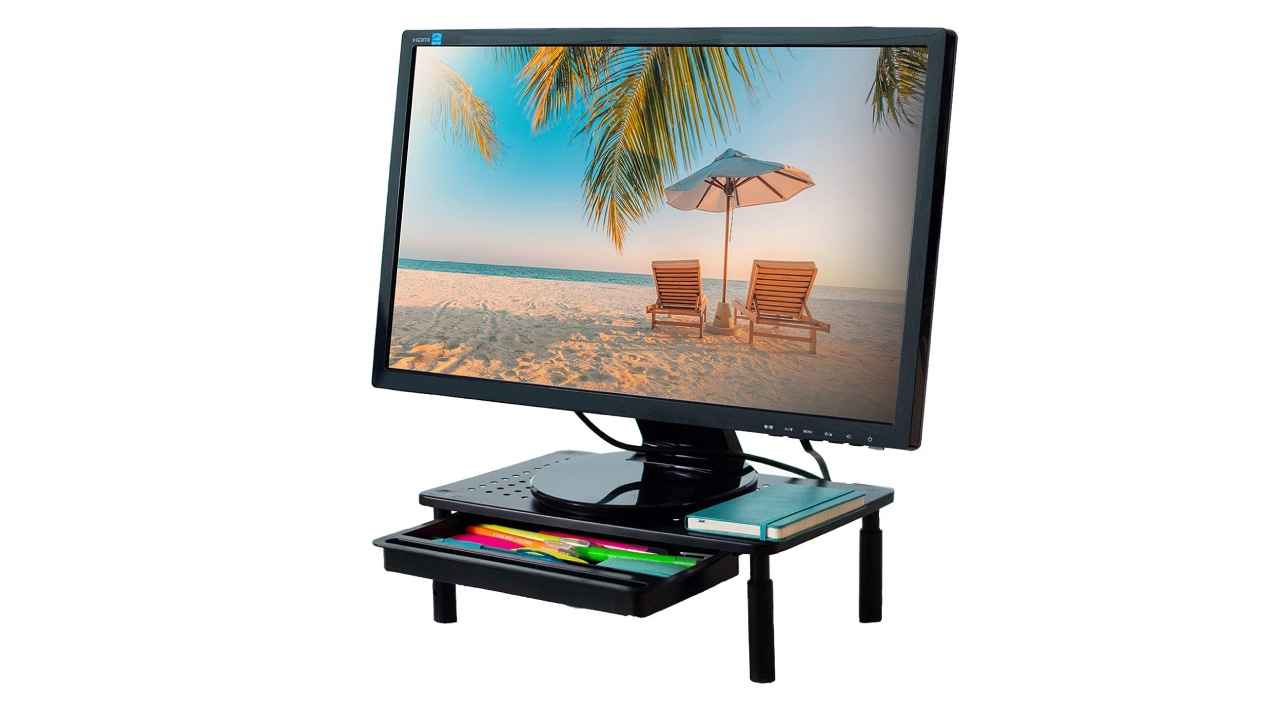 Are you tired of staring at your monitor screen for hours in an uncomfortable position? Then it might be time to shift to height-adjustable monitor stands! These devices have been ergonomically designed with adjustable mounts, allowing you to effortlessly switch between landscape and portrait mode. Through these stands, you could adjust the position of your monitor as per your eye level, ensuring comfortable viewing and added stability. If you are looking to buy a height-adjustable monitor stand, make sure to keep a few things in mind, such as whether it comes along with a sturdy build and whether it features a cable management system. Following are a few good options of height-adjustable monitor stands on Amazon.
AmazonBasics Height Adjustable Monitor Stand
The AmazonBasics Height Adjustable Monitor Stand has a seamless 360-degree rotation functionality, ensuring you can conveniently switch between horizontal and vertical viewing without any effort. With adjustable positioning and a tiltable angle, the monitor stand offers a wide range of motion. Moreover, it also features a cable management system for a clean appearance. This AmazonBasics Monitor Stand also has a detachable VESA plate that helps ensure your installation experience is easy and convenient. It can fit most of the monitors available in the market in the size bracket of 13-30 inches. In terms of build, the stand is made of heavy-duty stainless steel that keeps wear and tear at bay and helps give a long and durable service life.
Proffisy Laptop Monitor Stand
The Proffisy Laptop Monitor Stand allows you to raise your screen by 3.9 inches, 4.7 inches or 5.5 inches, providing a comfortable viewing and sitting position. This translates to minimal strain on your eyes, neck, back, and shoulder! It is a versatile piece of equipment and can be used with most screen displays, computers, laptops, or printers. It also has anti-skid rubber pads at its four stands, which help ensure there is no accidental damage. The Proffisy Laptop Monitor Stand features an upgraded detachable drawer that gives a neat and tidy desk. With a specially-designed space in the drawer, you can even put your phone on the stand and charge it!
Rife Gas Spring Desktop Arm
The Rife Gas Spring Desktop Arm is constructed with solid steel, die-casted aluminium, and integrated counterbalance technology. All of these elements help ensure that your monitor screen remains secured with no loose ends. Equipped with an adjustable arm that can rotate between -35° to + 35°, it can easily help you get the perfect angle. The Rife Gas Spring Desktop Arm can be adjusted conveniently to fit varied weights by featuring a built-in gas spring tension gauge. Plus, the desktop arm also comes with a detachable VESA plate for easy installation. Apart from these, some of its other notable features are a stellar cable management system, multiple mounting options, and a sturdy build.
AmazonBasics Monitor Stand
The AmazonBasics Monitor Stand makes it easy to raise the height of your monitor or laptop by 4 inches. This helps in promoting better ergonomics and a more pleasant viewing experience. The stand's metal construction offers rugged durability, while its black enamel coating provides aesthetic appeal and enhanced strength. It won't only help in better posture but also assist in freeing up your cluttered desk. Since it can hold a maximum of 40 pounds, it can be used for the largest monitors available in the market. Since it has a 13-inch-wide space beneath the base, you can also utilise the area for storing game consoles and laptops. In addition to these, some of its other notable features are a strong metal construction and silver enamel coating.