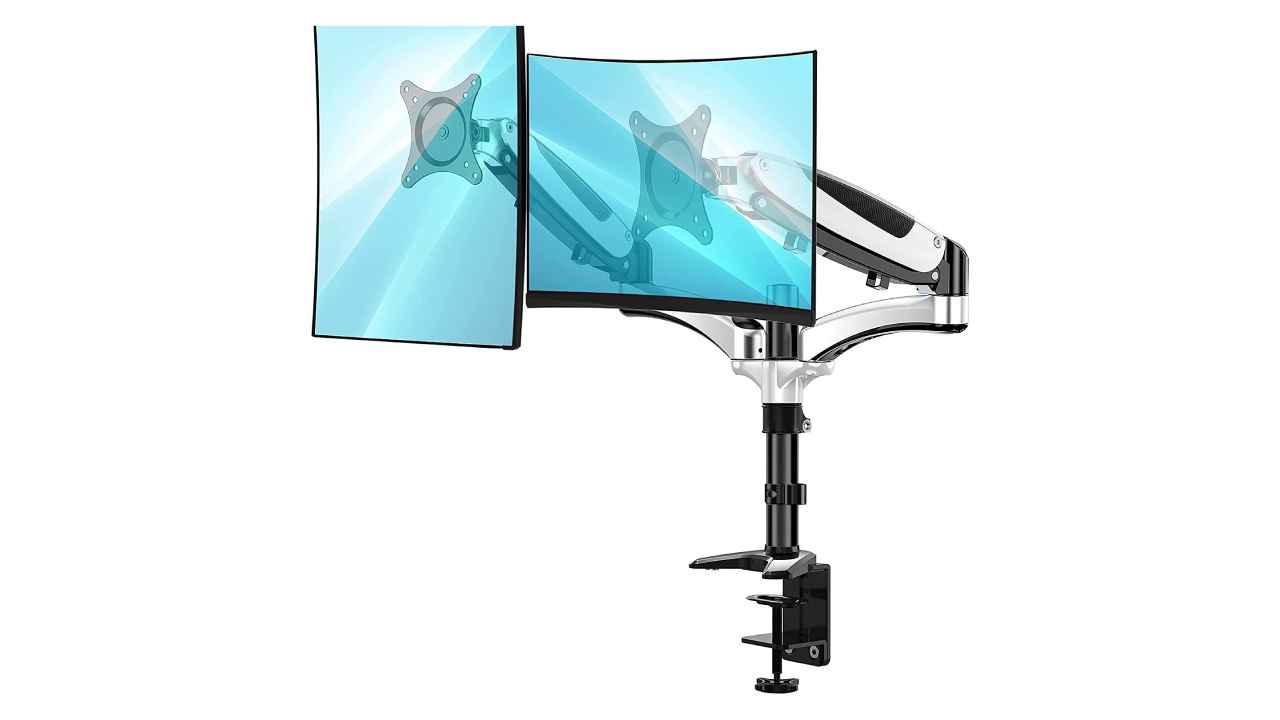 Neck, back and eye strain caused by the wrong posture while working can be avoided by placing your monitor at the right distance, angle, and height. The heavy-duty monitor stands with a gas spring help you achieve just that by allowing you the flexibility to adjust the monitor height and angle. They also give strong and stable support to the monitor and have the added advantage of saving up the desk space to make it look tidier. Read on to know more about such heavy-duty gas spring monitor stands available on Amazon.
Lumi Brateck Dual monitor gas spring stand
This Lumi Brateck Dual monitor gas spring stand can be used to hold two monitors at a time and is equipped with a counterbalance technology that allows both the attached monitors to move individually. This heavy-duty stand can take up to 6 Kg of weight which makes it suitable for large and heavy monitors. The tension of the gas spring can be changed to adjust with the weight of the monitors to give them the necessary stability. By mounting this stand on your desk, you can save up a lot of workspace on the desk and also maintain an ergonomic posture by adjusting the monitor at an ergonomically right position. All monitor screens ranging between 13 inches and 27 inches are compatible with this stand.
Rife dual monitor gas spring desk mount stand
The ergonomic screen positioning of this Rife dual monitor gas spring desk mount stand enables you to have an ergonomically correct workstation which will relieve the stress from your neck and back muscles by allowing you to maintain the correct posture. The flexible movement allowed by this stand enables you to adjust the viewing angle according to your convenience to protect your eyes by reducing the eye strain from continuous screen exposure. The dual arms of this stand give you double the work efficiency and makes working more comfortable. With one solid base that supports two monitors simultaneously, this stand features a clean and sturdy design that makes your working, gaming, or viewing experience more comfortable.
Sunon single monitor gas spring desk mount stand
This Sunon single monitor gas spring desk mount stand allows a swivel motion of 180 degrees, a tilt of 135 degrees, and a rotation of 360 degrees, which gives it a full range motion to allow free movement of your monitor for convenient adjustments. This free movement allows you to share a screen with your friends and colleagues easily, find a comfortable angle for viewing, gaming or working, and set the monitor in portrait or landscape mode to meet your requirements. The heavy-duty stand can take a maximum weight of 19 lbs so that even the heavy monitors can be stably supported on the desk.
HUANUO dual monitor gas spring stand
This HUANUO dual monitor gas spring stand comes with a height-adjustable design with which you can set the monitor at the right height and right eye level. The flexible arm installation works perfectly for both normal and deep monitors. The monitor offers a full-motion to give you a customised screen angle. It has a stacking mode that allows you to smoothly adjust the height and set the right height for a convenient working and viewing experience. The gas spring attachment adjusts the tension to match the monitor's weight to offer it complete stability and solid support. With a c-clamp mounting attachment, the stand helps you save up the workspace on your desk. You can attach this stand to monitors with LCD screens between 15 to 27 inches.