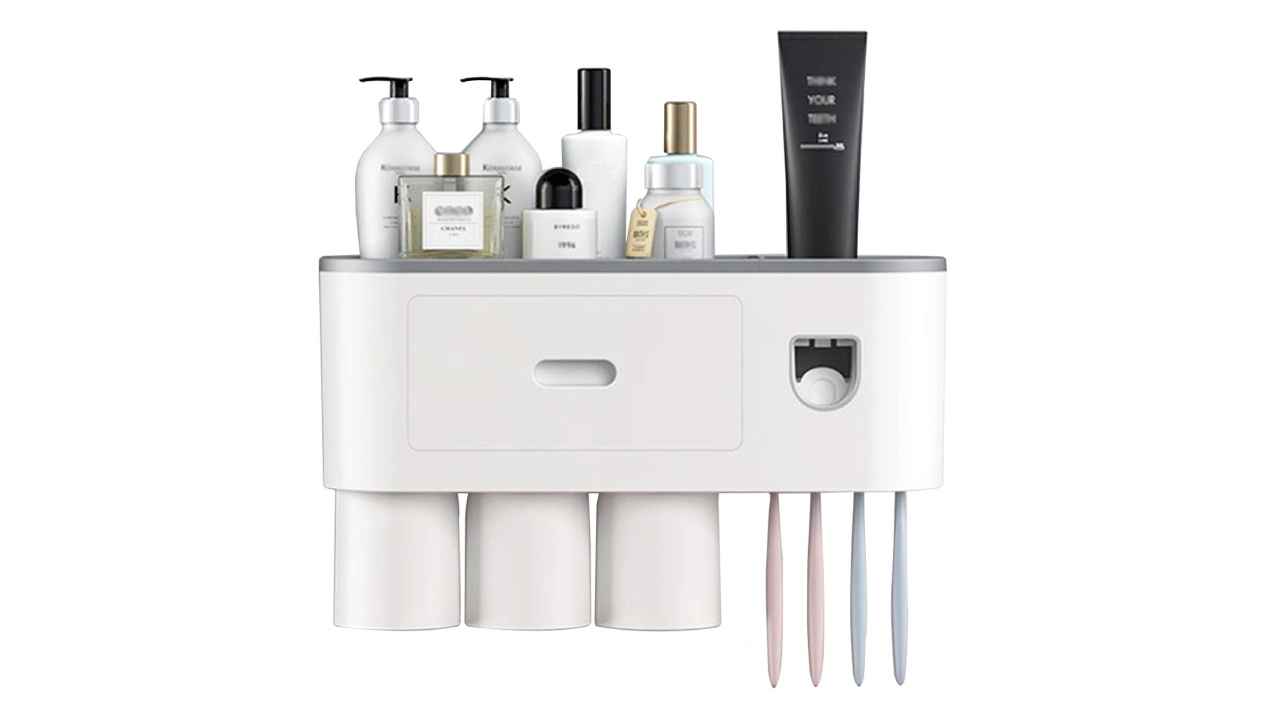 Be it squeezing out the last bit of ketchup from the bottle, getting the last bit of toothpaste from the tube or the last scoop of peanut butter from the jar; we've faced it all. Out of the following, the hardest one is squeezing out the toothpaste. But what if someone told you there's a way you can squeeze out every last bit of the toothpaste and that too without touching the toothpaste tube? So to help you out, here are some of the best hands-free toothpaste dispensers for your home.
US1984 Toothpaste Dispenser Wall Mounted Toothbrush Holder
If you are looking for a toothpaste dispenser that doubles up as a toothbrush holder and a small shelf, you should check this one out. US1984 is equipped with an automatic toothpaste dispenser, 4 toothbrush slots, 4 dustproof cups and a large storage tray to keep all your toiletries, cosmetics, grooming kit, etc. It attaches to your wall using no trace stickers and suction wall type suspension, meaning you don't have to drill holes or put nails in your wall resulting in broken bathroom tiles. The brand claims that this toothpaste dispenser can easily hold up to 4 kg of weight. It is pretty easy to install. All you need to do is tear off time film, squeeze out the air and wait for 12 hours to let the dispenser get a good hold of the wall. According to US1984, this toothpaste dispenser-cum-toothbrush holder is made from high-quality ABS material, which is environment friendly.
SHOPPOSTREET Toothbrush Holder
SHOPPOSTREET Toothbrush Holder with automatic Toothpaste Dispenser is another popular toothpaste dispenser that can hold multiple brushes hygienically. It uses no trace stickers to get a firm grip over flat and smooth surfaces like ceramic tiles, marble, glass, veneer, metal, etc. It is pretty easy to install and does not require a handyman's assistance in its installation. This toothpaste dispenser from SHOPPOSTREET incorporates a toothbrush holder, toothpaste dispenser and storage rack, all in a single device. You can use it to store toothbrushes, toothpaste, combs, razors, trimmers and much more without any issue. It is made from environmentally-friendly ABS material, which is not only durable but also safe to use, preventing moisture buildup and bacterial growth on it. The toothbrush holder uses an inverted design to keep your toothbrushes away from dust, germs and moisture.
Toothbrush Holder with Automatic Toothpaste Dispenser by Chias
This toothpaste dispenser-cum-toothbrush holder is a popular choice. It is made from high-quality Polyvinyl Chloride (PVC), which adds to its durability and corrosion resistance. The user can attach up to 4 toothbrushes of mouth range 0 to 0.3 inches, a razor, a tongue scraper, dental floss and toothpaste at a time. It is also equipped with a UV toothbrush sanitiser that keeps your brushes free from germs and microbes. This toothpaste dispenser continuously sterilises the toothbrushes once the user is away from it for more than 10 seconds, and this process stops once it detects someone nearby. If you are worried about its installation, then don't as it doesn't require any mechanical tools. It has a rechargeable 2600mAh battery that can power it up for days without any issue.
RHYMER Toothpaste Dispenser
This toothpaste dispenser from RHYMER comes with a 5 hole toothbrush holder that can store up to 5 toothbrushes of every shape and size. This compact (5 x 8 x 5 cm) and lightweight toothpaste dispenser-cum-toothbrush holder protects your toothbrushes from pollution, moisture, germs and much more, thus making brushing teeth as hygienic as it can. This toothpaste dispenser is easy to install and requires little to no help. It can stick onto various surfaces like glass, metal, tiles, marble, veneer and much more without any trouble. The toothpaste squeezer pump is based on vacuum technology, ensuring that enough toothpaste is delivered without any wastage. This affordable toothpaste dispenser from RHYMER doesn't require any batteries or any external power source to squeeze out toothpaste. It is made from environmentally-friendly materials that don't leave a foul odour, are safe to use, and prevent microbes' growth.